In a country like America, being a quarterback in American football makes you a demigod, and if you can lead your team to a Superbowl, a god. Alex Smith, may not yet be a god, but he is a demigod. The Washington Redskins Quarterback talent and pedigree are only second to that of Tom Brady, who isn't a bad act to be second to. A professional career that started at the San Francisco 49ers has yielded 3 Pro Bowl appearances and a first-team All-American place. Here is more about him.
Alex Smith's Early Life 
In an early life that showed evidence of the talent innate in Alex Smith, his high school career as a starter for the Helix Scotties, saw him win two San Diego CIF section championships with an impressive record of 25-1. The star quarterback who was born on May 7, 1984, in Bremerton, Washington won the conference offensive player of the year and the Helix MVP twice in his high school career.
Alex, who is more than just a football head, was also the President of his high school senior class and took advanced placement tests, earning college credits in the process. By the time he graduated from high school, he was already academically halfway through college. He earned a bachelor's degree in Economics in two years and was working on a master's degree before he was drafted to the NFL.
Alex Smith played college football for the University of Utah, winning the 2003 Liberty Bowl and 2005 Fiesta Bowl during his time as a Utah Utes. His record in college stood at 25 games played, 47 passing touchdowns with 5, 203 passing yards, 1, 072 rushing yards and 15 rushing touchdowns. It was an impressive record, so it wasn't a surprise come draft day in 2005, he was the first overall pick by the San Francisco 49ers, he subsequently signed a six-year, $49.5 million contract with the Californian team.
Alex's rookie season was a turbulent one. Dealing with injuries and an inconsistent run in the team, he was only able to manage nine games in his first season as a 49er. His second season offered much better conditions and it reflected in his performances. Smith took charge in the 2006 season and finished with 16 touchdowns, 16 interceptions. The performances that earned him the number one overall draft pick were back.
Alex Smith's career with the San Francisco 49ers was a mixed bag. Injuries and a constant change in personnel – especially the offensive coordinator position kept him from reaching his best. However, in the 2011 season, after the appointment of yet another offensive coordinator, things started clicking for Smith. He led the team to a 13-3 record in regular season and made the playoffs. It was the 49ers most wins since 1997 and was Smith's first playoff after 7 seasons with the 49ers.
At the playoffs, the 49ers won their games until they lost the Championship game to the New York Giants. In the 2012 season, before getting traded to the Kansas City Chiefs, Smith lost his starting quarterback place to Colin Kaepernick. Colin was considered a more dynamic quarterback. It wasn't all bad for Smith though, he was voted to the USA Today All-Joe Team, an award for the best players that didn't make the Pro Bowl.
He found a more stable and successful personal period at the Chiefs. Smith then led them to the playoffs four times setting many personal bests records along the way. He was voted into the Pro Bowl twice in 2016/2017 and turned down an alternate place in 2015. In January 2018, the Chiefs traded Smith to the Washington Redskins, signing a four-year $94 million contract extension shortly after.
Net Worth
Alex is believed to be worth $55 million with an average annual salary of $14 million. He has played for the San Francisco 49ers and the Kansas City Chiefs, earning $106.5 million in his time as a professional NFL player.
Wife and Kids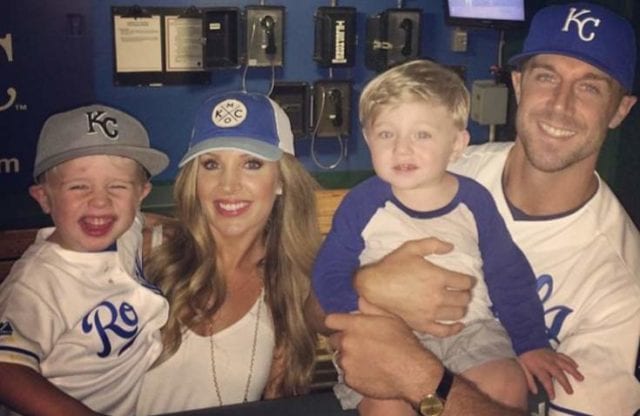 Smith is married to a former cheerleader. The star quarterback is married to former Oakland Raiders cheerleader, Elizabeth Barry. The couple got married in 2009 and they have two sons together, Hudson who was born in 2011 and Hayes in 2013.
See Also: Khalil Mack Bio, Girlfriend, Age, Height, Weight, NFL
Career
Alex Smith comes from a pretty close-knit family with close ties to sports. His uncle is a college football head coach and his cousin is Chris Shelton, a former Major League Baseball player. Smith has a brother and two sisters but not much has been disclosed about them.
How Tall is He?
Alex has a listed height of 6 feet and 4 inches or 1.93 m and a listed weight of 217lb [98kg]. His continuous running around on the field as he plays ball helps him to stay fit in addition to other personal workouts he should be keeping to.
Religion
Alex Smith has never actually revealed his religion publicly but there have been suggestions that he is a Mormon. Until the football star clears things up for himself, people will continue to guess on his behalf.