Alex Trebek needs no introduction if you are a fan of game shows. The charismatic and intellectual TV personality has endeared himself to millions of fans as the host of Jeopardy! Trebek has hosted the popular game show for more than three decades, receiving numerous awards and accolades for his efforts. He also holds the world record for the most game show episodes hosted by the same person, having anchored over 6,829 episodes of Jeopardy!
However, Trebek's career is not all about hosting Jeopardy!, the famous game show host has recorded a plethora of guest appearances and even appeared as a contestant on other shows. Trebek's love life is equally interesting as the Ontario native has trudged the path of matrimony twice. Recently, Alex has been battling with cancer which he may conquer in the nearest future as we keep hearing promising updates from him. In the meantime, there is still a whole lot more to learn from this legendary game show host.
Alex Trebek's Career Took Off At CBC Radio In Canada Before He Moved To The US
It was while Alex Trebek was studying philosophy at the University of Ottawa that he started working part-time at CBC Radio just to pay his fees. According to the veteran game show host, he would be in school during the day and at work in the night; he virtually did everything; replacing every announcer in every possible job and reading the CBC national radio news. He also took coverage of a wide range of special events for the CBC TV and radio which include curling and horse racing events.
Upon receiving his degree in 1961, Alex Trebek metamorphosed into a full-time staff for CBC Radio. He first worked as a general assignment reporter in Ottawa before transferring to Toronto as a national staff announcer. Trebek's charm and composure soon shone through and he was tapped to host Canada's first live teen music show, Music Hop, in 1963; this marked his debut hosting job. Reach for the Top – a high school quiz show had him as its host in 1966, Alex worked as a CBC host for a period of three years, spanning from 1967 to 1970, introducing classical music programs which include performances by Glenn Gould.
Alex became the host of a weekly skating program for one or two seasons and beginning from spring in 1969, he hosted a weekday afternoon game show called Strategy. Between 1971 and 1972, Alex Trebek functioned as the host of the local morning drive radio show on CBC Toronto entitled I'm Here Til 9. From thereon, the Ontario native went on to host other national TV shows before moving to the United States of America.
He Relocated To The United States In 1973 To Land A Job With NBC
Upon moving to America in 1973, the game show host landed a job with NBC, hosting their new game show The Wizard of Odds. After one year on the show, he moved over to High Rollers – the popular Merrill Heatter-Bob Quigley game show. The game show had two incarnations on the network (1974–76 and 1978–80), and a complementary syndicated season (1975–76).
Alex Trebek also hosted the short-lived CBS game show Double Dare (note, there is a 1986 Nickelodeon game show of the same name) in-between stints as host of High Rollers. Double Dare later turned out to be the only game show he hosted with the CBS network (he returned to CBS in 1994 as the host of Pillsbury Bake-Off until 1998), and the first show he hosted for the then Mark Goodson-Bill Todman Productions. He equally hosted season two of the syndicated series – The $128,000 Question, recorded in his hometown of Toronto.
Alex Emerged As The First Game Show Host To Ever Emcee Shows In Both Canada And The United States
While The $128,000 Question was still being aired and recording episodes, the second incarnation of High Rollers premiered; this distinguished Alex as one of the two hosts to ever emcee shows in both Canada and the United States. A position he shares with Jim Perry, who was hosting Definition and Headline Hunters in Canada and Card Sharks which coincidentally premiered the same day as High Rollers in 1978 in the US.
Alex Trebek's Francophone side came to play in 1978 when he alternated smoothly between French and English in a special bilingual edition of Reach for the Top and its Radio-Canada counterpart, Génies en herbe.
Alex Trebek Recorded Guest Appearances On Other Shows
Just like other hosts of his ilk, Trebek made numerous guest appearances, either as a player or panellist on the set of other shows. A good example is when he came on a special week of NBC's Card Sharks as a guest in 1980. There, he competed alongside other game show hosts (Allen Ludden, Wink Martindale, Bill Cullen, Gene Rayburn, Jack Clark, and Jim Lange) in a week-long round-robin tournament for the sake of charity.
Trebek later defeated Cullen during the finals, emerging as the winner. In 1975, Alex was spotted on The Magnificent Marble Machine – the NBC game show where he appeared as a celebrity teammate. He made an appearance on To Say the Least – the Tom Kennedy-hosted NBC word game in 1978. The shows came from the stables of Merrill Heatter-Bob Quigley Productions, which also takes the credit for the production of High Rollers; the show Alex Trebek was hosting when he made both guest appearances.
1976 was when the Ontario native came on Celebrity Bowling as a contestant, teaming with Jim McKrell. The two eventually emerged victorious in their match against Scatman Crothers and Dick Gautier.
The Game Show Host Moved On After The Cancellation Of High Rollers In 1980
1980 saw the end of High Rollers which led the game show host to move on to Battlestars for NBC, however, the series was short-lived as it lasted only six months from October 1981 to April 1982 when it was cancelled. Alex duplicated what he did with High Rollers and The $128,000 Question in 1978 when he took the helm of the syndicated Pitfall in September 1981; the show was taped in Vancouver, forcing him to commute once again.
Eventually, Catalena Productions, the company that produced Pitfall, went bankrupt which led to the cancellation of the game show, and consequently, Alex never received his pay for the series. Going on, he hosted The New Battlestars – a revival of Battlestars which lasted for 13 weeks.
Later, the game show host shot a series of pilots for other series for producers Merv Griffin and Merrill Heatter. These include Malcolm, an NBC-ordered pilot which was an attempt at a revival of High Rollers that failed to sell. The pilot was for Heather, featuring Trebek with an animated character as his co-host, and Lucky Numbers.
He Began Hosting Jeopardy! After The Original Host Failed To Return
For the other producer Griffin, Alex Trebek shot a couple of pilots for a revival of Jeopardy! when Art Fleming, who was its original host (a friend of Trebek's) failed to return to the role as a result of creative differences. This revival eventually sold and Trebek started hosting Jeopardy! in 1984 and has remained the host ever since. While he was still hosting Jeopardy! In 1987, the Ontario native went back to daytime television as the host of NBC's Classic Concentration which marked his second show for Mark Goodson.
What is, "We ❤️ you Alex!"

"Jeopardy!" host Alex Trebek choked up after a contestant used his Final Jeopardy answer to send a heartfelt message. Trebek has been battling stage 4 pancreatic cancer. https://t.co/4y1WBUxWEE pic.twitter.com/brISyU3rRA

— CNN (@CNN) November 12, 2019
He was adept in hosting both shows concurrently until the 20th of September 1991, when Classic Concentration aired its final first-run episode (note; NBC would air repeats until 1993). 1991 was when Trebek made broadcast history; he earned pride of place as the first person to host three American game shows simultaneously. This distinction was earned on the 4th of February 1991, when the veteran host took over from Lynn Swann as host of To Tell the Truth on NBC, also for Goodson-Todman, which he hosted until the end of the series' run on the 31st of May 1991.
For the first time since he functioned as the host of Double Dare on CBS, Alex went back to the network in 1994 to host the Pillsbury Bake-Off, which lasted until 1998. He made a return to his broadcast-news roots in August 1995 by filling in for Charles Gibson for a period of one week on Good Morning America.
Trebek traded places with the host of Wheel of Fortune, Pat Sajak, on April Fools' day in 1997. While Alex Trebek joined Sajak's wife Lesly Sajak to host Wheel of Fortune, Pat Sajak hosted Jeopardy! Sajak and his co-host on Wheel of Fortune Vanna White contested at the wheel, with all winnings going toward charitable causes. In 2005, Trebek made an appearance on Celebrity Poker Showdown. He finished in second place in his qualifying game, behind Cheryl Hines.
A Look At His Most Recent Gigs
When ABC revived To Tell the Truth, Trebek returned as a panellist on the 24th of June 2018. On the 2nd of January 2020, the network ran a special of Michael Strahan's interview session with Trebek for a behind-the-scenes look at the taping of Jeopardy! The interview was an exclusive one at home with Alex and his spouse, Jean Trebek; a throwback at Jeopardy's most memorable moments, as well as contestants.
Also in January 2020, Trebek hosted The Greatest of All Time which was a Jeopardy! primetime special event on ABC. This particular special produced the highest money winners in the history of the show with veterans like Brad Rutter, James Holzhauer, and Ken Jennings against each other.
Trebek has received six Emmy Awards for outstanding game show host. He has also received an additional 24 Emmy nominations and in 2011, he was conferred with a lifetime achievement award by the daytime Emmys. Trebek ranks amongst one of the most popular personalities in America and has made cameo appearances on several TV series, including Orange is the New Black, How I Met Your Mother, Baywatch, The Simpsons, and The X-files.
Inside Alex Trebek's Battle With Cancer
Alex Trebek has previously suffered some serious health issues, including minor heart attacks, as well as a blood clot in the brain. Things, however, took a much serious turn in March 2019 when he disclosed that he had been diagnosed with stage 4 pancreatic cancer.
Pancreatic cancer ranks amongst the top four leading causes of cancer-related deaths in the U.S. and to further complicate matters, official statistics show that only 3% of stage 4 patients are still alive after five years of being diagnosed. Trebek did not allow this bleak outlook to weigh him down but rather embarked on aggressive chemotherapy.
This Is What We Know About His Journey With Chemo So Far
The journey was not a pleasant one for the celebrated game show host as the treatments left him emotionally and physically weak. He also lost his hair and sense of smell and at some point, became depressed. Trebek has now revealed that his tumour is shrinking and that if it shrinks enough, he will be eligible for an innovative form of treatment known as immunotherapy.
Trebek's most recent update regarding his cancer came on the 16th of July 2020 when the game show host let on that the chemo is actually "paying off" while he still feels fatigued. He hopes to make a full remission and has attributed his good fortune to the outpouring of good wishes he has received. Alex also revealed that he is looking forward to taping again. The Ontario native published his memoir titled The Answer Is… Reflections on My Life on the 21st of July 2020.
Alex Trebek First Married Elaine Trebek Kares
The veteran has been married on two occasions with one divorce behind him. His first marriage was with American journalist and businesswoman, Elaine Trebek Kares. Though the details of when they met and how they eventually got engaged are not readily available, we know for sure that the couple got married in 1974.
The union lasted for seven years but eventually hit the rocks, ending in a 1981 divorce. The couple's marriage did not produce kids despite seven years of togetherness, but the TV host adopted Kares' daughter from her previous marriage.
He Is Currently Married To Jean Currivan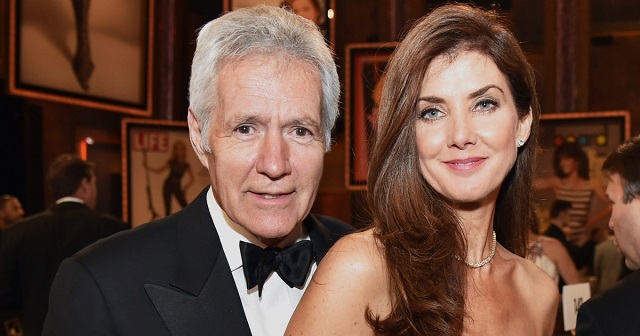 Trebek is now married to New York native, Jean Currivan who earns a living as a real estate guru. The couple tied the knot in 1990. They first met at a party in 1988 and hit it off, one thing led to another and Alex ended up asking Jean out on a date. Though she was apprehensive about dating a celebrity, Currivan soon found out that Trebek is a different man from what she sees on TV.
Despite the massive age difference between them, the couple has managed to make their relationship work. Jean just turned 24 when they met and was 26 at their engagement, on the other hand, Alex Trebek was already 48 at their introduction and 50 when he popped the big question. Alex proposed with a 16-carat sapphire ring, surrounded by six carats' worth of diamonds. They now have two children together, Matthew and Emily. Matthew is a New York-based restaurateur while Emily is an L.A. based real estate agent. Alex and Jean shared photos of their 26th wedding anniversary with fans on Twitter.
Alex and his wife, Jean, celebrate their 26th wedding anniversary today! Congrats, Mr. & Mrs. Trebek. #jeopardyfam💏🎉 pic.twitter.com/QfOdv7aHfi

— Jeopardy! (@Jeopardy) April 30, 2016
Trebek has disclosed that his family, especially his wife, helped him through his cancer battle. He has also stated that he empathized with caregivers as they are the ones who have to watch their loved ones suffer without really knowing how to make them feel more comfortable. Jean, on her own part, has revealed that expressing her emotions helped her to find inner peace during Trebek's battle with cancer; this was previously a challenge for the real estate guru.