Outlandishly handsome, smoldering hot, and a sexy hunk; these are just a few of the adjectives that are often used to describe Alexander Skarsgård and the reason is not farfetched. The award-winning Swedish actor boasts of stunning good looks which have certainly come in handy in making him one of the best-known actors in Hollywood.
Skarsgård's appearance has also made him the toast of many ladies and he has gone on to date quite a good number of them, including some of his fellow movie stars. The actor is however yet to meet the one and as such, the search for his Mrs Right, as well as the mother of his future kids, all nine of them, continues and promises to be an interesting one.
How Fame Messed With His Love Life
Alexander Skarsgård has been romantically linked to several of his co-stars, as well as other glamorous women in showbiz. Some of these relationships have been confirmed while others are just rumors which sprung up from the imagination of the person peddling them. Given such an enviable love life, one would think that the actor would have become a pro at the whole dating thing but this is not so. He himself has admitted to struggling with that aspect of his life and he blames this on fame.
According to Alexander, he became a monster famous in his native Sweden at the age of 13, thanks to the TV series, Hunden som log. This fact naturally made many young girls flock around him and he began to believe that the only reason they were smitten with him was his fame. This messed with his self-confidence and made him feel worthless and since then, he has been on a quest to find a girl who truly likes him for him (i.e. because he is funny, cute, and interesting) and not just for fame. That quest remains ongoing and has seen the actor date several Hollywood A-Listers.
A Breakdown Of The Confirmed Relationships Alexander Skarsgård Has Been In
As already established, Skarsgård is a hunk and has never lacked attention from the opposite sex. Thus, he has dated a lot of them as listed below.
Amanda Seyfried
Alexander Skarsgård's dating history goes back to the year 2008 when he was linked to American actress, Amanda Seyfried. He and the Mean Girls star dated for a few months during which she found him very funny. Their relationship however did not last long as Amanda was smitten with Dominic Cooper, her co-star in Mamma Mia!. She, therefore, ended things with Skarsgård before it could go any deeper and moved on with Cooper.
Evan Rachel Wood
Following the sad end of his romance with Seyfried, Skarsgård tarried until 2009 before commencing a relationship with another American actress named Evan Rachel Wood. He and Wood got to know each other during the time they worked together on the hit TV series, True Blood. They subsequently commenced a relationship that would last for several months in 2009.
The couple however refused to confirm their romance during this time. It was only after they split that Wood fessed up and revealed that she had indeed dated one of her True Blood co-stars.
Kate Bosworth
Moving on from that, another co-star that Skarsgård has dated is Kate Bosworth. He and the American actress first got close to each other while shooting the thriller, Straw Dogs. They commenced a relationship in 2009 and remained together for about three years but later broke up in 2011.
The couple's breakup was described as mutual, however, some sources say Skarsgård wanted to propose to Kate but she called it quits. Whatever the truth is, the heart-warming fact is that the exes are friendly. They posed together at the 2018 Met Gala and Kate has described Skarsgård as a kind and very professional person who boasts of stillness and control that is only found in old movie stars.
His Romance With British Icon, Alexa Chung
Upon breaking up with Bosworth in 2011, Alexander Skarsgård embarked on a series of rumored flings for the next three years. The next confirmed romance that he was in came around 2015 when he began dating British model, fashion designer, and author, Alexa Chung. Though he and Alexa were mega private about their romance, they were spotted hanging out at Central Park occasionally.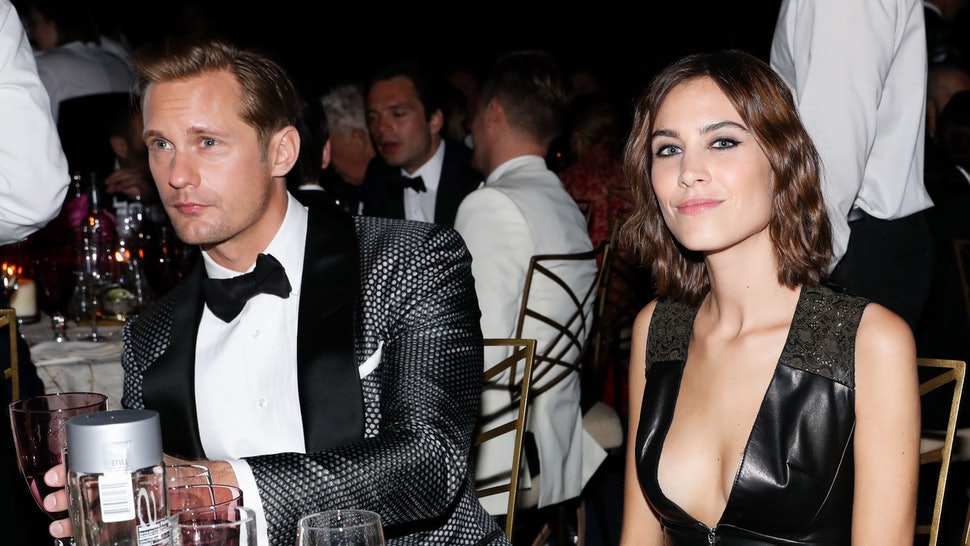 They remained together up until July 2017 when they called time on their relationship. Following the end of the romance, a source close to the couple revealed that the split was clean and that there was no cheating involved. The source further stated that the two stars really loved each other and were pretty serious but had to break up due to their busy schedules, as well as the long distance.
Since splitting up with Chung, Alexander Skarsgård has yet to commence another steady romance. The actor reportedly went on a blind date with the German model, Toni Garrn, but they didn't click. Skarsgård was also linked to the model, Camille Rowe, in 2018, but nothing tangible came out of it as well. The actor is now taking a break from the whole dating scene but given his antecedents, it is only a matter of time before he bounces.
The Rumoured Hookups With Some Of His Co-stars
When you are drop-dead handsome and a movie star, rumors would abound around your love life. As such, a lot of beautiful women have been rumored to be dating Alexander Skarsgård.
Katie Holmes
In 2014, Alexander Skarsgård was romantically linked to American actress, Katie Holmes, after they co-starred in the fantasy sci-fi movie, The Giver. According to the rumor mill, Alexander and Katie grew close during filming and frequently flirted with each other on set.
They later embarked on a series of secret meetings after filming. These reports were denied by Holmes and Alexander with the pair maintaining that nothing was going on between them.
Margot Robbie
That same 2014, Skarsgård was also rumored to have dated another co-star in the person of Australian actress, Margot Robbie. He and Robbie played husband and wife in the adventure/romance movie, The Legend Of Tarzan, and many fans now transplanted their on-screen romance to real life. It, however, turned out that there was no truth in the speculations as Robbie was going steady with British film director, Tom Ackerley, whom she would eventually marry.
Alicia Vikander
In 2013, unconfirmed reports romantically linked Skarsgård to award-winning Swedish actress, Alicia Vikander. The parties refused to confirm it but pictorial evidence heavily suggested that there must have been something between the two. A year before that, Alexander found himself being linked to Oscar winner, Charlize Theron, and actress, Elizabeth Olsen.
Charlize Theron
The Olsen rumors were quickly squashed but the Charlize Theron one refused to go away. Even in 2018, the two were still linked together after co-starring in the movie Flarsky. The duo has, however, refused to confirm anything but many believe that something must have gone down between them, if not in 2018, then in 2012.
Skarsgård's Hopes To Settle Down Someday And Have Lots Of Kids
Alexander Skarsgård may have had a vibrant love life but this does not mean that he does not want the whole happily-ever-after package. The actor has never hidden his desire to get married and procreate and in a February 2018 interview, he revealed that he would love to settle down someday and have as much as nine kids. Alexander Skarsgård is however determined to find the right person rather than just settle for anybody and thus make a mistake that he would regret someday.
According to the actor, he has seen several of his friends settle down with someone who seems alright just for the purpose of starting a family. The couples would then end up being miserable and go through horrible divorces. Skarsgård is determined to avoid such reality and that is why he is taking his sweet time to settle down. One cannot really fault the actor on this logic as a popular truism holds that it is better safe than sorry.