Alexander Skarsgård is an award-winning Swedish hunk who has become a household name in Hollywood. A fruit which didn't fall far from the tree, the outlandishly handsome actor followed in his father's footsteps. He began his career as a kid and has been in the acting world since 1984. Though uncertain about the exact career path to tread at some point in life, choosing acting has become one of Skarsgård's best decisions yet. Besides acting, however, the smoldering Swede is the inspiration behind the popular term 'skarsbrow' which is a reference to the unbelievably sexy way he raises his left eyebrow. Find out all there is to know about the True Blood actor including his legendary dating history.
Biography (Age)
The Swedish actor from Stockholm was born on August 25, 1976. Being the son of Hollywood star actor and director Stellan Skarsgård, it is no surprise that Alexander Johan Hjalmar Skarsgård began acting at the young age of seven. He made his acting debut in the 1984 movie adapted from the popular children's book Ake and his World.
Though he began his acting career quite early, Skarsgård was initially torn in between training to be an actor or pursuing other interests. The actor's academic records show he first spent six months studying English at Leeds Beckett University, England before later taking up a course in theatre at Marymount Manhattan College. More so, at age 19, he applied to serve in the national Swedish army although he had a short-lived military career. By age 20, he finally decided to return and focus on acting.
Alexander Skarsgård, who often plays a lot of troubled, brooding bad boy characters, has so far had a successful acting career. During a visit to the US in 2001, he auditioned for the role of Meekus in the cult classic Zoolander. Fortunately, he landed the vacuous male model role. He thereafter took a break for two and a half years.
Besides Zoolander, his most notable roles and productions to date include vampire Eric Northman on the cult hit HBO series True Blood, Brad Colbert in Generation Kill and the sexy spy in the thriller The Little Drummer Girl. In 2016, he played the title character in The Legend of Tarzan. The Swedish actor also played the role of a charming yet violently abusive husband to Nicole Kidman in Big Little Lies. His dedication and outstanding performance on the hit TV drama won him an Emmy, SAG, and Golden Globe awards.
Alexander Skarsgård's Family – Wife, Daughter, Girlfriend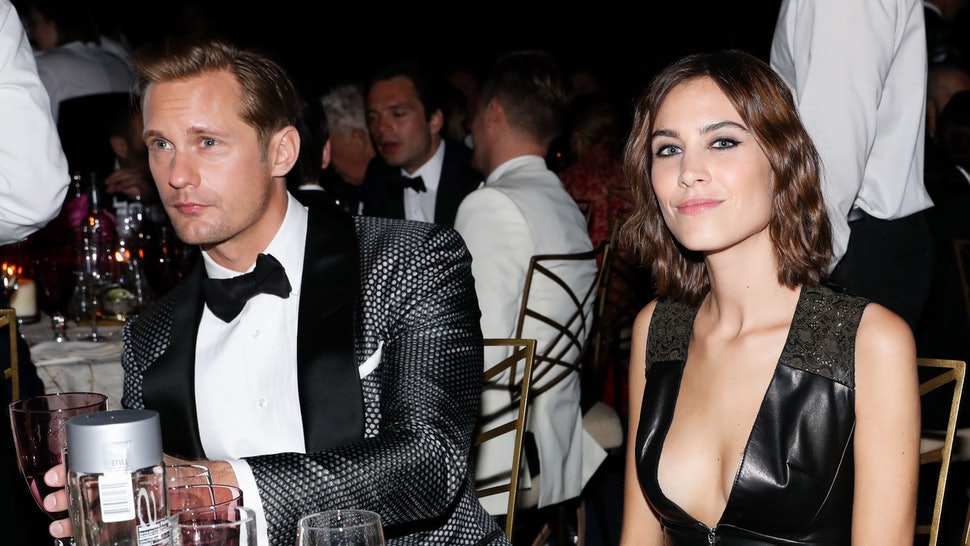 To the best of our knowledge, Alexander Skarsgård has never been married and has no kids…at least not yet! Though unmarried and happy to live out of a suitcase, the smoldering Swede plans to have nine children in the future. However, the hunky actor who is presumed to be fully enjoying the moment and living the Hollywood life has an interesting dating history.
Skarsgård has often been linked with co-stars and glamorous women. His past love life includes rumored flings and confirmed romance with some of Hollywood's A-list stars. While he is perhaps currently single, here are just some of the women he has been connected to in the past.
His last known high-profile relationship was with British icon Alexa Chung. Though Alexander and Alexa were mega private about their romance, the former lovebirds are believed to have begun dating in 2015 until July 2017 before calling time on their relationship. However, in the fall of 2018, the duo was rumored to have rekindled their flame.
In 2014, Skarsgård was romantically linked to Katie Holmes, his co-star in the movie The Giver. However, the on-screen couple debunked the reports. That same year, he was also speculated to have dated his The Legend Of Tarzan co-star, Margot Robbie.
In 2013, unconfirmed reports romantically linked Skarsgård to Alicia Vikander, but neither party confirmed the rumors. The previous year, it was Charlize Theron and Elizabeth Olsen, but again, these relationships were never confirmed.
Between 2009 and 2011, Alexander Skarsgård dated Kate Bosworth whom he met on the set of Straw Dogs. Before Bosworth, he dated his co-star Evan Rachel Wood in 2010. In 2008, he dated Amanda Seyfried but the relationship was only speculated until the actress confirmed it in 2011.
Parents, Siblings
The True Blood actor is the eldest son and one of six children born to the great Hollywood stalwart Stellan Skarsgard and My Skarsgard, a medical doctor. His star actor dad is renowned for his appearance in movies such as Pirates of the Caribbean, Mamma Mia!, Cinderella, and The Avengers, among others.
Alexander is one of his father's four children who inherited his entertainment genes. Though not yet as famous as their star dad or their award-winning oldest brother, actors Valter Skarsgard, Gustaf Skarsgard, and Bill Skarsgard are also doing well in their own right as actors.
See Also: Who is Bradley Cooper's Wife or Girlfriend – Irina Shayk, His Net Worth & Baby
Height
Alexander Skarsgård has alluring physical attributes such as his blonde-hair and intimidating presence. The Swedish Hollywood hunk further towers at a height of 6 feet 4 inches.