Best known for her role as Annabeth Chase in the 'Percy Jackson' film series and Summer Quinn in Baywatch, Alexandra Daddario has proven herself to be not just one of the pretty faces you will find in the movies, but also as one of the most talented ladies Hollywood ever produced. Coming from a family of legal practitioners, Daddario chose a different career path for herself while in her preteen and after studying the Meisner acting technique for years, she was able to land herself a notable role at the age of 16, playing victimized teen Laurie Lewis in the ABC daytime soap opera All My Children. Today, she is one of those people you would hardly want to miss in the big (or small) screen. With several major breakthroughs on her career line, it won't be so much a surprise to find her among the highest-paid stars of her time. Let's take a look at some of her major achievements in the industry.
A Look At Daddario's Highest-Paying Roles
Far beyond her good looks and penetrating blue eyes, Alexandra Daddario has been able to effortlessly convert her long groomed passion for acting into a very successful career. Despite the overwhelming presence of costars with bigger names in the show business, this actress has been able to find her way through the industry. She has worked with the likes of Dwayne Johnson, Brad Peyton, Carla Gugino, Carlton Cuse, Andre Fabrizio, and trying to shine when they are in the room has to be kind of tough. Nevertheless, she's been able to make several impressive highlights for herself with the 2010 action fantasy film, Percy Jackson & the Olympians: The Lightning Thief, marking her first major breakthrough.
Hitting around $226.4 million at the box office, against a budget of around $95 million, the English film saw Daddario sharing the screen with great actors like Steve Coogan, Sean Bean, Pierce Brosnan, and Catherine Keener. The film earned her first major pay and launched her entrance into Hollywood's competitive centre.
The 2015 American disaster film, San Andreas, ushered Alexandra into another realm of fame thanks to its huge success at the box office. While the film was perhaps the actress' first golden opportunity to star with the likes of Dwayne Johnson, other films like The Choice, Hall Pass (2011), Texas Chainsaw Massacre 3D (2013), helped to push her dramatic side as an actress even further. In 2017, she got yet another major boost in her career after being cast alongside Dwayne Johnson and Zac Efron in the film adaptation of Baywatch, which was a box office hit.
In 2018, Alexandra appeared in Maroon 5's video for his song Wait. She functioned as a cast and an executive producer in the Sophie Kinsella novel-based movie, Can You Keep a Secret? As of 2019 and 2020, the actress has appeared in more notable films and TV series including Lost Transmissions, Why Women Kill, and Superman: Man of Tomorrow.
How Much Has the Actress Made So Far?
With so much done already, Alexandra Daddario is believed to have also made some good financial achievements from her career. While she is believed to have earned much income from her appearances on television shows, this beautiful actress is also believed to have earned more from films like Percy Jackson: Sea of Monsters (2013), Baywatch, (2017) and The Choice (2016), which grossed $200.9 million, $177.9 million, $23.4 million, at the box office, respectively. Her annual income is yet to make the headlines but estimates put her net worth at about $8 million.
The Actress Has Been Romantically Linked To A Handful of Men
Alexandra Daddario is an exceptionally attractive woman whose beauty captivates her fans and admirers alike. She has had her fair share of Hollywood romances, however most times, fans have often been too quick to link her with fellow stars. Let's take a look at some of these relationships including the rumored ones with no substantive evidence to prove whether or not it ever did exist.
Jason Fuchs
Daddario's relationship with the television and film actor and screenwriter was made public in 2006. Although there were no further details about how they first met each other, they remained together for roughly three years (2006-2009) before they went their separate ways. Even so, they are still the best of friends. The actor Fuchs was born in New York City to a Jewish family. His career in the movie industry began at the tender age of seven at the Lincoln Center. He has been seen in several series such as Cosby, The Sopranos, and Law and Order.
Jason is also a very talented writer. He won the Hugo Award for Best Dramatic Presentation – Long Form for the 2017 American superhero film, Wonder Woman. In January 2015, Fuchs was included on the Forbes 30 Under 30 list.
Trey Songz
Although not confirmed by the actress, Daddario's brief relationship with the popular RnB singer Trey Songz was rumoured in 2011, during and after the release of the movie, The Texas Chainsaw Massacre, where they appeared together.
The American singer, songwriter, and actor has been known for his many flings and his rumoured relationship with the star actress was no big surprise to their fans at all.
Logan Lerman
In 2016, Alexandra Daddario found romance once again in the company of Logan Lerman, her former Percy Jackson's movie co-star. The pair apparently met when they were auditioning for the Percy Jackson movie. They later got engaged, but never made it down the aisle. Contrary to what fans expected, they were rarely spotted together in public and their breakup was as private as their relationship.
Zac Efron
Alexandra was rumoured to be in a romantic relationship with her Baywatch (2017) co-star, Zac Efron who she met on set. The rumors were sparked as a result of their closeness during and after the film's shoot. They were spotted out on a couple of occassions. Alexandra would later clarify things to People that she and Efron were nothing but very good friends.
Brendan Wallace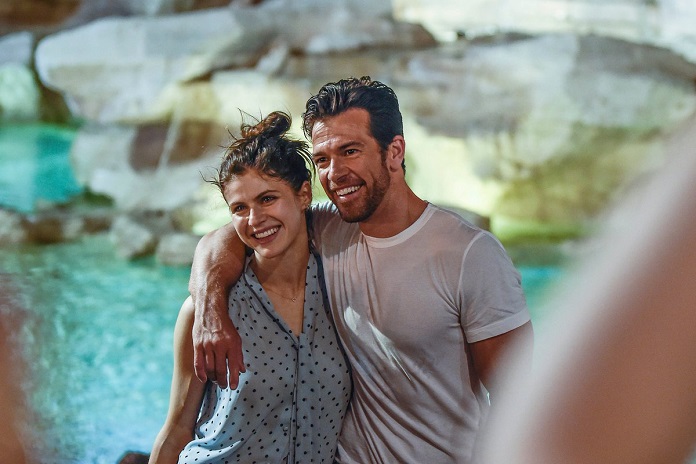 First spotted together in Los Angels, Brendan Wallace and Alexandra are rumoured to have started dating in April 2019. The two were also seen together on a romantic trip to Italy. Brendan, who is a native of New York and lives in Los Angeles is far from the kinds of men Alexandra is known to date. Unlike her previous dates, Brendan is not into show business but is a businessman. He is a co-founder and managing partner of the Venice-based venture capital firm Fifth Wall Ventures. He is also a co-founder of Cabify, the largest ride-sharing service in Latin America. Wallace was previously known to be dating English actress, model, Emma Watson. Alexandra, like her previous relationships, has kept her dalliance with Brendan off social media, thus making it difficult to track the progress of their relationship. The 5 feet 6 inches tall actress through an Instagram post revealed her type of man to be a gentleman who would get her shy self out of her comfort zone.