Alfonso Ribeiro is a mixture of many talents being an actor, dancer, comedian, director and television host all in one. Having survived child acting, Alfonso took the big screens by storm with his role as Carlton Banks in The Fresh Prince of Bel-Air (1990-1996). Despite not being the lead, Alfonso made a lifetime lasting impact with what is now popular as The Carlton dance. He is the host of the popular ABC humor series, America's Funniest Home Videos. Read on to learn everything you need to know about the American entertainment personality, including his marital/family life.
Alfonso Ribeiro Bio (Age)
He was born as Alfonso Lincoln Ribeiro on September 21, 1971, in the Riverdale locality of The Bronx borough in New York City, New York, U.S.A. He is American by nationality and Trinidadian by decent.
Growing up, Alfonso Ribeiro showed a keen interest in dance. He eventually started his entertainment career at the young age of eight, debuting in the PBS 1980 film, Oye Ollie. He later gained public attention after starring as the lead in The Tap Dance Kid, a 1983 Broadway musical drama. Following the exposure, Michael Jackson noticed Alfonso and subsequently featured him as one of his background dancers in a Pepsi advert in 1984. He soon after landed a major role in the NBC situation comedy, Silver Spoons, starring as lead character Ricky Schroder's closest friend, Alfonso Spears between 1984 and 1987. At the end of the series, he went off to Los Angeles to study at the California State University.
Prior to his breakthrough in acting, Ribeiro authored Alfonso's Breakin' & Poppin' Book, a dance instruction book which he published in 1985 at the age of 14. He also released a number of singles in the 1980s including "Not Too Young (To Fall In Love)", "Dance Baby", "Sneak Away With Me" and "Timebomb".
Career Breakthrough
Ribeiro eventually landed his breakthrough role in the 1990-1996 NBC sitcom series, The Fresh Prince of Bel-Air, starring as Carlton Banks, a cousin to lead character Will Smith. Alfonso's character, Carlton had the habit of dancing to Tom Jone's "It's Not Unusual" in the film, a routine that later earned him "The Carton Dance" trademark. Ribeiro would later sue Epic Games in 2018 for featuring the Carlton dance on their 2017 video game, Fortnite.
From 1996 to 1999, Ribeiro portrayed the main character Dr. Maxwell Stanton on the American sitcom, In The House. He later reprised his Carlton Banks role in episode 201 of the series. In 2006, he participated in and won the Celebrity Duets reality TV competition.
Starting from July 2008, Alfonso Ribeiro became the host of Catch 21 on the Game Show Network (GSN). In 2013, he started hosting Spell-Mageddon, an ABC Family game show. On May 24th of the same year, he made a cameo appearance alongside Will Smith and his son Jaden Smith on The Graham Norton Show where he performed The Carlton dance.
In November 2014, Ribeiro competed in and won season 19 of Dancing with the Stars alongside his professional partner, Witney Carson. He later appeared respectively as a guest judge and substitute host on week 3 and 4 of Season 21 of the competition in 2015. He also did a trio jive alongside Season 25 winner, Frankie Muniz and his partner Witney Carson in week 8 of the competition in 2017.
As a director, Alfonso Ribeiro has worked on episodes of some TV series such as All of Us, Meet The Browns, Are We There Yet? among others. Since 2015, he has been the host of ABC's America's Funniest Home Videos as well as Food Network's Cooking Channel program, Unwrapped 2.0. In October 2018, he also started hosting the U.K game show, Money Tree.
Ribeiro is also a golf and car racing enthusiast, always participating in celebrity golf events and car races. In the 1990s, he worked part-time as a car racer in the Star Mazda Series, finishing 3rd in one of the competitions.
Alfonso Ribeiro's Family – Parents, Wife, and Kids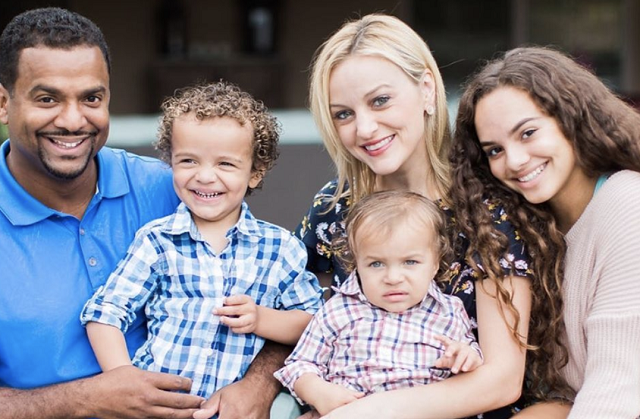 Alfonso is the son of Michael and Joy Ribeiro who are both from Trinidad.
He married Angela Unkrich on 13th October 2012 after dating her for some months. He welcomed his first child with Angela, a son named after him (Alfonso Lincoln Ribeiro) on October 27, 2013. The couple later welcomed their second child, also a son, Anders Reyn Ribeiro on April 30, 2015. On 13th May 2019, Angela gave birth to their third child and first daughter, Ava Sue.
Prior to Angela Unkrich, Alfonso previously married Robin Stapler on 20th January 2002. They, however, separated in 2006, and later completed their divorce on 19th February 2007. Ribeiro and Stapler have a child together, a daughter named Sienna Ribeiro.
See Also: Rodney Alcala Bio and Facts About The Dating Game Killer
Height
Alfonso has an average height of 5 feet 7 inches (1.7 meters). He has a fit athletic body which is mostly trimmed by very demanding dance sessions. In 2014 while contesting on Dancing with the Stars, Alfonso reportedly lost up to 7 kg to strenuous dance rehearsals. He has curly black hair and brown eyes.
Alfonso Ribeiro's Net Worth
Alfonso Ribeiro has amassed an estimated net worth of $7 million. While his major source of income is his entertainment career, he may have also made significant sums from other ventures.