Alice Young is the wife of Neil DeGrasse Tyson, a renowned American astrophysicist, television host, and author. The 41-year-old Alice Young is not as popular as her husband, but she is also well-read, holding a bachelor's degree in Physics and a doctorate degree in Mathematical Physics. 
Alice Young's husband, Neil DeGrasse Tyson, is currently the Frederick P. Rose Director of Hayden Planetarium at the Rose Center for Earth and Space in New York City. Among his most prominent achievements as an Astro-scientist is the fact that he significantly contributed to changing Pluto to the 'dwarf planet' category. As a TV host, Tyson has anchored shows on PBS, National Geographic, and Fox, including the Fox and NatGeo's TV series Cosmos: A Spacetime Odyssey.
Just like her husband, Alice is also a Doctor of Physics, precisely a mathematical physicist. But that's not all to know about her; read on to find out more about Neil Degrasse Tyson's wife, Alice Young.
Who Is Alice Young, Neil DeGrasse Tyson's Wife?
Alice Young is Neil DeGrasse Tyson's wife who was born in 1958; however, her exact birth date and place of birth are not available. On completing high school, Alice gained admission into Rice University, Houston, to pursue a Bachelor's Degree in Physics. She subsequently earned a Doctorate Degree in Mathematical Physics from the University of Texas, Austin, in 1985.
Alice met her husband, Neil DeGrasse Tyson, the same year she completed her doctoral degree – 1985. Then, Tyson was also a postgraduate student at the University of Texas, Austin, pursuing a Ph.D. in Astrophysics. It happened that Alice and Neil were sharing a physics course and met during one of the lectures. On seeing Alice for the first time, Neil knew she was the one! So he did not hesitate to make his move, to which she eventually agreed.
Alice Young subsequently married Neil DeGrasse Tyson in 1988. She has two children with him – a daughter named Miranda Tyson and a son named Travis Tyson. The couple named their first child and only daughter, Miranda, after one of Uranus's moons. Just like her father, Tyson, Miranda attended the Bronx High School of Science in New York, finishing in 2014. She is currently a Harvard undergraduate. As for Travis, there is no available info on what he is doing at the moment.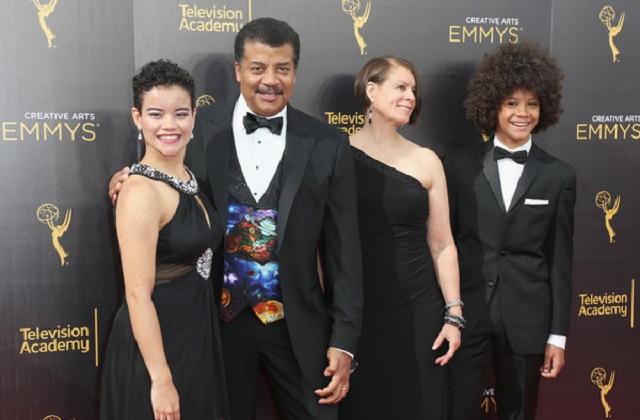 Alice lives with her husband and two kids in their elegant home located in the Tribeca neighborhood in Lower Manhattan, New York City, close to the World Trade Center.
The Controversy Her Husband Has Faced 
Once an individual makes it to the limelight, there is bound to be a point when he or she will be entangled in one controversy or another, no matter the field of life of the person. In this vein, Alice Young and her scientist husband, Neil DeGrasse Tyson, were apparently enjoying a blissful union as well as their celebrity status until controversy struck late in 2018.
Neil DeGrasse Tyson was serially accused of sexual misconduct; however, his wife of many years, Alice Young, threw all her weight behind him through the trying times. Although Tyson was a famous personality before this, the ugly development pushed him and his wife to the headlines, creating the desire among many to know more about them.
5 Facts To Know About Neil Degrasse Tyson's Wife
1. Alice Has Been Neil DeGrasse Tyson's Wife For Over Three Decades
Married in 1988, Alice Young and Neil DeGrasse Tyson celebrated their 30-year wedding anniversary in 2018.
2. Her Husband Is The "Sexiest Astrophysicist Alive"
Neil Degrasse Tyson is the only Astrophysicist who has ever emerged as "the sexiest". The People magazine named him the Sexiest Astrophysicist Alive in 2000. Neil has also been featured in a number of magazines for being a wine enthusiast.
3. She Is Media Friendly
Alongside her husband, Alice Young loves attending events such as awards and premieres, as well as hitting the red carpet at each of the occasions. Most of the time, the couple appears with their two lovely kids.
4. Alice Was Once An IT Manager
Although her professional/occupational history is not handy at the moment, Young once worked as an Information Technology Manager at Bloomberg L.P. in Midtown Manhattan, New York City.
5. She Stood By Tyson Amidst Multiple Sexual Misconduct Allegations
All through the sexual misconduct scandal, Alice stayed true to her husband. Four different women had consecutively raised accusations against Tyson between November and December 2018, stating that he sexually assaulted or behaved inappropriately with them.
The incidents which reportedly took place in 1984, 2009, 2010, and 2018 included rape, groping, inappropriate comments, and sexual advances, respectively.