Her paintings usually have in them this quality of cool stillness blended with fullness, freshness and a sense of presentness. In their simplicity, they often evoke numerous emotions and thoughts in a viewer. Presently one of America's most talented professional painters, Alix Bailey can successfully paint anyone in the world either from imagination or from a photo!
But unlike her profession which is widely regarded a success, Alix Bailey's marital life did not succeed. She married popular but controversial American comedian, actor, writer, and film producer Louis Szekely widely known as Louis CK but the union did not last.
Although Alix prefers to keep her life in the background, Louis who is credited with about nine comedy albums has always made her the centre of his works either directly and indirectly. This attitude of his has continued to arouse in people the desire to know more about her. Read on to find out everything you need to know about Alix Bailey, the ex-wife of now defamed Louis CK.
Everything About Louis CK Ex-wife, Alix Bailey
Bio
Alix Bailey was born on February 3, 1967, in Washington, United States of America. Her parents, Sandra Stone and William Bailey were both painters and raised her in New Haven, Connecticut, and Italy alongside her brother, Ford.
Surrounded by painters, Alix Bailey developed a love for the profession right from childhood and on growing up, took after her father in her style of painting. On completing her high school education, Bailey attended the Bennington College where she studied Painting. She went ahead to earn a Masters Degree in Fine Arts from Indiana University.
Alix studied alongside legendary American artist and painter, Sidney Tillim and Pat Adams. In addition to her natural talents, she acquired fine skills in the art such that her paintings have been likened to those of famous UK-based American artist, Whistler. She is currently a member of The Painting Centre, a non-profit arts organisation/gallery located in Chelsea, New York. She has also had her works displayed on several famous galleries and art exhibitions across New York, Connecticut, and Italy; including the Blue Mountain Gallery Group Show.
Alix Bailey married Louis CK in 1995. They, however, divorced in 2008, 13 years after their marriage, citing an inability to make each other happy as their major reason for separation. Meanwhile, the former couple has two daughters together, Kitty Szekely born in 2002, and Mary Louise Szekely born in 2005.
Also Read: Alexi Ashe Bio, Age, and Facts About Seth Meyers Wife
Alix presently lives with her daughters in Greenwich Village, Manhattan, New York from where she practices her painting profession.
How she met and married Louis C.K
Alix met Louis in Boston, at a New Year's Eve party. Louis had gotten himself extremely drunk at the event and ridiculously proposed to Alix just five minutes after seeing her for the first time. The latter did nothing more than laugh him to scorn. But eventually, they met again fifteen years later through a mutual friend, and CK once again proposed to her without hesitation. This time, she said yes. They started dating and subsequently tied the knot in 1995.
Alix is of the same age as Louis
Alix Bailey and Louis C.K. were both born in 1967. When they met the first time, they were both 18 years old.
She has joint custody of her children with Louis
Alix and Louis' divorce proceedings and agreements were very amicable – no drama, no scandal, no headlines. Prior to their separation, they tried to save their relationship through marriage counseling for a whole year, but it didn't just work out for them. Following their divorce, they have maintained a cordial relationship, sharing custody of their two daughters without issue.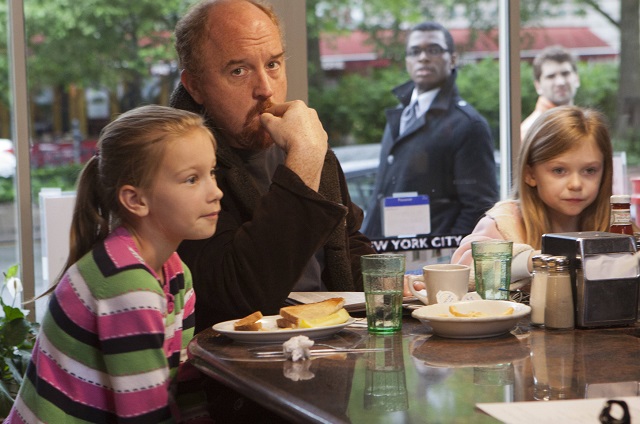 The quite surprising part of the story is the fact that the former couple also acquires and own property jointly even after divorce. In 2016, eight years after their separation, they bought a $564,900 apartment in Greenwich Village, New York. They reportedly co-own three others in the same building which they previously acquired.
Alix Bailey has remained single post-divorce
Since after officially separating from Louis C.K, Alix Bailey has not entered into any other romantic relationship. She has remained single, keenly focusing on her painting career as well as raising her kids. On the contrary, Louis CK has reportedly married actress Pamela Adlon.
She is also an actress
In addition to her painting career, Alix Bailey is also a notable actress. So far, she has starred in a number of films, majority of which are Louis CK's works. They include Tomorrow Night (1998), Searching for Nixon (2006), Spooky Stakeout (2016) and Pootie Tang (2001) in which she is credited for all of the artworks.