Also known as the Nollywood Bad Boy, Jim Iyke is not just popular for playing bad roles on set, the Anambra actor is equally popular for his romantic dalliances off the screen. He recorded several highly publicized relationships which led many to question the rationale behind his outdrawn bachelorhood even into his forties. Fans and the general public were asking that Jim take the ultimate step and get married not knowing that the dude is already a father.
James Ikechukwu Esomugha as his given name said he welcomed his baby boy Harvis Chidubem Iyke on the 1st of September 2015 in Atlanta, Georgia USA. Harvis' mum is none other than his long-time girlfriend Dana Kinduryte who is presently living with the actor in his Atlanta home. Contrary to what we think, the couple is yet to formalize their relationship but has been living as man and wife for a long time.
Jim Iyke and Dana Kinduryte's Relationship Seems to be Very Strong
When Dana Kinduryte came into Jim Iyke's life, it quickly became obvious that it was far from being another Nollywood film, rather, it was perceived as a nice and blissful reality. The duo reportedly met in the United States, though we cannot state categorically when. Reports said that Dana was completely in the dark about Jim's celebrity status when they met, she only got to know later. The couple were previously living apart until Dana moved in with Jim in his Atlanta residence during the second trimester of her pregnancy.
It is almost six years of cohabitation between the couple and the media couldn't help but wonder when Jim Iyke was going to make an honest woman of Dana. When he was quizzed about their relationship in an interview, the Nollywood Bad Boy avoided answering, perhaps because he considers it a bit too personal. The two have a wide age gap of 15 years between them, but it has not affected their relationship one bit.
Important to note that there is a rumor that Jim Iyke and Dana are already man and wife and their wedding was a private affair in Texas USA. The speculations also said that only the couple's closest friends were in attendance.
The Nigerian Actor is Obviously Besotted with His Baby Mama
Jim Iyke himself revealed that Dana is truly the woman for him. According
to the Nigerian movie star, she has a better understanding of his life much more than any other person. Apart from that, Jim is impressed by the fact that Dana is more of a regular woman and not one of the celebs. Again, he loves the quiet life he enjoys with Dana, saying that almost all his past relationships were over publicized, thus, he makes a conscious effort not to flaunt this one so much.
Obviously, the Nollywood movie star is in a happy place with his beautiful baby mama and adorable son. The dude sure feels contented with his two most precious people and perhaps does not need the comfort of a wedding ring to prove it to the world. However, knowing Nigerians, we are still hoping for the day when the actor will take a woman on the walk down the aisle.
But who is Dana Kinduryte Outside Her Relationship with Jim?
Very little was known about Dana Kinduryte until her name surfaced as the mother of Jim's baby. Suddenly, she sparked a frenzied curiosity among fans of the movie star. Many wanted to know the identity of the woman that has succeeded in stealing the heart of the elusive Nollywood Bad Boy.
It was later revealed that Jim Iyke's girlfriend is from Lithuania (her family hails from Lithuania's second-largest city named Kaunas) but now based in the United States of America. Reports also revealed that Dana is a qualified lawyer with fluency in three different languages namely English, French, and of course the native baltic language spoken in Lithuania – Lithuanian.
Jim Iyke is a Father of One
Even though the Nollywood Bad Boy does his utmost to keep the details of his love life away from prying eyes, the birth of his son became public knowledge instantly. Harvis Chidubem Iyke announced his entrance on the 1st of September 2015 in an Atlanta hospital. Jim Iyke and Dana's son has already celebrated his fifth birthday and lives with his parents in Atlanta.
In an interview session, Jim confessed his life completely changed after the birth of Harvis. According to the Nollywood movie star, the arrival of his baby boy did not just make him a stronger person, it equally brought out the better side of him. Jim views the boy as his motivator, acknowledging that watching his little man is akin to seeing himself.
From what is perceivable, Jim Iyke is one good dad and will no doubt make a good spouse to his wife. The dude seems to know what he is doing around Harvis as he takes care of their baby with ease. Several photos of Jim doing the daddy thing have surfaced on the internet and he is obviously an adept hand at feeding, babysitting, and taking care of babies.
According to reports, the award-winning actor preferred to pass through the whole experience of bringing up a child without external interference. Thus, he refused the help offered by his family and Dana's own. On his own, the entertainer mastered the basics of fatherhood which opened his eyes to a whole lot of things. The actor obviously loves his baby boy above any other thing
The Nollywood Movie Star Has Dated Other Women
Apart from Dana who is considered a regular woman, most of the women Jim Iyke has dated are celebrities. More important is the fact that they are mostly foreigners like Jamaicans, Ghanaians, and even his baby mama is Lithuanian.
Keturah Hamilton
Celebrated Jamaican model Keturah Hamilton was the actor's first known girlfriend. They reportedly met while Jim Iyke was on a filming tour in the US. The attraction according to reports was so strong that Jim was convinced Hamilton is the one and came out to tell fans they were heading for the alter. The messy breakup that followed was rather surprising and Keturah never forgave the actor, claiming she gave him six years of her life only to be dumped without notice.
Nadia Buari
After his breakup with Keturah, speculations ran rife that Nadia Buari – the beautiful Ghanaian actress was the reason behind his separation with Keturah. The media suddenly began to see the Ghanaian beauty as the potential wife of Jim Iyke. Besides, he told a tale of how they met in the movie industry after taking part in a reality show, following this rumors ran rife about the duo's close personal relationship. However, the love they found was far from enduring, lasting for just a few months. It is important to note that people pointed fingers at Jim as the man who sired Nadia's twin daughters but the two were quick to dispel the rumors. Nadia and Jim have remained friends since their separation.
Rosaline Meurer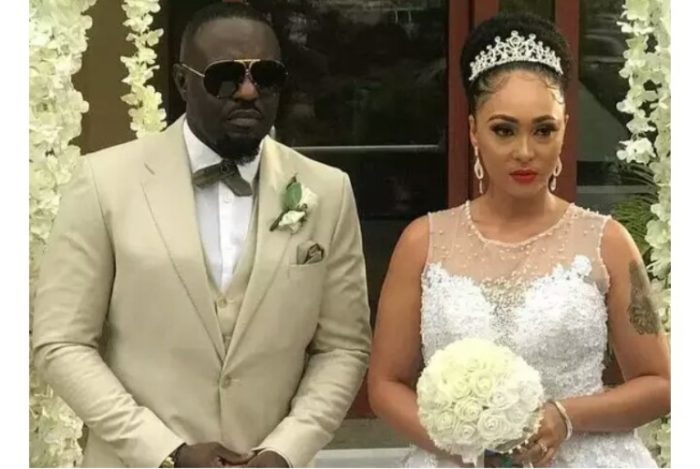 Nollywood star Rosaline Meurer was linked to Jim Iyke in 2018 after their wedding photos surfaced on the internet. However, their marriage was not a real-life one; it was just meant for the promotion of the film Yoruba Demons by Ayo Makun, popularly known as AY. Even after the air was cleared, people kept on congratulating the couple on their wedding.