Mmusi Maimane and his wife Natalie are best described as a couple that found each other during post-apartheid South Africa. The SA politician who went on to found OSAM (One South African Movement) after his exit from the Democratic Alliance Party (where he was their leader) tied the nuptials in 2005. The fact that his wife is a white woman born and brought up in Roodepoort Gauteng bred a lot of challenges at the initial stage of their union. However, the couple has proved to the world that their union has a strong foundation with the pillars completely unshakable as the flames of their love cannot be extinguished.
After they exchanged the forever commitment in 2005, the interracial couple started having children, and today, they are proud parents to three beautiful kids. Even with his busy schedule as a politician, Mmusi Maimane, who has only ever married once in his life, always creates time for family. The former DA leader has been spotted taking his children out on special "daddy's dates" and his wife is not left out. Natalie has attested to the fact that Mmusi is a loving and caring husband and a great dad. But there is more to learn about the Maimane family.
How Did Mmusi and Natalie Maimane Meet?
The duo grew up worlds apart separated by railway lines with Mmusi Maimane in Dobsonville, Soweto, and Natalie Maimane on the other side of the divide at Roodepoort. However, fate and providence played a role in making their paths cross. Even though they lived far away from each other, Mmusi and Natalie were members of the same church – the Community Ministries Church located in Muldersdrift, the northern part of Johannesburg, and that was exactly where they met.
When quizzed, neither of the two could place their hands on the exact date of their meeting and according to Natalie, they probably didn't make great impressions on each other, but Mmusi who feigned shock at her response couldn't remember either. However, they recalled the fact that Natalie was a young girl of 15 then.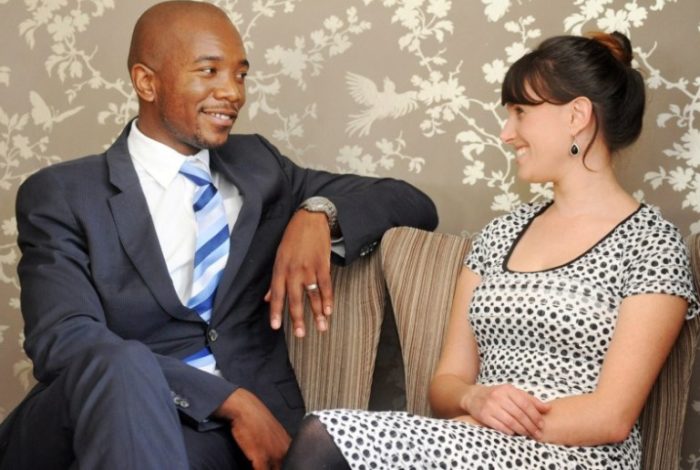 True to Natalie's words, they really didn't hit it off immediately but remained close friends for years as the Roodepoort native came to see Mmusi Maimane in the light of a brother figure, though they often went for coffee together. Things changed for them on a particular "coffee day out" when they came to the realization that their relationship has actually transcended beyond the platonic. With the passage of time, love just grew out of the close friendship.
After they became an item, things were accelerated for the two; they only dated for six short months before Mmusi popped the big question and got a "yes". They wasted no time in cementing their love as their wedding followed eight months later. According to the mother of three, she fell in love with a good-looking, charming guy from Soweto because of so many reasons, among which are his outlook on life, his warm nature, and his commitment to their country South Africa.
Their Wedding Was Conducted in Both The White and Traditional Way
Perhaps because they met at the Community Ministries church, Mmusi and Natalie Maimane decided to host their wedding at the worship center. It all started on a Saturday in 2005 with a white wedding at the church. After the church wedding was over, the couple hosted guests at their reception in a close-by venue.
The ensuing day (Sunday) was when Natalie was given a taste of what a traditional wedding in the South African setting entails. This time, the couple picked Dobsonville as the venue as the bride was all donned out in the traditional shweshwe wedding attire. Some traditional wedding rites were observed at the venue like changing the bride's last name and adding the moniker Rethabile to her maiden name; Rethabile means happy family in Setswana.
Mmusi's Family Was Previously Skeptical About Their Union
Mmusi Maimane's parents are your normal everyday people who made their living as factory workers. While his mum was an employee of a pharmaceutical company, the politician's dad was engaged at a factory that manufactures locks. Thus, they displayed mixed feelings when their son brought a white woman home. According to Mmusi, his family was first worried about having a white girl in the family though they made effort to welcome their relationship.
His family's fear, Mmusi said, was that a girl with a bachelor's degree might turn out to be a bit posh. Perceiving this, Natalie went the extra mile to fit in with them from the very beginning and soon, they stopped seeing her color. Mmusi said he realized this after his grandma took his wife to task at a funeral reception when she stood in line for food instead of lending a helping hand to the women preparing the food.
Going further, the SA politician recounted how the two family's similar background in faith and church-going was of immense help. Faith, he said, drives someone's belief and exposes the ills of racism. At the end of the day, Mmusi's family let down their guard and accepted their white daughter-in-law wholeheartedly. Both his mum and grandma even told Natalie to always come to them in case of any issues. The politician said he is looking forward to the day when they will write a publication centered on relationships across color lines.
The Interracial Couple Have Three Children Together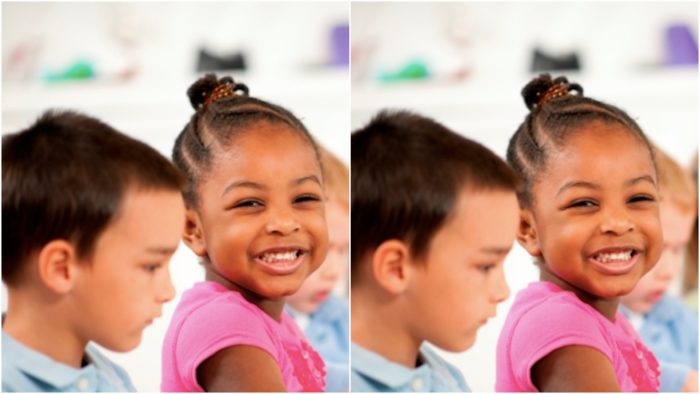 After they became husband and wife in 2005, Mmusi Maimane and his wife Natalie waited three years before increasing their small family circle. The former History and English teacher became a first-time mother in 2008 when they welcomed their first child – a beautiful baby girl called Kgalaletso. Three years down the line, Kgalaletso became a sister to their son named Daniel Kgosi.
Recently, a beautiful baby girl named Kutlwano joined the Maimane clan. The birth of Mmusi and Natalie's third child put the third-time father in high spirit as he wasted no time in letting the public know about the latest addition to his family. The proud papa took to his Twitter handle to share the good news, expressing profound gratitude to God for their bundle of joy, acknowledging it as a new chapter in the life of the Maimane family.
Going by Natalie's comments, the SA movement leader is great at fatherhood as he is loved by all his children. Though he disciplines them when they go wrong, the mother of three said her spouse is also very loving. Taking their first child Kgalaletso on "daddy dates" is something that occurs often and he makes out time to play with their son Daniel in the garden; they often engage in wrestling matches.
On his own part, the father of three never fails to seize any opportunity to gush about his kids, telling the world how happy they make him. In addition to "daddy's dates" the former DA leader shares most of their happy moments like academic milestones, birthdays, and the likes with fans. Evidence of these abounds on the SA politician's Instagram and Twitter handles.
What We Know About Mmusi Maimane's Spouse Natalie
Mmusi Maimane's wife, Natalie, is best described as a reserved woman who loves to stay away from the public arena. She is said to be loving, homely, and humble which has endeared her to many. The gracious and generous woman that is Natalie Maimane hails from Roodepoort Gauteng where she was born in 1984. She is the daughter of a teacher mother (she doubles as admin worker in the family's panel-beating business) and an engineer father (he owns and runs a building maintenance business) whose identities are not known. There is equally no info regarding her siblings, upbringing, and childhood.
Her first degree was accomplished at UNISA – the University of South Africa, where she studied psychology. For her Master's degree, the mother of three studied Public Administration at the University of Witwatersrand. She later went for a second Master's in Theology at Bangor University, Wales.
Natalie later began to forge a career path as a teacher, tutoring in History and English at the private school known as Curro Aurora, Randburg. In addition to teaching, Mmusi Maimane's wife has also functioned as a guest speaker, gracing several events where she won hearts with her sense of humor.
After she got married, Natalie chose to stay and take care of the home front over her career. According to the Roodepoort native, being a stay-at-home mom was a choice she made all by herself as no one forced her to do so. Being a hands-on mum and focusing on her kids has always been her desire in life and her husband who she said has too much to do at work needed time to focus on building a South Africa that will be a fair playing ground for all.
Mmumsi Wasn't A Politician At The Time Of His Marriage
Mmusi Maimane, who was in his early thirties as of the time of their nuptials, hadn't joined the South African political realm when he got married. After going through distant education to achieve two Master's degrees – one from Wits (in theology) and one from Bangor University, North Wales (in public and development management), he settled down to do consultancy work for firms that needed assistance with strategy and the development of leadership capacity. Mmusi was also part of a non-profit organization.
With that said, we must acknowledge that the great height he has achieved in politics today only became a reality after he tied the knot with Natalie. The SA native has since held several prestigious political posts, including emerging as the parliamentary leader of DA (the Democratic Alliance political party). After exiting from DA, he went on to found what is known as OSAM (One South African Movement) which has shot him to another level of fame.
Natalie Describes Mmusi Maimane as a Man Who Knows How to Spring Surprises
The couple has enjoyed 18 long years of marital bliss and according to Natalie, she already knew before their nuptials that life with Mmusi Maimane would be far from dull. However, the mother of three said she never dreamt in her wildest imagination that he would one day head for the South African parliament. She made this comment because as at the time of their wedding, the man was nowhere near the political realm but today, he has held one of the high-profile political positions the country has to offer.
Natalie, who is still trying to digest all the changes that have happened in her life, said life is unpredictable and she prefers to take it a day as it comes. Though her spouse's appointment means seeing less of him, the mother of three has decided to stay back in Roodepoort than to follow her husband down to Cape Town which is the seat of the SA parliament. According to her, they are leaving the commuting to daddy. The couple's reason for taking this route is that they have family in Gauteng that are ready and willing to lend their support while Mmusi Maimane gets enough time to tackle his demanding job.
Though a lot of adjustments will have to be made in the long run, they will be able to manage since everyone shares the common goal of building a better South Africa for all. The mother of three said the best advice she ever received is that as one family, they must always acknowledge the fact that they love SA and will continue to serve the country and the people. Natalie who sees everything as a privilege, including being in a leadership position, being a member of parliament, and the likes, believes every marriage needs to maintain a good communication level to succeed.
When quizzed about her feelings on Mmusi Maimane having so many female admirers, Natalie laughed it off, saying she has never minded and has never been jealous. Her reasons being that she knows the father of her children and equally knows they are in this together. Going on, the Roodepoort native described Mmusi as a romantic, describing how they share jokes, exchange special SMSs, and often laugh together. For her 30th birthday, they spent a special night out. The former English and History teacher also acknowledged Mmusi's strong faith in God, giving it credit for holding their marriage.
The Interracial Nature Of Their Marriage Has Presented A Few Challenges
Mmusi Maimane and Natalie's interracial marriage elicited mixed reactions from the South African public, especially blacks. While some congratulated the couple, there were still many that expressed disgust about a black South African going to marry a white girl.
All these misconceptions about interracial marriages were totally wrong, according to Natalie. She said labeling people inferior or superior according to their skin color is an erroneous perception. The couple who made a prior promise to each other to be completely open about experiences like this have been working diligently to dispel all the misconceptions about them being together.
Talking about its effect on their kids, Natalie said the subtle exchange on skin color, SA's history, as well as its current social challenges, are already encroaching into their home. Their daughter who has barely reached her teens is full of questions while their son Kgosi has had several brush-offs with societal mores. The kids' present race according to Natalie is skin color; dad is brown, mom is peach, and they are caramel.
Even with all these challenges, the couple's marriage has admirably weathered all the storm and has emerged victorious.