A truly talented sportsman, Siya Kolisi is a South African professional rugby union player who is widely respected by his compatriots and other fans of rugby around the world for having what has been described as a combination of humility and natural strength of character. Hailed by many to be a natural-born leader, Kolisi is now the captain of the South Africa national team. He also plays club rugby for the Sharks, a South African professional rugby union team in Super Rugby as well as the Western Province, another rugby team playing in the Currie Cup.
Siya Kolisi has found immense success as a rugby player. He is the very first black man to become captain of the South Africa national rugby team – the Springboks. In 2019, he became a hero to all South Africans after he led the Springboks to glory by winning the 2019 Rugby World Cup Final against arch-rivals England. This made him the first black captain of a World Cup-winning side. The same year, he was named in New African magazine's list of 100 Most Influential Africans. Today, he is respected as a national treasure in his country.
However, even though he is widely known for his immense success as a rugby player, the game is not the only thing he is passionate about. Siya Kolisi is also a passionate family man who is married with kids.
Siya Kolisi Started A Family After Marrying Rachel Smith
Siya Kolisi is married to a gorgeous woman named Rachel Smith. Rachel is a South African woman who was born in Grahamstown, a town located in the Eastern Cape province of the country. Before her marriage to Siya Kolisi, she worked as a marketing executive and was doing well at her job. She also worked as a professional events manager.
Rachel Smith is older than her husband by a year. Born on the 21st day of January 1990, she is 33 years old. On the other hand, her husband Kolisi, who was born on 16 June 1991, is 31 years old. Rachel is known to be a huge fan of fitness and posts videos of her fitness routines on her Instagram page where she has attracted quite a huge following. She is also known to love posting photos of her husband as well as her children.
Rachel Is A Sports Lover
Just like her husband, Rachel also loves sports. She grew up having a huge interest in sporting activities and actually took part in them. As a young lady growing up, Rachel played different sports, including polo, squash, tennis, water polo, and even hockey, among others. She especially loved the game of rugby mainly because her father and brother played the game. Eventually, she would marry someone who professionally played rugby.
Even though she loved sports as a younger lady, Rachel no longer takes part in sports but loves working out and is known to be a true fitness enthusiast.
Siya Kolisi First Met His Wife At A Dinner Party
The story of how Siya Kolisi first met and fell in love with his wife is quite an interesting one. The couple first met in the year 2012 when they both attended a dinner party organized by a mutual friend at Stellenbosch, a university town in the Western Cape province of South Africa. They struck up a conversation at the party and chatted a while there. At the time of this first meeting, Kolisi was just beginning to gain some ground as a rugby player.
After their first meeting, Kolisi and Rachel became friends and got quite fond of each other. They kept things this way for some time but Kolisi always knew he wanted more. He knew that Rachel met all the requirements he wanted in a wife but even though he badly wanted to tell her about his feelings, he couldn't do this immediately.
Rachel Played Hard To Get

When Siya Kolisi eventually plucked up the courage to ask Rachel out, he was afraid at first. According to him, he invited her to lunch and used the opportunity to tell her about his feelings for her. He explained that the experience was scary perhaps because they were already close friends and he didn't know what to expect.
After Kolisi told Rachel about his feelings, she played hard to get at first. She acted as if she was reluctant to begin a relationship with him even though she also felt something for him too at the time. However, after some time, she eventually gave in and admitted she was head over heels in love with the rugby player. This kick-started their love story.
Siya Kolisi Proposed During A Helicopter Ride
After kick-starting their romantic relationship, Siya Kolisi and Rachel Smith dated for about three years before the rugby star popped the big question. It all happened in December 2015 and Kolisi made sure that it was a grand affair. Apparently, Rachel meant a lot to him and he went all out to prove it to her during the proposal.
First, Kolisi bought some flowers for Rachel and also served her breakfast in bed. She was ecstatic. After this, he took Rachel to enjoy a helicopter ride across Cape Town. Shortly after takeoff, he got on one knee and asked Rachel to marry him. Of course, she said yes. The engagement caused quite some stir on social media as fans of the rugby superstar sent in congratulatory messages.
They Got Married Eight Months After Their Engagement
After proposing to her in December 2015, Siya Kolisi remained engaged to Rachel Smith for about eight months before they tied the knot as husband and wife in August 2016. The wedding happened on the 13th day of August 2016 at an event that was held in Franschhoek. The reception was then held at the Molenvliet Wine Estate in Stellenbosch.
The wedding was a publicized one and was attended by more than 200 guests, including family members, close friends, and athletes. This was not surprising at all considering the status of the rugby star involved.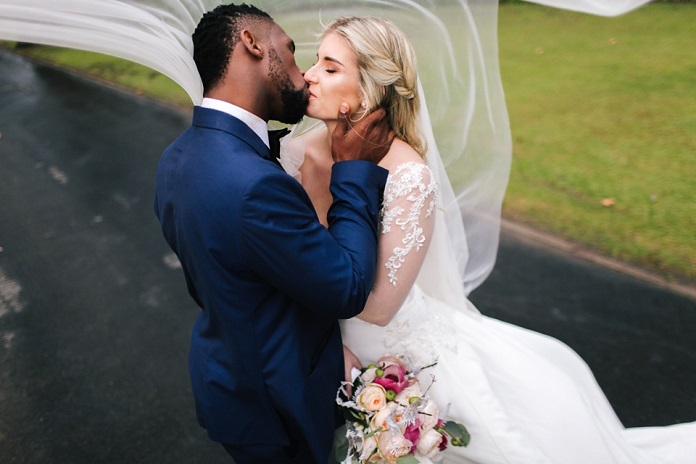 They Share Two Children Together
Today, Siya Kolisi and his wife Rachel Smith have started a family that includes two children; a son and a daughter. Their son called Nicholas Siyamthanda was born in 2015, a year before they got married. Their second child, a daughter called Keziah, was born in 2017, one year after their marriage. The couple has taken great care to raise their kids in the best way possible. Rachel is actually the strict one when it comes to raising their kids while Kolisi is the softer one who often allows them to have their way from time to time.
It is also noteworthy that apart from their kids, Siya Kolisis and his wife have also adopted Kolisi's young half-siblings; Liyema and Liphelo, who now live with the family. According to reports, Kolisi and his half-siblings shared a mother who unfortunately passed away in 2009. Because of this, both Liyema and Liphelo bounced from orphanages and foster homes for years until 2014 when Kolisi and Rachel became stable enough to adopt them. Now they are one happy family.
After having their children, Rachel decided to give up her job and become a full-time housewife to take care of the kids since her husband was too engaged as a professional rugby player. So far, it has paid off really well.
Their Love Story Features Some Hiccups
Siya Kolisi and Rachel Smith's love story has not been without hiccups. The couple mainly faced issues with public acceptance as a result of racism. This is because, throughout their long-term relationship, Kolisi, a black man, and Rachel, a white woman, were subjected to a lot of racial abuse from members of the public who, for some reason, felt that two individuals of different races should not get married.
The trolls and insults mainly came from the white community. Some described Kolisi and Rachel's marriage as a "waste of good white genes". Others felt they would not last together as a couple because Kolisi would soon dump Rachel and she would be left stranded because no white man would want her afterward.
However, despite all the trolls, Kolisi and his wife have gone on to build a very happy home and are doing very well for themselves.
Kolisi and Rachel Run 'The Kolisi Foundation' Together
Kolisi and Rachel now run a foundation together. The foundation is called The Kolisi Foundation and it was launched in the year 2020 in response to the COVID-19 pandemic in South Africa. The Kolisi Foundation now helps to provide personal protective equipment to healthcare workers in South Africa. It also goes to hand out food parcels throughout South Africa to disadvantaged areas. The efforts of the couple have been hailed and they are now been regarded as a model that others must look up to.