Among other actors who have made it big both in Ghana and other parts of the world, John Dumelo does not need any form of introduction. Also a politician, businessman, and farmer, he has come a long way in the screen business, as one of the movers and shakers of Ghana's own Ghollywood, while also having a special space in neighbouring Nigeria's Nollywood where he has won some accolades.
The actor started his career in the 1990s as a young boy of only 7. Since then, he has remained a face that is almost always on the screen, although it would take him a while after he made his debut to clinch fame.
His Passion For Acting Got Him Started At Only 7 Years of Age
It was on 3 February 1984 that John Dumelo was born in his home country of Ghana. Interestingly, he has always loved and had an uncanny passion for acting even as a kid, despite the fact that neither of his parents had a career as an actor.
While his father, Mr. John Dumelo (Sr.) was a Civil Engineer, his mother, Mrs. Antoinette Dumelo worked as a Customs Officer. The couple raised their kid as the third child and only son in a family of three children and they sent him to Christ the King School, Accra for his basic education.
In 1991, when he was 7, Dumelo started his career as a child actor when he got his first role in the film, "Baby Thief". He played the role of Saka, a primary student who although seems innocent, still has his bad. The film became a hit among Ghanaians at the time, giving him a good and fertile ground upon which to start his young career.
Dumelo's Breakthrough Role Came In "The King is Mine" When He Was 24 Years Old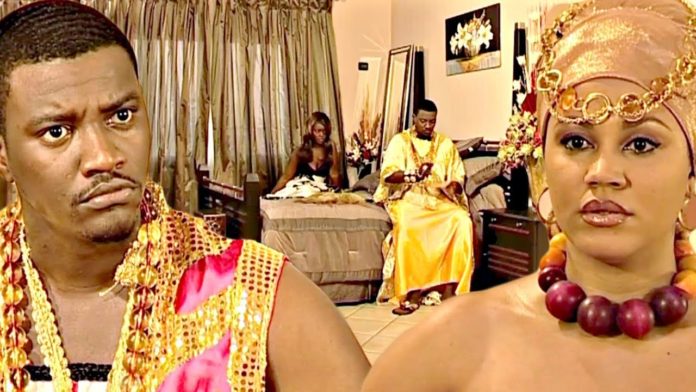 From 1991 when the good-looking actor started his career as an actor, he would continue having some good roles in the process, but he earned his major break with his role in the 2008 film, The King Is Mine. At the time, he was 24 years old. The film featured some great stars including Jackie Appiah and Nadia Buari.
In total, he has now appeared in more than 80 films, many of which he had the lead roles. He also stands tall as one of the most sought after actors in Ghana with appeal even outside of the country.
What he gets as salary for each role is not known, but since his break out, Dumelo who has won awards such as the Afro Australian Movies and Music Awards and Ghana Movie Awards is believed to be well paid. Here are some of his most popular films:
P over D (2019)
40 and Single (2018)
Before the Vows (2016)
Of Sentimental Value (2015)
Rejected (2015)
Blood Type (2014)
Unconditional Love (2014)
Double-Cross (2014)
Love or something like that (2013)
Tears for Breast Milk (2012)
The Past Came Calling (2011)
4 Play (2010)
Chelsea (2010)
Love Alone (2010)
Power of a Kiss (2010)
Secret Shadows (2010)
Forever Young (2010)
Pirates of the Night (2009)
The Actor Has A Good Place in Nollywood
As already stated, John Dumelo might have started his career in Ghana, but he has also left his marks in Nigeria's Nollywood where he has made appearances in a handful of productions. He has also nailed some accolades in the process including nominations for the Best Actor in a Leading Role at the Best of Nollywood Awards in 2020 for his role in The Maidens while his performance in Hearts of Men got him the Most Promising Actor at the Africa Movie Academy Awards.
One of his earliest films that were linked to Nollywood was a collaboration between the Ghanaian film industry as well as that of Nigeria in 2009, Heart of Men which featured other stars from Ghollywood including Majid Michel and Nadia Buari. He was also on other films including the following:
Men in Love (2010)
A Private Storm (2010)
Mirror of Life (2011)
Gold Not Silver (2012)
Marriage Planner (2012)
One Night in Vegas (2013)
End of the Maidens (2013)
Black Men Rock (2018)
He Also Doubles As A Politician, Farmer, And Businessman
On the global stage, John Dumelo is only known as an actor, but beyond that, he has also got his hand filled with a lot of other things.
The actor is also a politician who got himself very much involved during the 2016 General Elections in Ghana. He was among the celebrities who actively campaigned for the then-president of the country, John Dramani Mahama. He also put so much strength behind his party, the National Democratic Congress (NDC).
Dumelo's efforts were noticed by Mahama who made him the Director of Operations for Pro-NDC Youth Group. Unfortunately, his efforts and those of many other NDC supporters were not enough to seal a second term for Mahama as he lost the presidential election to Nana Akufo-Addo.
John Dumelo pushed a little farther in 2019 when he picked the NDC nomination form to contest in its primary election as a parliamentary candidate representing Ayawaso West Wougon constituency ahead of the 2020 general election. He emerged victorious at the party's primary election in August 2019, which pitched him in a fierce contest against NPP's candidate in the December 7th election.
According to the actor who encouraged his supporters to beat up any NPP member who tries to rig the election, he was contesting for the parliamentary seat in response to the yearning of his people who want him to help make their lives better. He revealed that he wanted to help in making laws that would impact the lives of the people.
Apart from politics, he is also very much involved in farming, growing crops, and rearing animals, additionally, he has since launched his clothing line J-Melo. The clothes are both worn in Ghana and Nigeria.
His Wife, Gifty Mawunya Nkornu Was Raised In The UK
Just as the career life of John Dumelo continues to be on the right path, his family life also seems to be following the same path. The actor is married to a beautiful woman known as Gifty Mawunya Nkornu.
Although not so much has been provided about Gifty, it is known that she spends a better part of her life in the United Kingdom where her parents lived. When they newly started dating, the actor, revealed that he would drive all the way from the United States to Canada where she was, just to see her. She played hard to get at first, but Dumelo was hard enough to keep chasing until he got her.
A close and long time friend of another Ghanian actress, Nadia Buari, there are speculations that the actress was the match-maker for the two lovers, but there is no confirmation to this. She is also very close to the family of the former president of Ghana, John Mahama. There are those who believe it could as well be the former president who became the match-maker for the lovers.
She is a well-read individual who holds two degrees. Gifty first graduated from Central University and after this, she moved to the Ghana Institute of Management and Public Administration (GIMPA) from where she obtained a Bachelor of Laws degree in 2016.
The Couple Had Their Child Six Months After They Got Married
In May 2018, the Ghananian celebrated actor and his then-fiancee tied the knot in a traditional even that was rather lavish. It was attended by many celebrity guests.
Only six months after the union, in October 2018 Gifty gave birth to a baby boy who they came to name John Dumelo Junior. According to the older Dumelo, they did not plan for the pregnancy when it happened; it took them both by surprise. It was after this that they had their white wedding in May 2019. The young Dumelo who is now only 2, has an Instagram account that boasts of more than 50,000 followers.
Dumelo Has Had Other Celebrity Lovers In The Past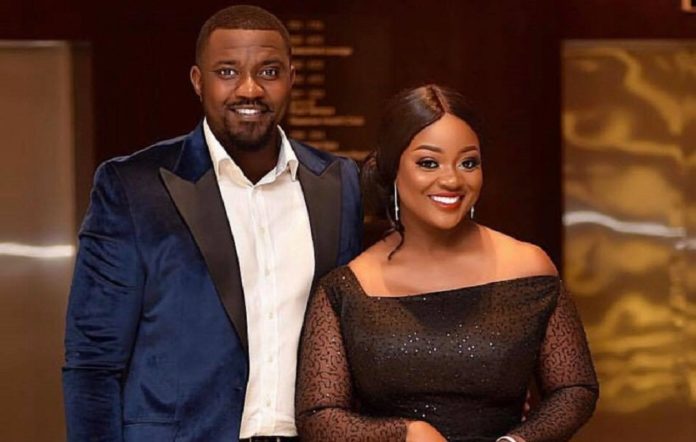 While he might now be happily married to the love of his life, not many would have thought, a few years ago, that he would end up with his present wife, considering his past relationships with some celebrities.
At the time he met his wife, Dumelo was in a relationship with, James Gardiner's cousin, Frances while Gifty was also in another relationship. For the next two years, they only remained close friends before they started dating. There were rumours that he did not inform Frances before getting married to Gifty, but he stated that he informed her, as it was the honourable thing to do.
He has once been linked to actress Yvonne Nelson, but the two came out to deny that they had ever dated. According to him, they were only close friends for a very long time, and nothing more. He was also linked to yet another actress, Jackie Appiah, although, nothing came out of this.
It was once reported that Ghanian TV personality and actress, Joselyn Dumas, claimed she once dated the actor for two years before they walked their separate ways. According to the report, she claimed that they featured together in three movies and soon, the chemistry was built. They were madly in love for the two years that they were an item but still called off. However, she would later come out to debunk the speculations, stating that there was no truth to the report.