Good health is a basic amenity that everyone deserves, yet it is an expensive thing to have. There are countries that are aware of this problem and have created structures that assist their citizens with getting health benefits at cheaper rates. One such country is Kenya with the National Health Insurance Fund (NHIF).
This program like any insurance scheme requires the making of regular payments for your cover. The NHIF can also be used by all Kenyan citizens; for people who are employed by formal establishments, it is compulsory that they make use of the program via the establishment's procedure while those who are self-employed can make the payments themselves. There are also a number of ways this payment can be done in order to enhance its flexibility and promote its use among people.
The Different Ways To Make NHIF Payments
There are basically 2 major ways to easily make your NHIF payments and their procedures are given below:
1. Via M-PESA
One of the two major methods which work best for people who are self-employed, as they have to make their NHIF payments themselves, is making payments through the M-Pesa platform. Here are the steps to follow using this method:
The first thing to do is to go to your M-PESA menu on your phone.
Afterward, click on the icon that says Lipa na M-PESA.
Then you chose the option that says Paybill.
You will be required to input the business number for NHIF which is 200222.
After this, select the account number.
Then type in your national ID number – the national ID number is your account number.
This is followed by the amount you wish to pay into your NHIF.
When you put in the amount you have to enter your M-PESA pin.
Do make sure that all the details you have inputted are correct, then press OK.
After the process is complete, M-PESA will send you a confirmation that your payment was successful. In 2 to 3 days, the payment will reflect in your NHIF balance.
2. Via Bank Payments
Apart from using M-Pesa to make payments of contribution into the NHIF, sending the sums through approved banks in the country is another method to use. However, unlike using M-Pesa, this method is quite long as it involves various online stages before finally getting a print out which is used to make the actual payment at any of the 4 approved banks (KCB, National Bank, Equity Bank, and Co-operative Bank) in the country.
Here are the steps to follow when using this option:
First, visit the NHIF website to get the template for an employer payroll Byproduct.
Then download the Byproduct sample.
Open the downloaded sample and then fill in your employer name, code, and the month of contribution.
Then fill in your staff's information such as last name, first name, ID number, NHIF number, and the amount you are paying as insurance.
Go back to the NHIF website, log in to your dashboard.
When it opens up, click on the option that asks you to upload.
Upload the excel file you filed and then click on validate Byproduct to verify the information you are submitting.
Click on submit Byproduct, this will give you an e-slip that you then take to the bank to make payment with.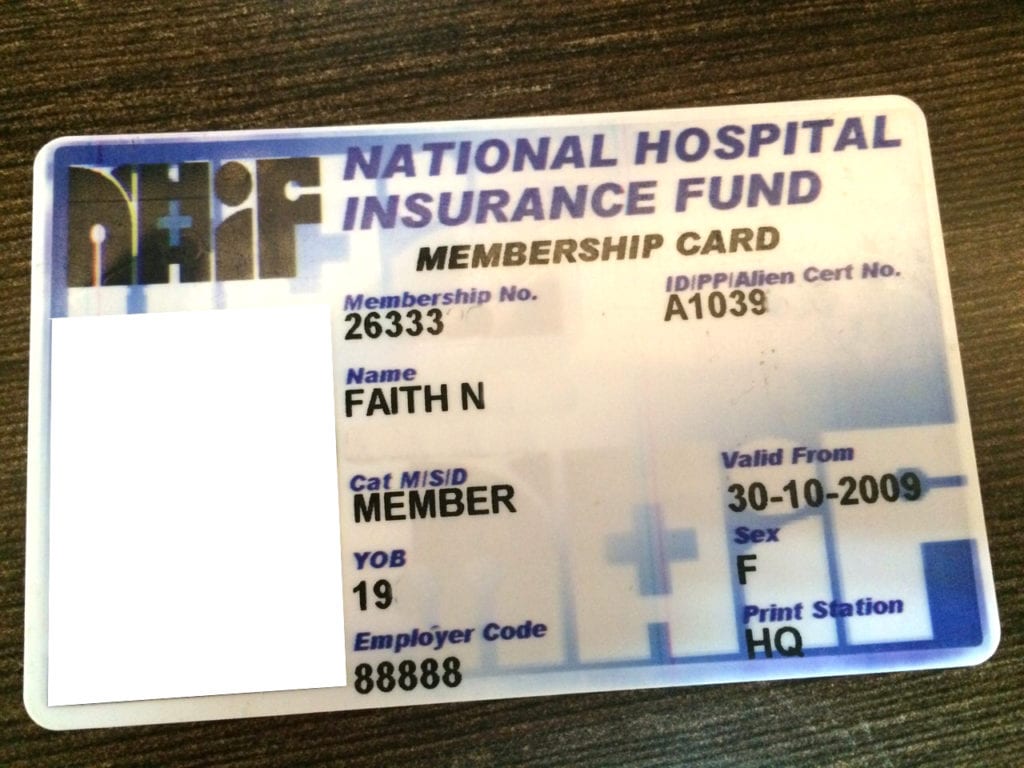 Breakdown of the Different Rates Available on the NHIF Platform
The metrics of the NHIF rates depend mainly on one's gross income. The lowest rate requires a minimum of Ksh150 to be paid every month as long as the person earns anything between Ksh0 to Ksh5,999 monthly. This price rises for the next level of income and it differs at different intervals. However, the rate for self-employed persons is a flat rate of Ksh500.
Below is a table of the NHIF rates:
| | |
| --- | --- |
| Salary Bracket in Kenya Shillings | Monthly Rate in Kenya Shillings |
| 0 – 5,999 | 150 |
| 6,000 – 7,999 | 300 |
| 8,000 – 11,999 | 400 |
| 12,000 – 14,999 | 500 |
| 15,000 – 19,999 | 600 |
| 20,000 – 24,999 | 750 |
| 25,000 – 29,999 | 850 |
| 30,000 – 34,999 | 900 |
| 35,000 – 39,999 | 950 |
| 40,000 – 44,999 | 1,000 |
| 45,000 – 49,999 | 1,100 |
| 50,000 – 59,999 | 1,200 |
| 60,000 – 69,999 | 1,300 |
| 70,000 – 79,999 | 1,400 |
| 80,000 – 89,999 | 1,500 |
| 90,000 – 99,999 | 1,600 |
| 100,000 and above | 1,700 |
| Self Employed | 500 |
All of these plans cover the basic outpatient and inpatient services, including surgery, family planning, drugs, and consultation. However, you can only have access to them at one of the 5000 registered hospitals in the NHIF.
The Pros & Cons of The NHIF Rates
For employees in the formal sector who are under this scheme, a major advantage is that with the minimum contributions they make monthly, they can have access to a wide range of health facilities. From the way the rates are determined, low-income earners tend to pay lower than high-income earners since the rates increase as an employee's salary increases.
With regards to the self-employed who pay a flat rate of Ksh500, the amount will be very favorable when huge profits are realized as the payer will still pay the flat rate irrespective of his high income. On the other hand, if things go bad and his income reduces, the rate cannot be altered since it is fixed.
Penalties For Defaulting To Contribute To The NHIF
There is a penalty for those who default in making payments to the NHIF. These penalties usually apply to the self-employed who might forget to pay into the NHIF regularly. For each month that default is recorded, such an individual would pay Ksh250. The steps to follow to make this payment via M-Pesa are:
1. Go to M-Pesa page and click "Lipa na M-Pesa"
2. Input 200222 as the NHIF Business number.
3. In the section for account details, input your National ID number after which you add the letter "y". An example is "92895804y".
4. For every month you have defaulted, enter Ksh250.
5. The next step is to type in your M-Pesa PIN.
6. Within a few seconds, a message confirming your payment will be sent to you.
Does The NHIF Paybill Number Change?
When you try to pay for your NHIF through M-PESA, you will be required to input a pay bill number which is 200222 – this is akin to the account number for the NHIF. Since M-Pesa is not the only way to make payment for NHIF, as payment can be made at any of the 4 designated banks (KCB, National Bank, Equity Bank, and Co-operative Bank), the pay bill number will no longer be 200222, rather use your NHIF membership number which is usually generated when you register on the NHIF.