Allegra Cole is an internet sensation who ditched her career as a suburban piano teacher for the glitz and glamour of modelling. The Utah model is best recognized for her giant breasts measuring at 54 inches. With a love for extreme aesthetic, Cole who once had 34C breasts is on a mission to establish herself as an iconic representation of a sexy woman, good mom, homemaker, and businesswoman. Here are interesting facts you need to know about the glamour model.
Biography
Allegra Cole, who was born on May 24, 1969, is from Salt Lake City, the capital of one of the most religious states in the US. Details about her parents, family background, early life, and education have not been made public. However, it is known that Allegra had a strict Mormon upbringing and began exhibiting musical inclinations from an early age. She was a musical prodigy and later became a professional pianist. In addition to performing at concerts, Cole was also a piano teacher until she was 20 years old.
Allegra Cole: Plastic Surgery
Allegra Cole is one of many women who hate bras and gets frustrated having to wear them always. Given that she also eyed the modelling industry, Cole dumped her Mormon lifestyle and career as a piano teacher. Allegra was aware that she didn't have much to offer as a model at the time, so she, therefore, decided to get the looks by going under the knife.
An aesthetic lover, Allegra craved to have fuller and rounder breasts and has thus enhanced them no less than three times. So far, she has spent about $75,000 (£57,750) on cosmetic surgery. After the first boob job, Cole felt more confident about her body and began posting some of her pictures online for sale. With a desire to go even bigger, it is safe to say that decision paid off as she was able to raise money to fund her second surgery about a decade later. Allegra was even more emboldened after the second boob job, thanks to feedbacks from increased fans. It was thereafter that she fully ventured into glamour modelling. Allegra's third surgery was sponsored by an online benefactor.
After three breast augmentations, Allegra Cole's breasts now measure at about 54 inches and weighs no less than 20 pounds. Her breasts are so big now that she struggles to do certain things that are ordinary to a regular person such as fastening her own shoes, passing through a doorway or narrow spaces, and even playing the piano. Nonetheless, she has no regrets about her new look. According to Cole, her journey to having giant breasts was borne out of a self-imposed challenge to see just how big her chest could stretch while still maintaining some measure of class and sophistication. Though she is enjoying her current boob size, Allegra has not ruled off the possibility of wanting to go bigger.
The glamour model, whose ultimate aim is to prove that having giant breasts shouldn't have negative connotations, wants to be the 21st-century female icon. She wants to prove that women like her with big breasts can still be classy and need not be boxed in as strippers or porn stars.
It is not only Allegra Cole's breasts that have been surgically enhanced. Other augmentations she has had are a tummy tuck, upper and lower silicon lip enhancements, Brazilian butt lift, Botox and fillers.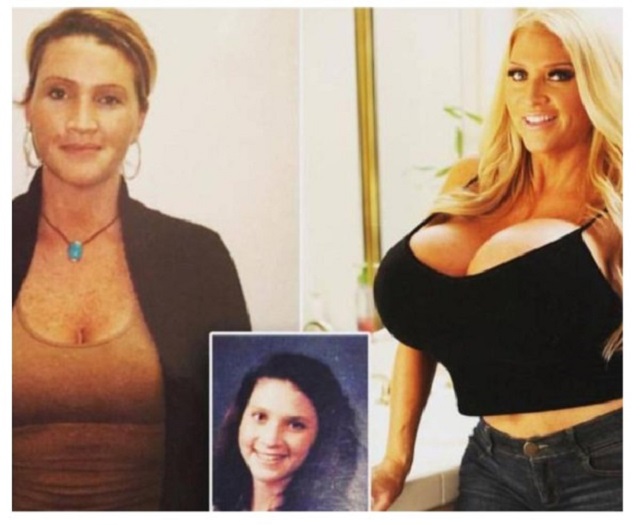 5 Interesting Facts You Need To Know
1. Marriage & Kids
Allegra Cole's relationship status is uncertain, this is because she has not shared details of her love life with the public. Though it is unknown if she is currently married or has ever been, it is no secret that she is a mother. Prior to her modelling career, Cole was enjoying life as a piano teacher and a mother. It is uncertain how many kids the model has, but we do know that her cosmetic surgery journey was also borne out of the dissatisfaction for her then 34C breasts which had gone south after breastfeeding.
The glamour model is incredibly extreme about her looks but she remains traditional at heart. Allegra is the product of patriarchal religion and may seem to have derailed from some of the principles of her faith. But the model debunks the notion stressing instead that she still believes in the core values of the religion as well as their family values.
2. Role Models
Allegra Cole draws inspiration for her looks from iconic country singer, Dolly Parton and actress/model, Pamela Anderson, which is unsurprising given that they all have one thing in common…they're blondes with big boobs.
3. Net Worth
Allegra Cole has come a long way since she ditched her career as a pianist for modelling. The glamour model is believed to earn up to $100,000 (£77,000) per annum posing for and selling sexy pictures. Cole's exact net worth is uncertain but she is known to have amassed a sizeable financial portfolio.
4. Height
The blonde-haired model stands at an average height of 5 feet 7 inches. Her body measurements are bust – 54 inches (for now), waist – 29 inches and hips – 39 inches.
See Also: Crystal Hefner – Bio, Age, Net Worth, Facts About Hugh Hefner's Wife
5. Social Media
Allegra Cole has an active social media life. By mostly sharing hot photos and videos of herself, she has amassed a huge following on popular platforms such as Instagram, Twitter, and Facebook.