The increasing division between conservative and progressive Americans has birthed a lot of media personalities who rose to fame, championing the views of each faction. In the sea of these personalities is Allie Stuckey, a writer, and vlogger who rose to fame with her blog, The Conservative Millennial, and the podcast, Relatable. Her voice and popularity have seen her record several achievements. She has testified before the US Congress, published a book, and become an influential figure among conservatives, all before hitting the milestone at age of 30. Here is a breakdown of how she made it all happen.
Allie Stuckey Started Her Career as a Publicist
Allie Stuckey is a Texan born on February 18, 1992, to Ron Simmons, a former member of the Texas House of Representatives and Lisa Diane Nickson Simmons. Aside from being a politician, her father is also a financial advisor, who was Chairman of the Board of Retirement Advisors of America, which manages up to $3 billion in assets.
She grew up in a conservative household in Dallas, Texas, along with three siblings. We do not know much about her high school years. However, she graduated from Furman University in 2014 with a degree in Communication Studies. Her interest in communication dates to her childhood years, where she established herself as an outspoken young woman, who captained her golf team.
After college, Allie Stuckey worked as a publicist and social media strategist out of Athens, Georgia. While working her day job, Allie's outspoken personality led her to begin a public speaking role to college students about the importance of voting. To reach more people, she took up a second career as a blogger.
From The Conservative Millennial to Fox News Contributor
In 2016, taking advantage of the rising division in American society, she started a blog on a Facebook page, which she titled, The Conservative Millennial. Her young voice in a political and social group usually associated with older people quickly captivated the conservative bloc, giving her a rapid rise in popularity.
Via the blog, she subverted several conservative tropes and shared her beliefs on faith, politics, and culture. Within a year of launching the blog, Allie Stuckey drew interest from conservative media outlets like TheBlaze. She joined the media company as a contributor and not long after, began appearing as a guest on Fox News and Fox Business News.
Amidst her rise and growing relationship with traditional media, Allie maintained her career as a public speaker. She continued speaking on college campuses, Republican organizations, and business summits. After a few months of working at TheBlaze as a contributor, she left the media outlet to start a podcast.
Becoming a Podcaster and an Author
By the time Allie Stuckey left TheBlaze, she had become a renowned political pundit who drew coverage from leading non-conservative outlets like Politico. She joined Conservative Review TV (CRTV) after leaving the media outlet, and not long after, launched a podcast, Relatable.
The first episode of the popular podcast was released in March 2018. In July, she grew further in popularity after releasing a video on her CRTV Facebook page of a 'satirical' interview with New York Congresswoman, Alexandria Ocasio-Cortez. The video, in which the US Congress member gave bizarre answers to interview questions by Allie, went viral.
She has maintained her podcast gig at CRTV, which became BlazeTV in 2019 following a merger with TheBlaze in 2019. Allie recorded further success with a speaking gig at the inaugural Youth Summit in Houston. She spoke at the event alongside major American personalities like Roger Clemens and Nikki Haley.
In the same year, she also appeared before the House of Representatives, as an expert witness. She testified at the hearing on 'Examining State Efforts to Undermine Access to Reproductive Care,' held by the House Committee on Oversight and Reform. Allie Stuckey was the only Republican representative during the hearing, a major milestone for a journey that began in 2016.
In 2020, Stuckey added another feather to her hat by becoming an author. She published her first book, You're Not Enough (And That's Okay): Escaping the Toxic Culture of Self-Love, on August 11, 2020. The book received mixed ratings on major literary outlets like Goodreads and Amazon.
What We Know About Allie's Personal Life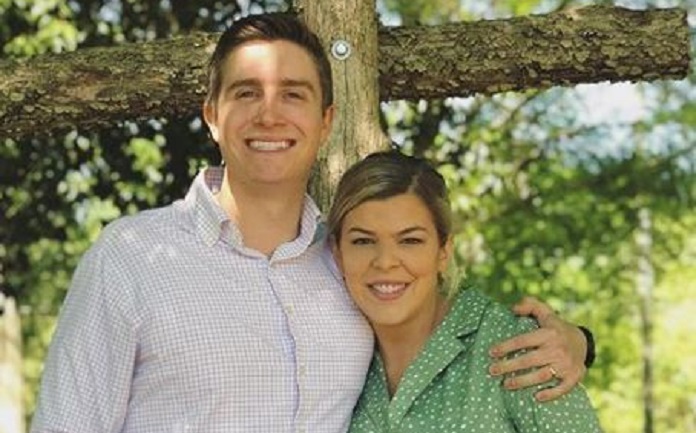 Allie Stuckey is happily married to her heartthrob Timothy Stuckey. The couple first crossed paths in 2014 at a local gym where Allie was working as a fitness instructor. The pair quickly established a romantic connection after their first date. Convinced that Timothy was whom she wanted to spend the rest of her life with, Allie said 'yes' when he popped the big question six months into their relationship.
Today, the rest is history. Exactly one year after they began dating, Allie and Timothy tied the knot in a quiet ceremony held at a Hill in Athens, Georgia, surrounded by family and friends. Unlike Allie, Timothy has a more reserved presence in online media. Other than his day job as a loan officer and the fact he is a skilled woodworker, there is limited public information on him.
Speaking of his public presence, he has, however, made a couple of appearances in interviews alongside Allie and on her YouTube channel, Allie Beth Stuckey. Their union has since produced a child who they welcomed in June 2019. To celebrate the arrival of their child, Allie and her husband set up a baby registry to benefit a pregnancy center. Aside from their baby, they also have a cat named Rachel McAtams.
Other Facts You Should Know About Allie Stuckey
As a woman who always finds herself in the eye of media attention, there is a lot to learn about Allie Stuckey. Here are a few tidbits on important facts you should know about her.
She is Pro-Life
Being a conservative, it is unsurprising that Stuckey is pro-life. But there is a personal story behind her own belief. Allie once revealed that her older brother is autistic.
Despite the challenges that come with his condition, he lives a normal life like any other person. Consequently, she is totally against abortion and believes every child deserves a chance at life.
Allie Stuckey's Conservative Drive Has a Specific Goal
As a communication strategist, Allie Stuckey is not just interested in using words but in the efficient delivery of words. With the help of her media experience, one of Allie's ultimate goal is to educate and inspire younger generations using top-notch videos that effectively relay her message.
Her Media Presence Tilts Heavily to Social Media
Allie Stuckey is more popular on social media than in the mainstream media. In addition to being a blogger and a podcast host, Allie is an active social media user. She has a huge following on popular social media platforms, including Twitter, Facebook, Instagram, and YouTube. Though her online videos have racked up millions of views and thousands of followers, Allie is no stranger to harassment on the internet. Her conservative views are always major vectors of engagements and controversy on the blogosphere.
Spotify Once Removed Her Podcast from Its Platform
Social media and tech companies have been at the heart of the battle for America's soul, and Allie Stuckey's Relatable podcast has been a victim of it. In March 2018, the music streaming platform, Spotify, took the podcast off the platform. Despite reaching out to the company to ask why the company never gave a definitive answer. It did, however, reinstate the podcast a few days after.