Allie Stuckey is an American media personality, writer, vlogger, and motivational speaker who has become a household name among conservatives. The vlogger is not just concerned about what is said, but how it is said. She rose to prominence for sharing her conservative beliefs on faith, politics, and culture from a millennial perspective.
Find out amazing facts you never knew about Allie Stuckey who is best recognized for her blog – The Conservative Millennial as well as her podcast called Relatable.
Biography & Age
Allie Stuckey is a Texan born on February 18, 1992. There is a dearth of information about her parents, family, and elementary education. While it is uncertain if Allie has other siblings, we do know she and her older brother (whose name is unknown) grew up in a conservative household in her hometown of Dallas.
Stuckey had always been an active, outspoken and outgoing person right from her childhood. In fact, she was also athletic and once captained the girls' Golf team during her school days.
After college, Allie Stuckey first worked as a communications strategist targeting mostly social media. With a passion to break the stereotypes that all millennials are clueless and all conservatives are out of touch, she launched a blog called The Conservative Millennial. On the blog, Stuckey shares her beliefs on faith, politics, and culture from a millennial perspective.
In addition to hosting a podcast called Relatable, Allie also posts videos on Facebook and YouTube. Stuckey soon became a household name among conservatives and landed a job as a co-host on The Blaze. She currently works as a host on Conservative Review TV which she joined in 2018. Allie is also a motivational speaker who gives talks to college students as well as GOP groups in different cities.
Allie Stuckey –

Husband And Family Facts
Allie Stuckey is happily married to her heartthrob Timothy Stuckey. The couple, who have an interesting love journey, first crossed paths in 2014 at a local gym where Allie was working as a fitness instructor while Tim was an accounts officer. The pair quickly established a romantic connection after their first date.
Convinced that their relationship was right and that Timothy was the 'special person' she wanted to spend the rest of her life with, Allie said 'yes' when he popped the big question and today, the rest is history. Exactly one year after they began dating, Allie and Timothy tied the knot in a quiet ceremony held at a Hill in Athens, Georgia, surrounded by family and friends.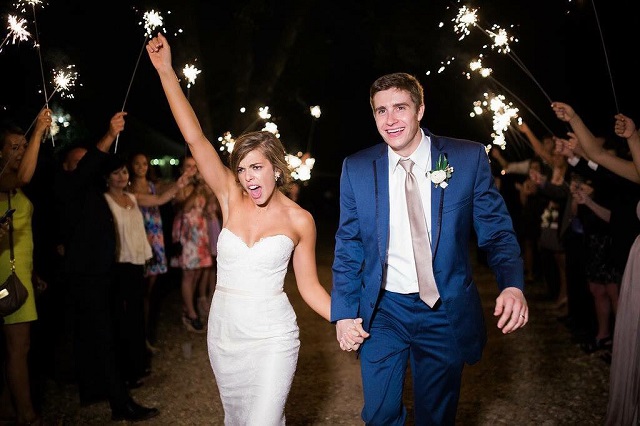 Their union has not produced any kids yet and it is uncertain if they have plans of expanding their family anytime soon. The only addition to the couple's family yet is a cat named Rachel McAtams. Allie and Timothy, who seem focused on their careers for now, have continued to wax stronger in their bond and show no signs of discord.
Height
There is no information readily available about Allie Stuckey's height and body measurements. But judging by her physique, it is safe to say the blonde-haired communication strategist has a slim build and stands at an average height.
See Also: Alex Kraemer – Bio, Career Achievements, Is She Married, Who Is Her Husband?
Other Interesting Facts About Allie Stuckey
Being a conservative, it is unsurprising that Stuckey is pro-life. But there is a personal story behind her own belief. Allie once revealed that her older brother is autistic and despite the challenges that come with his condition, he lives a normal life like any other person. Consequently, She is totally against abortion and believes every child deserves a chance at life.
As a communication strategist, Allie Stuckey is not just interested in using words but in the efficient delivery of words. With the experience she has garnered so far in the media, one of the millennial conservative's ultimate goal is to educate and inspire the younger generation with top-notch videos that effectively relay her message.
Allie Stuckey is more popular on social media than in the mainstream media. In addition to being a blogger and a podcast host, Allie is very active and has amassed a huge following on popular social media platforms including Twitter, Facebook, Instagram, and YouTube. Though her online videos have racked up millions of views and thousands of followers, Allie is no stranger to harassment on the internet. Her conservative views have always controversial comments on the blogosphere.