Allison Stokke is one lady who is not new on the front pages of newspapers and tabloids. She has made a splash as the girlfriend-turned-wife of American golfer – Rickie Fowler. Even several years before that romance, she became one of the perfect examples of the issues of sexism and misogynism in the world of sports.
As a high schooler, Allison had excelled in track and fields as a champion pole-vaulter. Despite all her accomplishments on the field, most of the conversations about her always reverted back to her physical looks. Her totally innocuous pictures were used for other purposes and she was given an unwanted sex symbol status. This controversy caused Allison some deep emotional dilemma and she had to fight to come back from it and reclaim her identity.
Emerging as a Champion Pole-Vaulter during her High School Days
Allison Rebecca Stokke began her athletic pursuits during her days at Newport Harbour High School. She initially tried out for gymnastics as her elder brother had excelled at it. She however eventually choose pole vaulting and would go on to record remarkable success in her four years of high school. Allison broke the national records for freshmen pole vaulters in her first year of high school in 2004. She also won the national championship (for athletes aged 15 and 16) that same year with a height of 3.81m (12 feet 6 inches).
The young girl continued in this impressive form throughout high school and by her final year, she placed 8th in national junior championships. She also placed 2nd in the national high school rankings and received scholarship offers from several colleges. Such achievements should have ordinarily brought much joy to Allison Stokke and her family members. Their happiness was however soured by the fact that their daughter was turned into a sex symbol against her will.
The Innocent Photo that Turned Her into an Unwitting Sex Symbol
Due to her natural good looks, Allison Stokke has encountered one problem that most female athletes face. This is the issue of sexualization. No matter how excellent a sportswoman is, the discussion often centers on her looks rather than her performance and Allison suffered such fate in her senior year.
During a high school meet in 2007, a sports journalist took an innocuous photo of Stokke and posted it alongside his online article. A few months later, the image was re-posted on a sports blog that had a large male readership. The photo was accompanied by a caption talking about Stokke's sexiness and many of the male readers commented on how hot she was. They reposted the pics to other male-oriented blogs and also started hunting for old picks of Stokke.
All these catapulted the high school senior to a sort of fame that she did not want. Many strangers sent her friends' requests and emails online while some also stalked her physically in order to get a picture with her. Some others, who were photographers, even went to the extent of attending her meets and shooting underneath her all in a bid to get sexually-suggestive pictures of her.
The whole drama did not stop at this juncture. Allison got modeling offers from New York and was even invited to appear on the Today Show. She also got an offer to do a spread for the male magazine, Maxim.
Regaining Her Identity as a Sportswoman and Making Waves as a Fitness Model
The whole episode reignited the age-long debate on the sexualization of female athletes. News outlets in Germany, Australia, the U.S., and the U.K. weighed in with their own editorials as the discussion raged online. On her own part, Allison Stokke was very emotionally drained. She had worked quite hard to record many achievements as a pole vaulter and yet some people wanted to reduce her to just barely her looks. The young lady found this very demeaning but refused to be a victim. She decided to reclaim the narrative and rejected all the modeling offers coming from magazines such as Maxim. She instead focused on allowing her athletic prowess to speak for her and took up a scholarship at the University of California, Berkeley.
Stokke would spend about four years at Berkeley during which she continued her magnificent exploits. She broke her school's record for freshman pole-vaulters in her first year. She subsequently finished in the top ten of various competitions that she took part in, including The PAC-10 Championships, The MPSF Indoor Championships, etc. and received all-American status in her final year. To further prove that she was much more than her looks, Allison also performed very well in her academics. She obtained a degree in sociology and received All-Academic honors. She also received an honorable academic mention from the track/field and cross country coaches association.
Upon completing her degree in 2011, Allison Stokke initially focused her attention on qualifying for the US Olympics team. She took part in several national meets but couldn't quite cut the requirement. She, therefore, decided to focus on making it as a fitness model. The California native has modeled for sports gear giants – Nike. She has also modeled for the likes of GAP (popular clothing and accessories retailer) and Uniqlo Co. Ltd (Japanese casual wear designer). Additionally, Allison has filmed promotional videos for GoPro, a company that manufactures action cameras and video editing software.
Her Journey to Becoming the new Mrs. Fowler
Allison Stokke is happily married to the professional golfer – Rickie Fowler. Rickie is a native of California and was born on the 13th of December 1988. He attended Murrieta Valley High School as well as The Oklahoma State University. As an amateur golfer, Rickie Fowler won several tournaments including The Western Junior (2005) and Sunnehanna Amateur (2008). He turned professional in 2009 and has since won several titles. They include The Wells Fargo Championship (2012), Deutsche Bank Championship (2015), The Waste Management Phoenix Open (2019), and The Abu Dhabi HSBC Golf Championship (2016). He was also a member of the U.S. team that won The Ryder Cup in 2010, 2014, and 2016.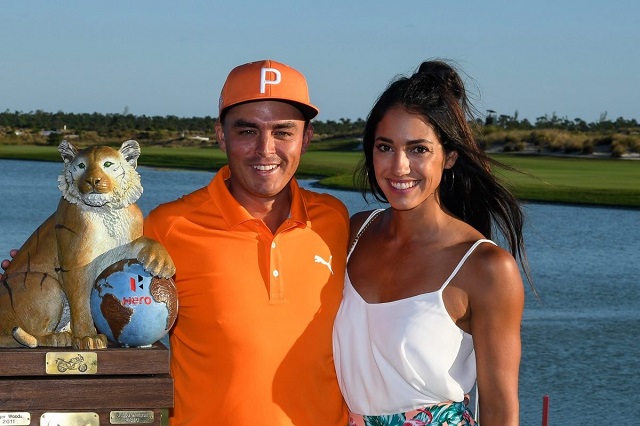 Stokke and Fowler commenced their relationship in 2017, making their first official public appearance at a Motorcross Race in 2017. Since then, the couple has not hidden their love for each other. They regularly post pictures of themselves on their respective Instagram handles. Stokke also accompanies her man to all the major golf tourneys and they announced their engagement on Instagram during national best friends' day (June 8th, 2018).
The couple is now officially man and wife after getting hitched on the 5th of October 2019. The destination wedding took place on the gorgeous white beaches of Cabo San Lucas, Mexico. The bride wore a timeless Elizabeth Filmore gown while her groom was decked in a Ralph Lauren suit. The ceremony was held shortly before sunset and was officiated by their mutual friend named Ryan Good. The newly-married couple and their about-48 guests later retired for a dinner and party which went on until about 2 am the next morning.