Many people know Allison Stokke as the fiancée of American golfer – Rickie Fowler. However, she is so much more than that. Stokke is equally an accomplished athlete and has excelled in the track and fields. She is not just a champion pole-vaulter but also a popular fitness model. Get to know more about her here including details about her bio and age, height and net worth as well as her romance with her golfer beau.
Allison Stokke – Bio (Age)
Allison Rebecca Stokke was born on the 22nd of March 1989 in Newport Beach, California. Her father's name is Allan Stokke while her mother's name is Cindy. She also has a brother named David. Stokke had her education at Newport Harbour High School. During high school, she initially tried out gymnastics but eventually choose pole vaulting. She recorded sporting success in her four years of high school.
Allison set national records in her freshman and sophomore year. She also won a national championship for athletes aged 15 and 16. This was in 2004 and she achieved this feat with a height of 3.81m (12 feet 6 inches). In her final year of high school, Stokke was placed 8th in national junior championships and 2nd in the national high school rankings.
For college, Allison Stokke attended the University of California, Berkeley where she continued her magnificent exploits. She broke her school's record for freshman pole-vaulters. She also finished in the top ten of various competitions that she took part in. They include The PAC-10 Championships, The MPSF Indoor Championships, etc. Stokke did not allow her sporting pursuits to hinder her academics, she performed very well in her studies and obtained a degree in sociology. She also received All-Academic honors as well as an honorable academic mention from the track/field and cross country coaches association.
Relationship with Rickie Fowler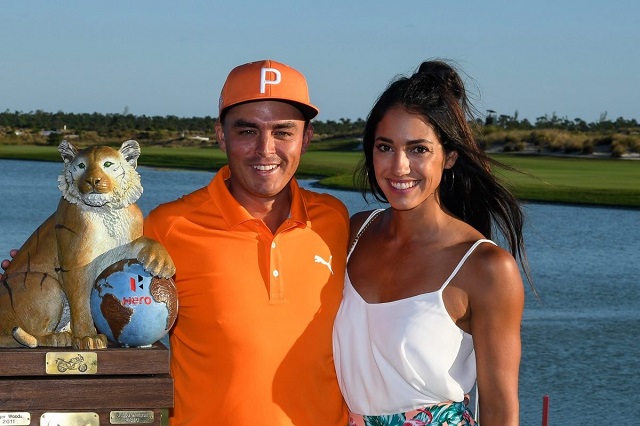 Allison Stokke is in a loving relationship with professional golfer – Rickie Fowler. Fowler is a native of California and was born on the 13th of December 1988. He attended Murrieta Valley High School as well as The Oklahoma State University. As an amateur golfer, Rickie Fowler won several tournaments including The Western Junior (2005) and Sunnehanna Amateur (2008). He turned professional in 2009 and has since won several titles. They include The Wells Fargo Championship (2012), Deutsche Bank Championship (2015), The Waste Management Phoenix Open (2019), and The Abu Dhabi HSBC Golf Championship (2016). He was also a member of the U.S. team that won The Ryder Cup in 2010, 2014 and 2016.
Stokke and Fowler commenced their relationship in 2017. They made their first official public appearance at a Motorcross Race in 2017. Since then, the couple has not hidden their love for each other. They regularly post pictures of themselves on their respective Instagram handles. Stokke also accompanies her man to all the major golf tourneys. Although they are yet to walk down the aisle, the duo are currently engaged. Fowler popped the big question in June 2018 and Stokke said yes. They announced their engagement on Instagram during national best friends' day (June 8th, 2018).
Allison Stokke's Net Worth
Allison Stokke has a net worth of $500,000. Her source of income stems from prize monies and career earnings. However, an even more profitable source of income for her is modeling. Stokke has modeled for sportswear and sports gear giants – Nike. She has also modeled for the likes of GAP (popular clothing and accessories retailer) and Uniqlo Co. Ltd (Japanese casual wear designer). There is no doubt that she must have been handsomely rewarded for her time. Allison has also filmed promotional videos for GoPro, a company that manufactures action cameras and video editing software.
See Also:  Angela Akins Garcia – Bio, Family, Facts About Sergio Garcia's Wife
Height
Allison Stokke is 5 feet 7 inches tall (1.70m) and weighs 52 kg (115 lbs). Other additional measurements are chest – 34 inches, waist – 25 inches and hips – 34 inches. Her hair color is black while her eye color is dark brown. Stokke has revealed that she maintains her physique by running on a daily basis. Her fitness regimen also includes yoga, plyometrics, paddling, and drills. Due to her natural good looks, Stokke has encountered one problem that most female athletes face. That is the issue of sexualization.
No matter how excellent a sportswoman is, the discussion often centers on her looks rather than her performance. The athlete suffered such an ordeal in 2007 when an innocuous photo of her was posted on a sports blog that had a large male readership. The photo was accompanied by a caption talking about her sexiness. The post catapulted Stokke to a sort of fame that she did not want. This is because her new fans were more interested in her looks rather than her accomplishments. Allison Stokke was dissatisfied with the whole episode and described it as unsavory. The whole situation also reignited the age-long debate on the sexualization of female athletes.