Alshon Jeffery has grown to become an important player in the National Football League (NFL). He plays as wide receiver for the Philadelphia Eagles. The American football player started from his high school days to draw attention to himself through his impressive skills. Jeffery began his professional career in 2012 when he was selected by the Chicago Bears in the second round of the 2012 NFL Draft. Here are lesser known facts about Alshon Jeffrey.
Who is Alshon Jeffery and How Old is He?
He was born on February 14, 1990, in St. Matthews, South Carolina. From a very young age, Jeffery started to show great tenacity and excellence in the sporting field. He was good at basketball and in football as well. Jeffery is an alumnus of Calhoun County High School where he played basketball and of course, football. Alshon who was part of his school's basketball team recorded remarkable feats with the team. But the game of football took precedence when the time came for him to make life decisions. Towards the end of his high school, Jeffery got several scholarship offers from different universities but he chose the University of South Carolina over the others.
Joining the school's team in 2009, Jeffery caught five passes for 61 yards and made 7 catches for 138 yards with 3 touchdowns in the game against University of Kentucky; and this became one of his best freshman records. For his 2010 season, one of Jeffery's best records was when he made five catches for 141 yards and one touchdown in a game against Clemson University. Towards the end of the 2010 season, he recorded 88 catches for 1,517 yards, nine touchdowns and a 108.4 yd/game average.
He also led his team to victory as they made their first-ever SEC Championship Game appearance. This remarkable feat earned him a selection as an All-American. Jeffery was also named as the best overall player in the SEC by ESPN. After his 2011 season, he was named the Capital One Bowl MVP, following his performance at the 2012 Capital One Bowl.
NFL Career
As predicted by some analysts, Jeffery was drafted with the 4th overall pick, by the Chicago Bears in the second round of the 2012 NFL Draft. He would later sign a four-year contract with the Bears. Alshon's 2012 stint started with the game against Denver Broncos where he caught 4 passes for 35 yards. He sustained an injury on his hand which caused him to miss a few games. He returned in the 11th week but sustained another injury on his knee. At the end of his first season with the Bears, he recorded 24 passes for 367 yards and 3 touchdowns.
Jeffery bounced back in the 2013 season and made a remarkable record of becoming the first player to record two 200-yard games in the same season. This was after he recorded 218 yards with career-high 10 receptions in the game against New Orleans Saints and another record-breaking feat in the game against Minnesota Vikings.
Alshon's time with the Bears came to an end after the 2016 season. After announcing a franchise tag on the wide receiver, he was suspended for four games by the NFL for violating the performance-enhancing drug policy.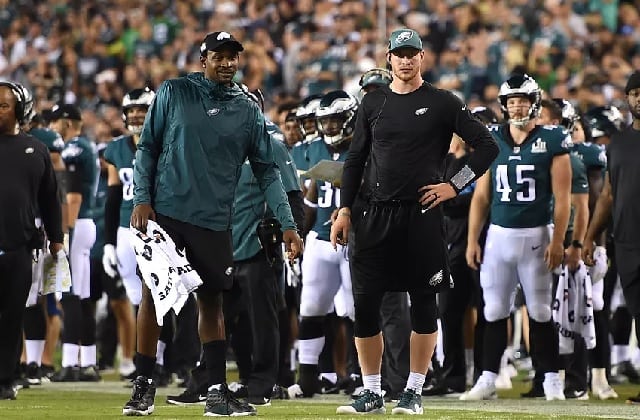 His next move was to the Philadelphia Eagles where he signed a one-year $14 million contract with the team on March 9, 2017, and made his debut in the team in September. It was in the game against Washington redskins, and Jeffrey recorded 38 yards on three catches.
Family Life – Parents & Siblings
Alshon Jeffery was born to his parents; Deloris Jeffery, his mother, and Charles Jeffery Sr. his father. Sports definitely runs in the family of the talented wide receiver whose brothers are also football and basketball players. Alshon's older brothers; Charles Ben and Darren Ben were notable sportsmen in the game of football and basketball while at Calhoun County High School. His younger brother, Shamier Jeffrey also played football for the Gamecocks.
See Also: Biography of Alex Collins (NFL): Here's Everything You Need to Know
Personal Life – Wife or Girlfriend
Alshon Jeffery seems to be a private person but this does not mean that no information about his personal life has been dug up. Although rumours have it that they are married, Jeffery is in a relationship with Sascha Smith. Before Smith the NFL player dated Ari Washington.
The talented player has a good body build that fits his daunting and challenging career. He stands at a tall height of 6ft 3in (1.92 m) which is quite proportional to his weight of 99 kg (218 lb). With his 10 1/4″ hands, he hardly loses his grip on the ball.