Though she had already established herself as a household name in Hollywood, Amber Heard became more popular in 2015 after she became one half of a high profile couple. But just when the world thought she was living her best life yet, the actress shocked many with the news of domestic violence.
Professionally, Heard has been active in the entertainment industry for nearly two decades and has accumulated a plethora of screen credits. A daring star who is not afraid to voice her beliefs, the actress also doubles as an activist raising awareness against sexual abuse and domestic violence.
Amber Heard Got Her Career Started With Supporting Roles In the Mid 2000s
Amber Heard's journey into entertainment began when she arrived in LA from Texas. She had left her home state after a trying period as a teen. She'd just lost a close friend, was questioning her faith, and was eager to move out and explore the world. She tried her hands at modeling when she first arrived in LA but soon moved relocated to New York City to pursue a career in acting.
Amber Heard debuted in the entertainment industry by featuring in two of Kenny Chesney's music videos. Thereafter, she landed minor roles on the small screen in TV shows such as The Mountain, Jack & Bobby, The O.C, and Criminal Minds. Heard debuted on the silver screen with the 2004 movie Friday Night Lights. The next year, she followed up with other minor appearances in films like Drop Dead Sexy, North Country, and Side FX. In 2006, Amber featured in You Are Here, Alpha Dog, and Price to Pay. Her first lead character came in 2007 with the short-lived TV teen series Hidden Palms. That same year she had minor roles in the dramas Californication, Remember the Daze, and the short film Day 73 with Sarah.
She Broke Into The Limelight With Her Performance In The Comedy 'Pineapple Express'
From 2008 onwards, Heard became a more visible figure in films making headlines in Hollywood. One of the first of many successful appearances was her role as Angie Anderson in Judd Apatow's comedy Pineapple Express.
Her outstanding performance in the aforementioned movie paved the way for bigger roles and projects. That same year, she featured in the movies, The Informers, and All the Boys Love Mandy Lane. Her other notable movie features thereafter include Zombieland, Ex-Terminators, The Joneses, and The Stepfather – all released in 2009. In 2010, she appeared in The Ward, And Soon the Darkness, and The River Why.
In 2011 Amber starred as Chenault alongside Johnny Depp in the film The Rum Diary. It was after this film that Amber and Johnny began their whirlwind romance. That same year she played Piper Lee in Drive Angry alongside Nicholas Cage. She also appeared in Paranoia, Syrup, and Machete Kills in 2013, and 3 Days to Kill in 2014.
In 2015, Amber Heard had a successful year, appearing in a host of movies that were successes at the box office; she played Zoe a photographer who flirts with Channing Tatum in Magic Mike XXL. The movie was a massive success at the box office raking in $122.5 million against a production budget of $14.8 million. She followed that up with three more movies that year – One More Time, The Danish Girl and The Adderall Diaries. In 2017, Amber Heard appeared in the comic book movie, Justice League. 
In 2018, Amber was part of the very successful Aquaman project. The film ended up the fifth most profitable movie released in 2018 and went on to become very popular across the globe. She ended the year as Global ambassador for cosmetics giant L'Oréal Paris.
Amber Heard Married Johnny Depp After They Met On The Set of The Rum Diary 
While on the set of the 2011 film The Rum Diary, Amber Heard met Johnny Depp and they quickly established a romantic bond. They soon began living together, and after three years of courting, Heard and Depp took their relationship to the next level.
Depp and Heard were speculated to be engaged after a picture emerged of the actress wearing an ornate engagement ring. After much speculation, Depp himself confirmed the engagement in a video interview with The Daily Mail. They exchanged marital vows on February 3rd, 2015 in a quiet and beautiful ceremony at their Los Angeles home. The union produced no kids.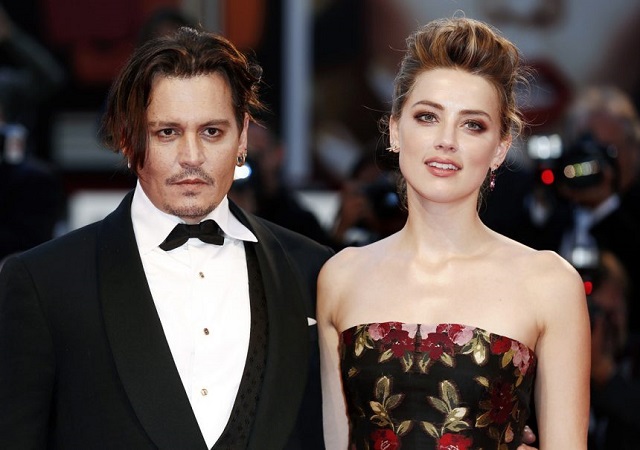 Their Acrimonious Divorce Played Out In The Public Glare
To everyone's surprise, barely 15 months after the wedding, Amber filed for divorce in May 2016. More so, she alleged that Depp had physically abused her while under the influence of alcohol.
She alleged that an incident had recently taken place in which Depp threw his phone at her, leaving her with a bruised face. Police investigations into the domestic incident found that no crime had taken place. Depp denied these accusations and through his representatives said Amber just wanted to secure a premature financial resolution by alleging abuse.
After testifying under oath, she withdrew her request for a domestic violence restraining order and reached a settlement with Depp which required him to pay $7 million. Amber then donated it to the Los Angeles Children's Hospital as well as the American Civil Liberties Union.
In a leaked tape in 2020, it was discovered that as far back as 2016, Amber Heard admitted to physically abusing Depp whilst they were married. In the audio recordings she is heard admitting  to "hitting" Depp, and pelting him with pots, pans, and vases. She is also heard mocking him for walking away during their fights while Depp insists he does that to ensure the violence doesn't escalate. The uproar led to a public backlash against Heard and led to fans even asking for her to be recast in Aquaman 2.
After Writing An Op-Ed For The Washington Post Implying She Was Abused, Another Drama Ensued
Heard wrote an op-ed for The Washington Post where she insinuated that she had been a victim of domestic abuse; however, she never mentioned Depp by name. In 2019, Depp sued Heard for $50 million for defamation over the article. In the suit, he insists Heard was the perpetrator of violence towards him while they were married. His representatives said her allegations were a deliberate hoax she was creating to generate positive publicity.
In response, Heard insists Depp was an abuser and requested the judge dismiss the lawsuit in Virginia, so the case can be transferred to California. This request was not granted and at the case is currently ongoing.