Though she had already established herself as a household name in Hollywood, Amber Heard became more endearing to fans in 2015 after she became one half of a high profile couple. But just when the world thought she was living her best life yet, the talented and versatile actress shocked many with the news of domestic violence. Professionally, Heard has been active in the entertainment industry for nearly two decades and has accumulated a plethora of screen credits. A daring star who is not afraid to voice her beliefs, the actress also doubles as an activist raising awareness against sexual abuse and domestic violence. Join us in unearthing lesser-known facts about the award-winning actress who has remained a fan favourite.
Amber Heard Bio, Age
Amber Heard is a Texan born on April 22nd, 1986. Heard and her younger sister, Whitney were raised in a decent and strict Catholic household led by parents David Clinton Heard, a contractor and Paige Parsons, an internet researcher. Amber's inclinations towards the performing arts were evident from an early age. She was an active student and part of her high school's drama department at St. Michael's Catholic Academy in Austin. However, she later developed an interest in modelling and thus dropped out of school at age 17. Heard then relocated to New York City to pursue a career in showbiz.
Amber Heard debuted in the entertainment industry featuring in two of Kenny Chesney's music videos. Thereafter, she landed minor roles on the small screen in TV shows such as The Mountain, Jack & Bobby, The O.C, and Criminal Minds. Heard debuted on the silver screen with the 2004 movie Friday Night Lights. The next year, she followed up with other minor appearances in films like Drop Dead Sexy, North Country, and Side FX. In 2006, Amber featured in You Are Here, Alpha Dog, and Price to Pay.
Her first lead character came in 2007 with the short-lived TV teen series Hidden Palms. That same year she had minor roles in the dramas Californication, Remember the Daze, and the short film Day 73 with Sarah. Heard had a major breakthrough in the year 2008 after starring in the movies Pineapple Express and Never Back Down. Her outstanding performances in the aforementioned movies paved the way for bigger roles and projects. That same year, she featured in the movies, The Informers, and All the Boys Love Mandy Lane.
See Also: Diandra Luker – Bio, Net Worth, Facts About Michael Douglas' Ex-Wife
Her other notable movie features thereafter include Zombieland, Ex-Terminators, The Joneses, and The Stepfather all released in 2009. Others are The Ward, And Soon the Darkness, and The River Why in 2010, The Rum Diary and Drive Angry in 2011, Paranoia, Syrup, and Machete Kills in 2013, 3 Days to Kill (2014), Magic Mike XXL, One More Time, The Danish Girl and The Adderall Diaries all four movies released in 2015. More recently, Amber Heard appeared in the 2017 movie Justice League and in Aquaman (2018).
Net Worth
The Texan actress has been very active in the entertainment industry for nearly two decades and has gradually established herself as a household name. While her exact salary figure has not been disclosed, Amber has amassed a huge fortune from her plethora of screen credits. Her net worth is currently estimated at  $20 million.
About Her Dating Life
Amber Heard was once happily married to her colleague Johnny Depp. The former power couple met on the set of the 2011 film The Rum Diary and quickly established a romantic bond. They soon began cohabiting and after three years of courting, Heard and Depp took their relationship to the next level. They exchanged marital vows on February 3rd, 2015 in a quiet and beautiful ceremony at their Los Angeles home. However, the actors' marriage was shortlived as Amber filed for divorce about a year later in May 2016. More so, she alleged that Depp had physically abused her and obtained a restraining order against the actor. The union produced no kids.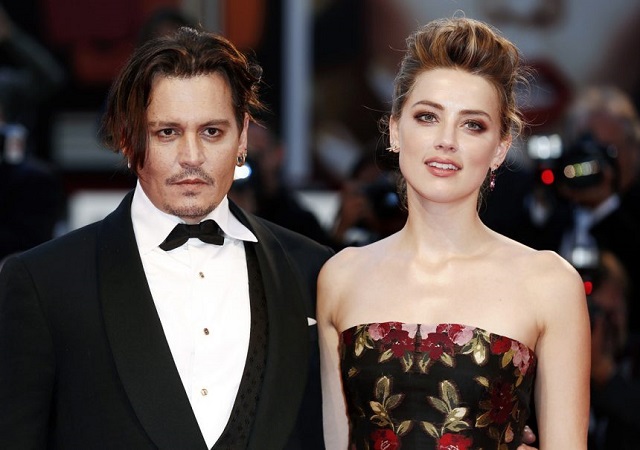 Being a public figure, Amber Heard's relationships have always made headlines. Before Depp, the beautiful actress was romantically linked to her Mexican colleague Valentino Lanus between 2005 and 2006. Thereafter, she dated Mark Wystrach from 2006 to 2007. Interestingly, Amber dated a female photographer Tasya van Ree and officially came out as bisexual at the 25th GLAAD anniversary event. Their lesbian romance seems to be Amber's longest so far as it lasted for four years (from 2008 to 2012).
After Johnny Depp, Amber quickly moved on and found love in the arms of business mogul Elon Musk in 2017. However, like her previous records, the romance was also short-lived as they parted ways that same year.
Height And Other Facts About Johnny Depp's Ex-Wife
1. Also known for her slim build, Amber Heard stands at an average height of 5 feet 7 inches complemented by weight of about 62 kg. Her other body measurements are bust – 34 inches, waist – 27 inches, and hips – 34 inches.
2. The actress is apparently a good swimmer and it is uncommon knowledge that she is a certified lifeguard.
3. Amber Heard's first love is art. Among her list of leisure activities is reading. She is an avid reader and her book collections cut across various genres. In fact, the actress has a part of her body designed with a tattoo of a line from Omar Khayyám's poem.
4. Though she had a strict Catholic upbringing, Amber Heard is an atheist. Her belief was influenced by a tragic experience as a teenager. After losing her best friend at age 16, the actress began to doubt her former religious belief and was then introduced to Ayn Rand's works by her boyfriend at the time.
5. Heard was granted the sum of $7 million from her divorce proceedings with ex-husband Johnny Depp. The actress is believed to have donated that money to the Los Angeles Children's Hospital as well as the American Civil Liberties Union.
6. Heard has an active social media life. She is present and has amassed a huge fanbase on popular social networking sites including Twitter, Facebook, and Instagram.