Amelia Warner is an English actress, singer, and songwriter, better known by her stage name, "Slow Moving Millie." Although her big screen debut came in 1999, her music career never kicked off until twenty years later in July 2009. Interestingly, Warner's music seems to catch the fancy of advertising firms who have featured her songs in widely watched and admired advertisements.
In 2011, her hit song, Please, Please, Please Let me Get What I Want was used in a television advert which went viral. Not only has her music featured in adverts, but she also composes songs and tunes for films like Mary Shelley.
Amelia Warner's Bio
Amelia Warner (also known as Amelia Catherine Bennett) was born in Merseyside, Liverpool, England, on June 4, 1982, to the family of Alun Lewis and Annette Ekblom. Her parents were actors who, sadly, went their separate ways when she was just a girl so she spent the most part of her childhood living with her mother. After relocating to London at age 4, Amelia Warner attended the Royal Masonic School for Girls. From there, at 16, she proceeded to the College of Fine Arts.
Right from the onset, Warner has always cherished acting and began nurturing her passion from an early age. However, her dedication to acting wasn't lining up with her formal schooling. The authorities at the College of Fine Arts frowned Warner's excessive time off from school to pursue acting. Consequently, the Liverpool-born actress was forced to study at a college in Belsize Park, albeit for a short while.
Career
Amelia's sunrise began when her talent was spotted by an agent. It all began after she and her friends developed and acted a play in Covent Garden. She would later win a spot at the London Royal Court Theatre's Youth program. Following that came a TV role in the drama series Casualty (1986). However, her big break came in the winter of 2000 when she starred in the films Lorna Doone and Quills, both of which were released in the winter of that year.
She was also cast in the television series Waking the Dead and in three episodes of Take a Girl Like You, which were all released in 2000. Since that time, Warner has appeared in twenty films including, The Echo (2008)  Nine Lives (2009), and The Other Side (2012). Asides acting in movies, Amelia Warner also composed music for award-winning short films and other films such as Mum's List (2016), Mary Shelley (2017) and in 2018, Leading Lady Parts was added to the list.
Although she's been known by her real name, Amelia Warner's music career prompted her to pick an entirely new stage name; Slow Moving Millie. Her music career kicked off in July 2009. It started off when she wrote and performed the song Beasts for a Virgin Media TV commercial. The full track was released in August of the same year. Rewind City was her second single and was also used for another TV commercial for Orange UK.
Her album launch was in 2011; Renditions. She later released Arms; her Fyfe Dangerfield produced 5-track album. The album placed Warner in the #1 spot on iTunes classical music charts. Her second EP, Visitors also made the #1 on the iTunes classical charts. All these, including several of her recognition you'll soon see, all add up to Amelia Warner's rising fortune.
See also: Traci Lords- Biography, 5 Interesting Facts You Need To Know
Facts About Jamie Dornan's Wife
1. Salary and Net Worth
Amelia Warner's career as an actress, singer, and composer has not only earned her a large fan-base, it has also earned her quite a fortune too. As of this writing, she earns an annual income of over $350,000 and a net worth of over $3 million.
2. Awards and Recognition
Asides the glitz, glamour, and visibility around and acting and movie career, Amelia Warner's work is shored up by incredible awards and recognition. In 2018, her ethereal original score in the movie, Mary Shelley, earned her a nomination for "Discovery of the Year" in the World Soundtrack Awards. That same year, her work on Mary Shelley did earn her an IFMCA award for "Breakthrough Composer of the Year."
3. She is Jamie Dornan's Wife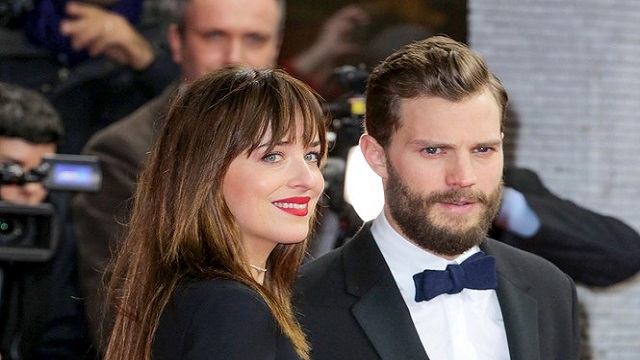 In 2013, after three years of successful dating, Amelia Warner married Irish actor and Calvin Klein model, Jamie Dornan. The couple has three daughters; Dulcie (b. November 21, 2013), Elva (b. February 16, 2016) and Phoebe (b. March 2019). But Dornan wasn't her first. Back in 2000, Warner dated Joaquin Phoenix. In 2001, she married Colin Farrell in a non-legal ceremony.
The marriage lasted only four months. She also dated Adam Garcia in 2003; their relationship lasted a year. She and her current husband, Jamie Dornan first met in 2007. They got on quite well and in five years (2012), they were engaged. They got married a year later in 2013.
4. Height and Body Measurements
Amelia Warner has maintained that graceful hourglass figure since her adolescence. She stands 5 feet 6 inches (1.68 meters) tall and weighs 117 pounds (57 kg). Her body measurement is 35-24-34 inches or 89-61-86 cm. She wears shoe size 8 (US) and 6 (US). Warner has been known for her beautiful hazel colored eyes and short cropped dark brown hair.
5. Other Facts
While it's easy to admire her current success, Amelia's decision to pursue a career in acting didn't go down well with her actress mother, who tried to put her off show business. Amelia Warner is a niece to ace Welsh actor Hywel Bennett. She also has a tattoo on the lower part of her left hand; a small star.