Amy Carlson's fictional character on the hit series Blue Bloods faced one of the most famous and shocking deaths on cable television which brought huge repercussions. Linda Reagan's demise gathered critical acclaim and emotional impact which was more evident after her abrupt demise on the CBS series. As one of Blue Bloods' original cast member, Linda's departure from the show was quite upsetting for fans as most people are yet to get over it.
Blue Bloods showrunners faced serious backlash from upset fans following Linda's sudden death not just because it had never been hinted at any prior episode but more so because it occurred off-screen in a helicopter crash. While fans are still reeling from the fictional character's death, here are answers to pertinent questions about actress Amy Carlson…
Who Is Amy Carlson?
Amy Lynn Carlson is an Illinoisian who was born on July 7, 1968, to Bob and Barb Carlson. The actress and her siblings Betsy, Lori, and Joe spent their early years in Chicago but when Amy was about 13 years old, her family relocated to Amman, Jordan because of their parents' teaching jobs.
Carlson later moved back to Illinois where she had her tertiary education at Knox College in Galesburg. She began exhibiting theatrical talents as a student and participated in some of the school's stage productions. A bright student, Amy graduated from college summa cum laude in the year 1978.
Amy Carlson debuted her acting career on the small screen with a role as Josie Watts in the 1993 soap opera Another World. She followed up with both recurring and guest roles in screen projects such as Missing Persons, Fringe, NYPD Blue, CSI: Crime Scene Investigation, NCIS, Peacemakers, Law & Order: Trial by Jury, and many more.
But Carlson's most prominent role so far would unarguably be that of Linda Reagan in the hit series Blue Bloods. She joined the show in 2010 and gradually warmed her way into the hearts of many even after the seventh season when her character was surprisingly cut off.
Why Did She Leave Blue Bloods?
Amy Carlson is an original Blue Bloods cast member. She starred as ER nurse Linda Reagan and the wife of Danny Reagan (Donnie Wahlberg) on the show. Linda who had a loving relationship with Danny was a sweet and endearing character on the CBS show. As a mother of two (Jack and Sean Reagan), Linda was initially a stay-at-home mom but later returned to work as an ER nurse at St. Victor's Hospital in New York City.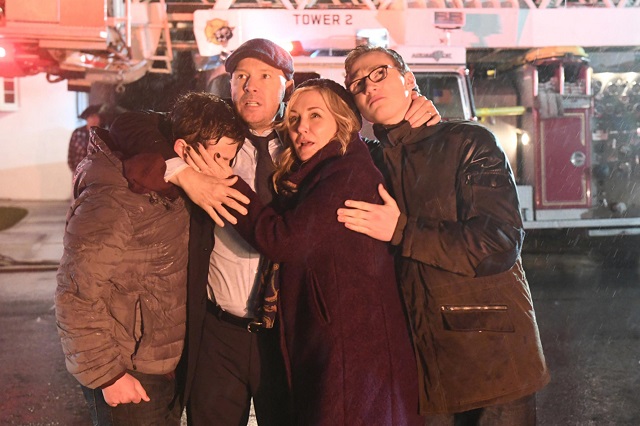 However, fans of Blue Bloods were shocked when she died off-screen in a helicopter crash in Season 8. Producers of the show did not show Linda's death, but fans learned about the tragic news from her husband Danny who revealed it during a therapy session. The premiere of the eighth season showed the Reagan family trying to recover and support each other after the news of Linda's death. Both fans and co-stars were shocked and unhappy with the turn of events on the show, and all parties were left to deal with the loss as a family.
See Also: Is Glenn Dead on TV Series, Walking Dead, If So, Why and How Did He Die?
Following the outrage irked by Linda's sudden demise, Amy Carlson decided to clear the air via social media. In a statement on her Instagram account, the actress revealed that she was surprised and honored by people's connection with Linda Reagan's character. She also thanked fans, CBS as well as the Blue Bloods cast and crew for their generous and overwhelming support to her and the Linda character during her seven-year stint on the show.
Carlson further broke the ice revealing that while her departure seemed sudden to fans it was seemingly an amicable one. According to the actress, she left Blue Bloods after fulfilling her contract to Season 7 and decided to move on to other projects. On the other hand, Carlson admitted that she felt bad about the way her character was killed. According to Amy who was unaware and surprised that the producers chose alternative options, she would have preferred that her demise was shown to fans onscreen.
Will She Return?
Linda Reagan's demise was hard on fans of Blue Bloods and it is no secret that Amy Carlson was also unhappy with the way her character was written off. Touched by people's connection to Linda after her exit, the actress later revealed that she is open to coming back to the show.
More so, she disclosed that she has been in touch with her onscreen husband Donnie Wahlberg since she left the show. While it is uncertain if Amy Carlson will eventually return, fans have retained hopes that the actress will make another appearance on the show.
Carlson has since moved on to other projects after Blue Bloods. Some of her latter screen features include a guest appearance on the NBC series The Village, a role as Grace in the movie A Bread Factory, Part One, another as Jerry in The Incoherents, and as Samantha in the Sunny Daze.