Amy Hoovers Sanders is the wife of American Democrat and former congressman, Beto O'rourke. Although Beto has been a public office holder since 2005, he only gained widespread prominence after his attempt to unseat Texan Senator Ted Cruz in the 2018 elections. Moreover, his fame heightened following the launch of his presidential campaign on 14th March 2019.
Meanwhile, standing beside Beto O'rourke like no other in his political bid is his wife, Amy Hoover Sanders. Besides being the woman behind a prospective US presidential candidate, Amy is an influential teacher, educationist, entrepreneur, and humanitarian. But that's not all there is to know about her. Join us as we take an expository ride through the life of Amy Hoover Sanders, the wife of Beto O'rourke.
Amy Hoover Sanders Bio
Amy Hoover Sanders was born in 1981 in El Paso, Texas, the United States. On completing her high school education, Amy Hoover studied Psychology at Williams College in Massachusetts. After her graduation, she took up an English teaching job in Guatemala, Central America. There, she spent one year teaching the kindergarten pupils of Colegio Americano de Guatemala.
On returning to El Paso in 2004, Amy continued working as a teacher. Soon after her return, she co-founded La Fe Preparatory, a dual language charter school where she taught first and second-grade students while also working as the superintendent. Although she is no longer teaching at La Fe Preparatory, she remains one of the school's directors as well as the Director of Education Development at La Fe Community Development Corporation.
In addition to her paid jobs, Amy Hoover Sanders in involved with a number of non-profit organizations. For seven good years, she served at the Centro de Salu Familiar La Fe. She is presently serving as the "choose to excel" director of CREEED, a non-profit outlet which focuses on identifying and implementing solutions that improve education standards in El Paso, especially in the area of preparing the community's students for college.
In 2013, Hoover Sanders became the president of Stanton Street Technology, a software and internet services company which her husband, Beto O'rouke founded in 2000. She, however, dropped the position in 2017 in order to create more time for Beto's political campaigns.
Her Family and Marriage to Beto O'rourke
Amy Sanders met Beto O'rourke in 2004 at a blind date which a friend organized to set the duo up, and it worked! O'rourke had taken her across the border to a restaurant in Juarez, Mexico, 11 miles from El Paso. While O'rourke was running for the city council at the time, Sanders was applying for graduate school. She, however, dropped her ambition and stayed back in El Paso after falling for Beto. After dating for just ten months, the pair married on 24th September 2005 at Sander's family ranch in Lamy, Santa Fe, New Mexico.
Amy has three children with her husband – two boys and a girl respectively named Ulysses (born in 2007), Henry (born in 2008), and Molly (born in 2011). The family of four currently resides in El Paso, Texas.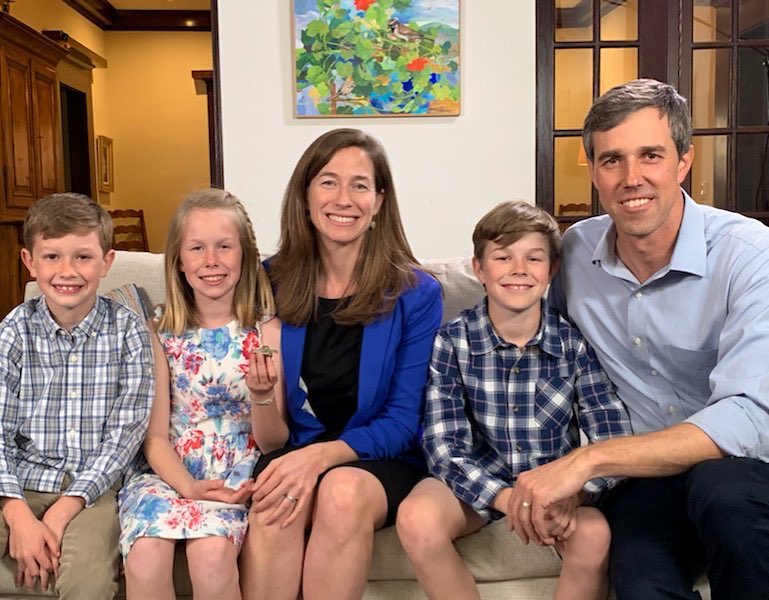 On the side of her biological family, Amy was born into the wealthy family of Texan real estate magnate, William "Bill" Sanders and his wife Louann. She is one of their five children alongside two brothers, Richard and Pablo, and two sisters, Marianna and Christina. While her paternal grandfather ran an advertising agency, her maternal grandfather was a World War II US military officer who won a Bronze Star and Purple Heart.
Amy Hoover lost her father-in-law, Pat O'rourke in a road accident on July 3, 2011. A car had hit him from behind while he rode on his bicycle, causing him serious head injuries that took his life on the spot.
Other Facts About Beto O'rourke Wife
1. Amy Hoover Sanders is 9 years younger than her husband, Beto O'rourke who was born in 1972. At the time of their wedding, they were 24 and 33 respectively.
2. She was born and raised in the same town as O'rourke. They are both El Paso natives. It is in fact quite interesting to note that it was Amy Sander's father, Bill Sanders who introduced her husband's mother (Melissa) to his father (Pat O'rourke) after previously dating her.
3. Amy was initially against her husband's political ambition. In fact, she cried the first time he mentioned his intention to run for the Congress. She, however, later bought into the idea, and was the one who urged him to vie for the Senate.
4. Her husband named their first son, Ulysses the Roman version of Odysseus, a Greek hero in his favorite poetic book "Odyssey" by Homer. O'rourke recently revealed in a tweet that they didn't have the guts to name him Odysseus.
5. Amy Hoover Sanders reportedly has a trust fund worth up to $5 million to her name. She has an estimated $16 million combined net worth with Bet O'rourke.