If there is anything people should know about the life of David Adeleke popularly known as Davido, it is the fact that the singer has a plush taste for luxury. Just like his billionaire father, Adedeji Adeleke. Omo Baba Olowo's taste for luxury is second to none and this can be seen from his lifestyle and the way he spent money lavishly on things that he loves and derives pressure in without reservations.
Davido's car collection includes a 2019 Rolls-Royce Cullinan 2019, 2018 Bentley Bentyga, Range Rover Autobiography LWB, Range Rover Sport 2017, and Lamborghini. 
One of the things the singer loves so much is cars and his garage is full of a variety of them; not just any-how kind of cars but posh and classics ones. The cost of the cars in Davido's garage has been estimated to worth close to N1 billion. The singer also has tastefully furnished houses to balance the equation.
A Peep Into Davido's Garage and Car Collections
His collection of cars keeps increasing over the years, leaving his fans and lovers of music with admiration. Beginning from the most exclusive in his garage, the following are some of the very expensive cars owned by the singer:
1. Rolls-Royce Cullinan 2019
Brand – Rolls-Royce
Year acquired – 2019
Cost – ₦350 million
The most classy car in Davido's collection at the moment is the Rolls-Royce Cullinan 2019. Everyone knows that anyone that owns or drives a Rolls Royce often displays class and
royalty. The luxury car which he picked up in December 2018 is the first all-terrain sports utility vehicle (SUV) to be designed by Roll Royce and it is believed to cost a whopping ₦350 million. That is a whole lot but not for someone who loves luxurious cars and has the money to acquire them.
2. 2018 Bentley Bentyga 
Brand – Bentley
Year acquired – 2018
Cost – N100 million
Following the massive success of the 30 billion musical concerts held in December 2017, which brought in a whopping sum of N500 million in proceeds, the singer went ahead to gift himself the beast 2018 Bentley Bentyga which is estimated to cost about N100 million. The hand-built luxury SUV that races on a 6.0 L engine mated to an 8-speed automatic transmission.
The singer seemed to be tired of the car already, in February 2020, he posted a photo of himself standing beside the car announcing he needs a replacement. Fans won't be surprised if that happens any time soon.
Unique Features of the Car
Self-Leveling Headlights
10 Total Speakers
Keyless Ignition
Electrochromatic Inside Rearview Mirror
Universal Remote Transmitter (For Garage Door, Security System, Etc.)
Tilt And Telescopic Steering Wheel
4 One-Touch Power Windows
Tilt And Telescopic Steering Wheel
Four Zone Climate Control
Transmission, Cruise, and Audio Controls On Steering Wheel
3. Range Rover Autobiography LWB
Brand – Range Rover
Year acquired – 2016
Cost – N98 million
Another car you will find in the singer's garage is Range Rover Autobiography LWB
Davido added this car to his car collection far back in 2016 and its worth was estimated at N98 million then. The specifications of the car include; 8 trims and 10 configurations, 510 horsepower, 5.0 Liter V8 engine, 4 doors, and 5 seats, with SUV body Style.
Unique Features of the Car
Deployable Side Step Pack
Four Zone Climate Comfort Pack
13 Total Speakers
Meridian Premium Surround Sound
External Temperature Display
12 -Way Power Driver Seat
Rear Ventilation Ducts With Fan Control
Tilt And Telescopic Steering Wheel
Reverse Tilt Dual Mirrors Provides Curb View When Vehicle In Reverse
Adaptive Cruise Control W/Queue Assist And Intelligent Emergency Braking
4. Range Rover Sport 2017
Brand – Range Rover
Year acquired – 2017
Cost – N80 million
The singer also added Range Rover Sport 2017 model about the same time he bought the  Range Rover Autobiography LWB. The car is said to cost N80 million. It is a high-end SUV with an offering at five trim levels, which can lodge more than 6 passengers. It is motorized by a 3.0 L V6 engine with 340 horsepower and 332 lb-ft torque.
Unique Features of the Car
Lane Departure Warning Accident Avoidance System
Luxury Climate Comfort And Visibility PackagE
Satellite Radio
4 One-Touch Power Windows
Adaptive Cruise Control W/Queue Assist And Intelligent Emergency Braking
Sliding Panoramic Glass Roof W/Power Blind
Black Roof Rails – Installed
External Temperature Display
60/40 Rear Seats W/Load Through
Head-Up Display
5. Mercedes-Benz GLE Class 450
Brand – Mercedes-Benz GLE
Year acquired – 2017
Cost – $33,425 to $50,000
A few months after the singer added Range Rover Autobiography LWB and Range Rover Sport 2017 to his collection, he went ahead to gift himself another car; this time a 2016 Mercedes-Ben GLE class 450 reportedly worth at least $33,425 or as much as $50,000 at the time.
The model  is powered by a 3.0 liter Biturbo V6 engine, delivering 362 horsepower, and
the torque of 384 lb-ft, is worth N50 million.
Unique Features of the Car
Keyless Start
Variable Speed Intermittent Wipers
Mirror Memory
Trip Computer
Power Liftgate
Electrochromic rearview mirror
Leather Wrapped Steering Wheel
Electronic Stability Control
Onboard Hands-Free Communications System
Universal Garage Door Opener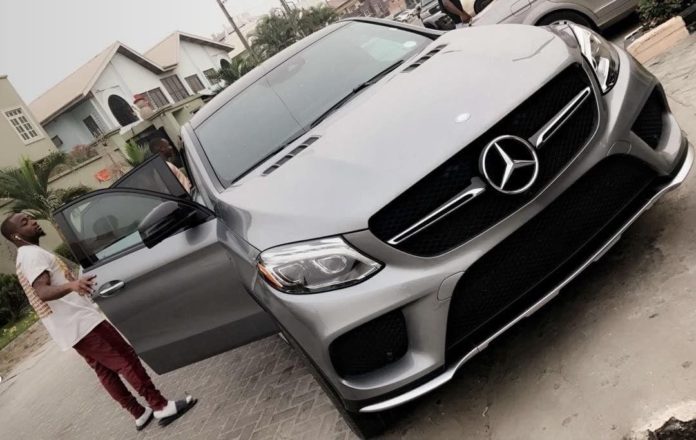 6. Porsche 911 Carrera 
Brand – Porsche
Year acquired – 2017
Cost – N35 million
Getting this sport luxury car was a dream for the singer. He added the N35 million car to his fleet in 2017. It delivers a 641 horsepower torque 450 lb-ft and is turbocharged.
Unique Features of the Car
Tyre Pressure Monitoring System (TPMS)
Two Zones, Individual Fan Speed Controls
Keyless Start/ Button Start
Integrated (in-dash) Music System
Steering Mounted Controls
Tachometer
SPORT Button
Porsche Ceramic Composite Brakes
8-speed Porsche Doppelkupplung (PDK) transmission
Porsche Active Suspension Management (PASM)
7. Mercedes-Benz G-Wagon
Brand – Mercedes-Benz
Year acquired – 2013
Cost – N30 million
Davido added this car to his fleet on 31st December 2013. The car's make-up is a mid-
size SUV, running on a powerful V8 engine, and coupled with some extraordinary off-
the-road capabilities. The luxury car is worth N30 million.
Unique Features of the Car
Automatic Climate Contr
Turbo Charger
Multi-function Steering Wheel
Anti Lock Braking System
Power Steering
Deft off-roader
12.3-inch digital driver display
Pedestrian detection
Parallel and perpendicular park assist
Lane departure and Forward collision warning
Lamborghini Urus

Brand – Lamborghini
Year acquired – 2019
Cost – $200,000
In 2019, the singer added Lamborghini Urus valued at $200,000, which is about N72 million street price to his collections. According to the manufacturers, the car integrates a V8 bi-turbo engine with a maximum power output of 478 kW / 650 HP, the best weight-to-power ratio on the SUV market.
Unique Features of the Car
Outside Temperature Display
Glove Compartment
Sun Roof
Integrated Antenna
Electric Adjustable Seats
Automatic Climate Control
Anti Lock Braking System
Fog Lights – Front
Outside Temperature Display
Driver Oriented Instrument Concept With Three TFT screens
Other cars Found in His Garage Include:
McLaren 570S 2015 – ₦69.6 million,
Range Rover Sport 2015 – ₦35 million
Honda Accord – ₦4 million
Toyota Land Cruiser – N17.5 million
Hyundai Sonata 2013 – ₦7.5 million
Chevrolet Camaro worth ₦17 million
His Real Estate Investments Is Running Into Billions Of Naira
Davido is also in love with houses as much as he is with cars and this is evident from the luxurious houses running into millions of naira he has acquired in plush locations in the country and outside of the country.
His Latest Crib Is Located On Banana Island
It's no news how expensive properties located in Banana Island Lagos can be and to own even a flat in this location, you must be rich, and to own a mansion, your guess is as good as mine. In 2020, the singer bought himself one of the most luxurious buildings on the Island for a whopping $1.5 million which is about 561,000,000 in naira then
Designed by one of the top luxury real estate companies in Africa Sujimoto Constructions you are sure the house is nothing short of luxurious.  Some of the features of the house include an electronic gate, 24/7 CCTV, five feet tall swimming pool, etc. In a series of videos shared via his Instagram, the singer in May 2020 took his friends on a guided tour of his new crib.
His Lekki Mansion Cost A Whopping N140 Million
The singer also owns an N140 million mansion at Lekki, Lagos State. The house is reportedly close to that of music producer Don Jazzy. The mansion has two floors aside from the basement, a Jacuzzi, a swimming pool, a well-equipped Gym.
His Atlanta Georgia Mansio Million Is A Sight To Behold
Davido also has a mansion in Atlanta, Georgia, USA. Which cost him $20 million.  This is the oldest of the singer's crib. From pictures and videos of the house, it's a beautiful brick house with lots of greenery, a pond with a fountain, places for recreation, and a parking lot.
Other Ways Davido Spends His Money
Aside from spending his money on cars and houses, the singer also spends lavishly on
OBO spends a good amount of his hard-earned money visiting beautiful places vacationing. In 2018, he took a break from his #30BillionConcert to go on vacation with his girlfriend Chioma Avril, and guess the location? Barbados. The following year, the couple were spotted vacationing together in Mauritius. His other vacation location includes Dubai and recently Sint Maarten where he was spotted holding hands with American Instagram model Mya Yafai.  Since the video hit the Internet, fans have expressed worry over his relationship with Chioma as they are supposed to still be engaged.
In 2017, it was all the news that the singer spent over £5,000 in one night in a London nightclub after performance at the One Africa Music Fest concert. Davido shared the receipt of the amount at the club via Snapchat. That was over #2million at the time, and for someone who is worth about #30 Billion, that was a little change for him.
Davido is so liberal with his money that he doesn't consider it hard to spend on his close pals and family. In April 2018, he gifted Chioma a Porsche car reportedly worth #45 million as a birthday gift. In 2019, he revealed he once spent N16.5 million shopping for Chioma in Dubai.
In March 2019, the singer revealed he was picking out whips to reward his crew and in September he gifted a new red Benz worth N70 million to his personal assistant/close friend Lati. The singer's benevolence is not just towards friends and loved ones but also towards his domestic staff. He once revealed that his gateman owns three cars and two houses, all thanks to him.
There is no doubt that Davido, the richest musician in Nigeria loves spending big money to get classy stuff, but, of cause, he works hard for his money, so, he is free to spend it anyhow he feels.