Andrew Mlangeni (June 6, 1925 – July 21, 2020) was a South African political activist and anti-apartheid campaigner who was notably imprisoned alongside Nelson Mandela after the infamous Rivonia Trial. He caught the attention of the apartheid government in the 1960s and was given a life sentence because of his stand against unequal rights in his country.
After serving 26 years behind bars, Mlangeni regained his freedom and launched a political career. He went on to serve as a member of parliament for the ANC from 1994 to 1999. He returned to the National Assembly in 2009 before retiring in 2014.
Profile Summary of Andrew Mlangeni
Full Name: Andrew Mokete Mlangeni
Date of Birth: 6 June 1925
Place of Birth: Bethlehem, Orange Free State, Union of South Africa (now South Africa)
Date of Death: 21 July 2020
Age: 95 years old
Nationality: South African
Education: Honorary Doctorate in Education from the Durban University of Technology in South Africa; Honorary Doctorate in Law from Rhodes University
Occupation: Political Activist, Anti-Apartheid Campaigner, Politician
Political Party: African National Congress (ANC)
Wife: June Ledwaba
Number of Children: 4
Andrew Mlangeni was Born In Bethlehem
Andrew Mlangeni was born on the 6th of June 1925 in Bethlehem. But, hold on, it's not what you think; we are not referring to the biblical city of Bethlehem where Jesus Christ was born. The Bethlehem where Mlangeni was born is actually a town in the eastern Free State province of South Africa. He was born on a farm but, however, spent some of his formative years in the nearby town of Kroonstad where he started school before setting off to Johannesburg to continue his education and make a better living.
His Father Died Even Before He Turned 10
Andrew Mlangeni was born to a father called Aaron Matiya Mlangeni and a mother whose name has been revealed to be Aletta. Sadly, he was hit with a serious tragedy at a young age after his father passed away in 1932 when Mlangeni was just about 6 years old. Mlangeni's father was a pillar of support for the family so when he died, things turned rough for the family.
In his lifetime, Mlangeni's father worked as a tenant laborer. This was because he and his family had become landless in the land of their birth because they had been dispossessed of it by the colonial government who had passed the iniquitous Native Land Act of 1913. As a result, Mlangeni's family made a living securing their tenure by providing labor to white farmers.
When his father eventually died, Mlangeni and the rest of his family lost their right to reside on the land they worked so had to move to Johannesburg. At the time, things were very rough for the family.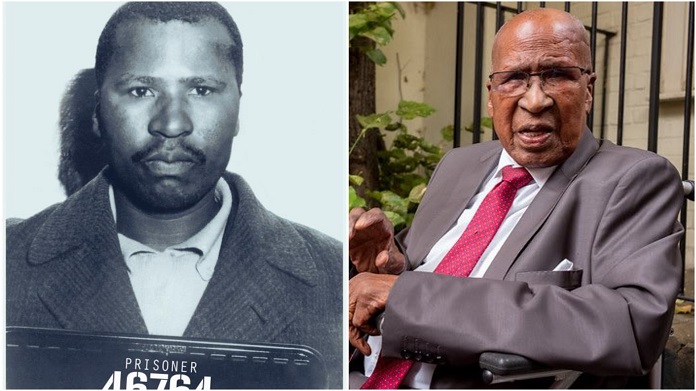 Who Are His Siblings?
Andrew Mlangeni was born into a large family. As a matter of fact, he was one of 10 children born to his parents. The 10 children in Mlangeni's family included two sets of twins, including Mlangeni and his twin sister Emma.
When Mlangeni's father died, his mother Aletta married her husband's brother, to keep with the traditions of the Mlangeni clan. She would go on to have another set of twins with the man. Details about Mlangeni's siblings are not well known as they largely remained out of the public space during their lifetimes.
Andrew Mlangeni Was Forced To Abandon School
Following his father's death, Andrew Mlangeni and his family lived for some time in Kroonstad, a city in Free State. It was here he started schooling at the age of 11. After a while, he and his mother as well as some of his siblings relocated to Johannesburg in 1940. Here, Mlangeni started attending St Peter's Secondary School in Rosettenville where he was taught science and maths by Oliver Tambo, a future ANC leader.
In 1942, while he was schooling at St Peter's Secondary School, one of his elder brothers who was living at Pimville Soweto helped to pay Mlangeni's school fees. The young Mlangeni also did some work to earn some money; he worked as a caddy at the Johannesburg Golf Course after school hours. It was here that he developed a serious love for golf. Mlangeni would go on to love the game of golf for the rest of his life.
In 1946, the young boy obtained his Junior Certificate. However, he could not continue schooling any further because of the financial restraints he faced at the time. He was left with no choice but to drop out and took a job as a bus driver for a bus company called Putco.
Andrew Mlangeni Began Political Activism in 1945
Andrew Mlangeni began to become politically aware even while he was still studying at St Peter's Secondary School. In 1945, a year before obtaining his Junior Certificate, he joined the Young Communist League of the then Communist Party and was a part of a cell that was led by journalist and activist Ruth First. During this time, he began to read a lot of books, including books written by Karl Marx and Vladimir Lenin, becoming more conscious politically. While working for Pluto as a bus conductor, he became very active in helping organize the strike for better working conditions and a living wage.
By 1951, Mlangeni became a member of the African National Congress Youth League (ANCYL), the youth wing of the African National Congress. It was clear that he was becoming politically motivated and charged up, and was also consciously making moves to assert himself and make his voice heard.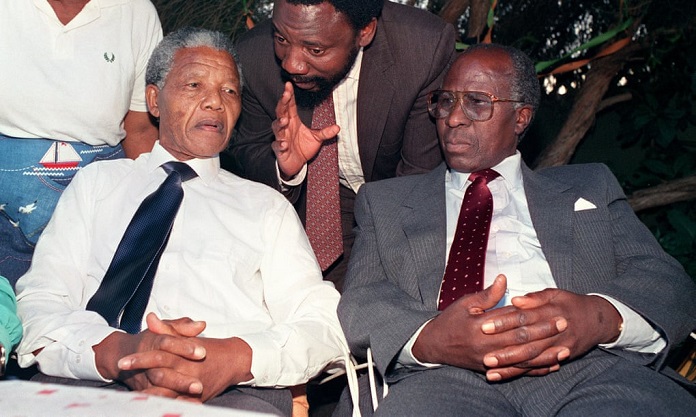 How Mlangeni Met Nelson Mandela
At the time Andrew Mlangeni was becoming politically conscious, another man called Nelson Mandela was already becoming quite a big deal in South African politics and was becoming a high-sounding figure among black people. In fact, at the time Mlangeni joined the ANCYL in 1951, Mandela was already the national president of the party.
In 1952, Mlangeni had the honor of meeting Mandela. He was introduced to the future South African president on a Soweto train platform. The two would later become close friends after joining forces to fight apartheid.
Andrew Mlangeni's Fight Against Apartheid
Like we have mentioned, Andrew Mlangeni was best known for his work in fighting against the reign of apartheid in South Africa. He helped to push the anti-apartheid movement during the defiance campaign in the 50s by using the equipment at his employer's office to make copies of ANC leaflets on Saturdays.
In 1954, Mlangeni joined the African National Congress (ANC) and was a branch delegate at Kliptown during the Congress of the People. He decided to work behind the scenes as much as possible even though he had the chance to enjoy the spotlight. While behind the scenes, he helped those who wanted to become leaders but did not seek leadership positions himself. For this reason, the police did not know much about him and when raids were being conducted to crack down on anti-apartheid campaigners, he was not threatened.
Mlangeni continued his work behind the scenes and later joined the South African Communist Party (SACP) full time in 1959, working as the party's secretary for the Johannesburg region, responsible for black groups.
Mlangeni Went For Military Training
In 1960, the African National Congress decided to adopt armed struggle in trying to intensify its fight against apartheid, so there was a need for its members to acquire military training. Andrew Mlangeni was among the very first people to be sent for military training outside the country to China. In 1961, at an ANC safe house, Nelson Mandela himself informed Mlangeni of the decision to send him and others to acquire military training because the ANC was setting up a military wing called Umkhonto weSizwe (MK). Consequently, he and five others left South Africa and traveled through Botswana to Tanzania, Sudan, Ghana, Zurich, Prague, Moscow, and Irkutsk before reaching China in late 1961.
While in China, they met with the Chinese leader Mao Zedong and received training in communications and bomb-making. They were also trained in guerrilla warfare and had lessons in morse code. They remained in China receiving training until 1962.
Mlangeni's Work At The MK High Command
When Mlangeni and the others returned from China in 1962, he was assigned to become a member of the Umkhonto weSizwe (MK) high command. As a member of the MK High Command, Mlangeni was saddled with the responsibility of secretly training new recruits and showing them what he had been taught in China.
Andrew Mlangeni immediately set to work. He traveled all over South Africa, meeting eager recruits and training them in the techniques he learned in China. He was very devoted and tireless to his work that he won the admiration of many people within the liberation movement. He subsequently became known as 'The Robot' because it appeared that he was never tired and just kept on working round the clock to make sure others got the kind of training he got and that the liberation movement was fortified.
Andrew Mlangeni's Arrest and the Subsequent Rivonia Trial
Even though he was as discreet as possible in his work, Mlangeni soon landed on the radar of the colonial government and he was soon arrested. On the night of 24 June 1963, Mlangeni, who returned home late after going about his assignment, was arrested alongside Elias Motsoaledi, a fellow MK member who was also his neighbor.
Following their arrest, the duo were immediately charged and tried for trying to smuggle a group of ANC recruits across the border. While they were acquitted of the charge, the duo were immediately arrested again and charged to appear at what is now known as the Rivonia Trial together with prominent members of the ANC, including Nelson Mandela, Govan Mbeki, Walter Sisulu, Ahmed Kathrada, Goldberg, and others.
The trial is famously known as the Rivonia Trial because many of the anti-apartheid campaigners who were brought to face the trial were arrested at Rivonia, a suburb of Johannesburg where they were hiding out. Today, the Rivonia Trial is considered to be the most important one in the history of South Africa because it helped to bring the evils of apartheid reign to the attention of the entire world.
At the Rivonia Trial, Mlangeni and the other members of the MK High Command were charged with sabotage and conspiracy. During the trial, there was serious fear among the black community that Mlangeni and the others would be sentenced to death especially because the government at the time considered their crime to be a very grievous one that attracted capital punishment. However, eight of the Rivonia trialists, including Mlangeni and Mandela, were spared the death sentence but were instead sentenced to life imprisonment.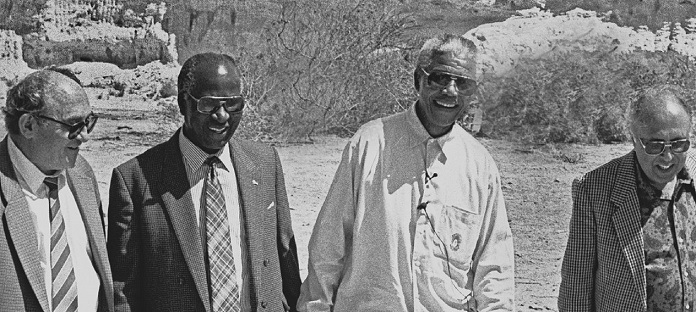 Mlangeni Spent 26 Years In Prison
Following his sentencing, Andrew Mlangeni was sent to serve out his time at the Maximum Security Prison on Robben Island. The anti-apartheid campaigner would be locked away for 26 long years in prison where he suffered hard labor and torture. Mandela was also sent to serve time on Robben Island but he was eventually moved to another prison in Cape Town after 18 years.
When Mlangeni was sentenced to live out his days at the prison on Robben Island, he did not feel bitterness against the colonial government. He later explained that he felt joyful and grateful that he had to endure such terrible situations for his people. Of course, as expected, the prison experience was not a sweet one.
For many years, Mlangeni occupied a cell that was next to Nelson Mandela on the Robben Island prison. During the day, he and the others were forced to face hard labor. They were pushed out of their cells and forced to break rocks in the lime quarry where they were sent to work. While working, they were ordered not to sing any song but to just face the work they were doing without mirth. In fact, some of the wardens told them they were going to die on the island and would be buried without a trace. They were mocked severally as they faced their hard labor.
Nick Stadlen, a British journalist who directed a documentary on the Rivonia Trial, once revealed that Mlangeni did not just face hard labor but was also tortured with an electric shock while behind bards. Mlangeni and his fellow prisoners were also denied reading material and were denied from playing sports for many years. In addition to all this, they were also forced to wear shorts after their trousers were seized from them. This was particularly humiliating for them.
At first, Mlangeni hoped that because of the exposure that their imprisonment had received around the world, they would be released after a few years. However, as the years turned into decades, Mlangeni lost all hope that he would come out of the prison alive. But, he hoped that the struggle to free his people from the shackles of apartheid would continue outside the prison walls.
Release From Prison
Like we have already mentioned, Andrew Mlangeni served 26 years in prison after being sentenced in 1964. He had to endure all the hard life behind bars for nearly three decades before he was eventually released from prison on the 15th of October 1989. He was 64 years old at the time.
Mlangeni arrived home early on the 15th of October when his family was still asleep. He decided to wake them up in a dramatic fashion by picking up some pebbles and then throwing them against the roof. The family woke up and everyone was overjoyed to see him. It was a very emotional reunion. His children who were still little kids when he went to prison were now fully grown men and women.
The news of his release spread like wildfire and a large crowd gathered at his home. A very colorful billboard was erected outside his house with the words 'The People's Leader' boldly written on it. The crowd that gathered to see him began to chant his praises aloud, thanking him for his sacrifice in making life better for the black South African.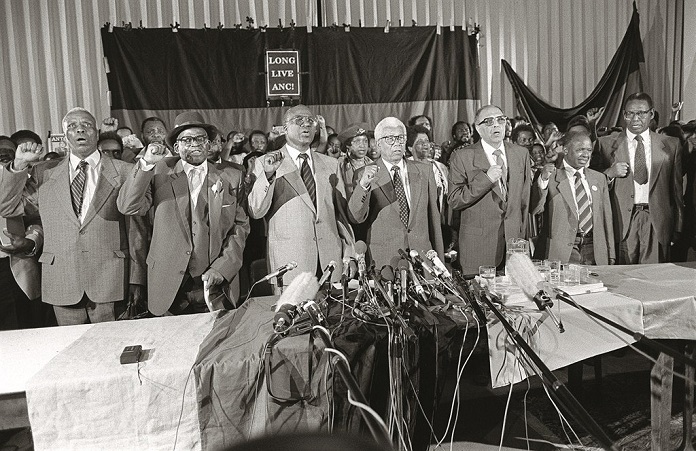 Life After Prison for Andrew Mlangeni
After he was released from prison, Andrew Mlangeni did not just fold his arms and slide into insignificance. He instead swiftly returned to political life and began to make public appearances where he actively emphasized the importance of education for the democratic transition which was impending in South Africa.
Mlangeni, along with other released political detainees, were very popular in their country and were looked up to as those who had sacrificed their own lives for the good of their people.
He Became A Member of Parliament
In 1994, Andrew Mlangeni successfully contested in South Africa's first democratic elections and became a member of parliament for the ANC, serving from 1994 to 1999. He again served once more in the National Assembly from 2009 to 2014, before he eventually retired from politics. As a member of parliament, Mlangeni was very respected and his opinions were often held in high regard.
List of Recognitions Received
As expected, Andrew Mlangeni was honored with a number of recognitions following his release from prison and his re-entry into policies.
In 1992, Mlangeni was honored with the Isithwalandwe Seaparankwe, which is the highest honor from the ANC for the people who have made an outstanding contribution to the liberation struggle.
In 1999, he received the Presidential Order for Meritorious Service: Class 1: Gold from President Nelson Mandela.
In April 2018, Mlangeni was honored with an Honorary Doctorate in Education from the Durban University of Technology in South Africa.
The same year on 7 April 2018, he was also awarded an honorary doctorate in Law by Rhodes University.
On 20 July 2018 when he was 93 years old, Mlangeni was awarded the Freedom of the City of London.
Who Was Andrew Mlangeni's Wife?
Andrew Mlangeni's whole life was not only about activism and politics; he was also a family man who was married to a loving wife with whom he had awesome kids. Mlangeni was married to a woman called June Ledwaba. The couple first met while she was working as a shop assistant in Soweto in 1948. They got talking and became friendly, eventually getting romantic with each other. Finally, they got married in 1950 and remained married till her death.
Just like her husband, June Ledwaba was politically active and was known in some quarters to be very supportive of her husband's anti-apartheid moves. When her husband was eventually sent to prison, she was also subjected to constant harassment by the police who made sure she did not get a job by labeling her the wife of a murderer, terrorist, and rapist. So, all her employees fired her without cause. Eventually, she was helped by the South African Council of Churches where she worked until her husband was released from jail. June was a strong woman who held her own in the face of turmoil.
In 2018, during his 93rd birthday, Mlangeni revealed that before he and his wife got married, they agreed to have sex only three times a week. And they kept to that agreement. Apparently, they had great chemistry and were very supportive of each other. Sadly, June died in 2001 after battling cancer. She died shortly after celebrating their 50th wedding anniversary.
The Couple Had Four Children Together
Mlangeni and his wife had four children together. They had two sons named Aubrey and Sello, and two daughters named Sylvia and Moraine. Because of his political activities and imprisonment, he did not see his children grow and this was his biggest regret.
Not much is known about what his children have become individually as details about their lives have largely remained out of public space. We, however, do know that Mlangeni's first son, Aubrey, died in 1998. Also, his other children remained by his side, providing him with the needed support following their mother's death. They were always seen flocking around him during his public functions like his birthdays and gave speeches when he passed away.
The Death of Andrew Mlangeni
On the 21st day of July 2020, Andrew Mlangeni passed away. The man died at 1 Military Hospital in Pretoria after complaining of abdominal-related problems in his body. At the time of his death, he was 95 and was the last surviving Rivonia Trialist.
The news of his passing swept through South Africa as tributes poured in from all corners. On the 29th day of July 2020, some weeks after his death, Mlangeni was given a special state funeral which was watched by millions of South Africans. He was then buried at Roodepoort cemetery next to his wife June. He is survived by his two daughters, Maureen and Sylvia, and his younger son, Sello. He also had 10 grandchildren, 12 great-grandchildren.