Andy Cohen is one of America's top media personalities who gained prominence after helping to bring the Bravo network back to life and hosting a couple of shows on the network which include the network's popular nightly series Watch What Happens Live with Andy Cohen.
After rising to the position of head of production and development at Bravo for over a decade, Cohen resigned in 2013. Nevertheless, he remains the executive producer of the Real Housewives – a series which has been running on the network since 2005.
The talk show/TV anchor, producer, author, and radio host is the first openly gay to host an American late-night talk show. Here is all you should know about Andy Cohen.
Biography
Cohen was born in the U.S state of Missouri on the 2nd day of June 1968 to Jewish parents – Evelyn and Lou Cohen. His full name is Andrew Joseph Cohen and he attended the Clayton High School, from where he graduated in 1986. After high school, he got admitted into Boston University, where he bagged a Bachelor of Science degree in broadcast journalism.
While at the University, he wrote for The Daily Free Press (student newspaper) and worked as an intern at CBS alongside Julie Chen. After his internship, Andy Cohen was retained at the network where he spent ten years working first as the senior producer of CBS This Morning, The Early Show (an early morning show that aired on the network from 1999 to 2012,), and 48 Hours. He worked at Trio before the network was bought over by Bravo, after merging the two networks, Cohen became the new vice president of original programming in 2004.
He made hosted several talk shows and made guest appearances on many others like the Saturday Night Live, Today, Live! with Kelly, Morning Joe, The Comeback, The view, What Happens Live and many more. He hosted the Miss USA for three years in a row (2011, 2012 and 2013), Miss Universe for twice (2011 and 2012), he refused to host Miss Universe 2013 which held in Russia.
In 2015, he hosted Hollywood Game Night and also co-hosted NBC's New Year's Eve with Carson Daly. He has authored three memoirs which have become bestsellers. His autobiographical memoir Most Talkative: Stories from the Front Lines of Pop Culture which was released in 2012, The Andy Cohen Diaries: A Deep Look at a Shallow Year came two years later in 2014 and the Superficial: More Adventures From the Andy Cohen Diaries. 
Andy Cohen has also made some movie appearances. In 2017, he appeared as himself in Unbreakable Kimmy Schmid and in 2018 he also played himself in the American teen series Riverdale.  In 2016, he launched his own SiriusXM channel, "Radio Andy" and floated a new show Then and Now. He is a recipient of several awards including a Peabody Award for his role as an executive producer The N-Word (documentary) and an Emmy for Top Chef.
Net Worth 
Cohen is arguably one of the highest paid media persons in the country. According to CelebrityNetWorth.com, Andy takes home $2 million annually and his net worth is estimated at $15 million.
Also Read About: Greg Gutfeld Married, Wife, Height And Weight, Bio, Is He Gay?
Is Andy Cohen Gay? Who is His Husband, Partner?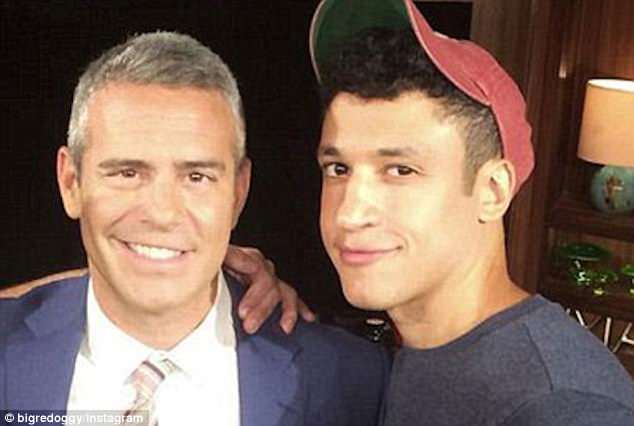 Cohen is openly gay. He took the bold step to come out of the closet back in his days Boston University, he, however, confessed it was one of the toughest and scariest decisions he has ever made.
And on how his parents took the news, he said he never had to say anything, because his mom accidentally found a letter he had written to another guy and confronted him with it, he opened up to her and she perfectly understood and even made a joke out of it. Cohen remains (at least for now) the only gay person to host an American late-night talk show.
Andy Cohen is not married but was in a relationship with Harvard Ph.D. student, Clifton Dassuncao until April 2018 when the duo called it quits. When asked the reason behind the spilt, he said 'I didn't sign up for a reality show.'
Asked what he is looking for in a partner, Cohen revealed he wants someone very independent, who has his thing going and maybe someone who has never seen The Real Housewives. So, the Bravo TV personality is currently single and so so ready to mingle.