Andy Cohen is one of America's top media personalities who gained prominence after helping to bring the Bravo network back to life. He also hosted a couple of shows on the network, including the popular nightly series Watch What Happens Live with Andy Cohen.
After rising to the position of head of production and development at Bravo for over a decade, Cohen resigned from his role in January 2014. Nevertheless, he remains the executive producer of the Real Housewives – a series which has been running on the network since 2005. The talk show/TV anchor, producer, author, and radio host is the first openly gay person to host an American late-night talk show.
Andy Cohen Began His Professional Career At CBS
Andrew Joseph Cohen attended the Clayton High School, from where he graduated in 1986. After high school, he got admitted into Boston University, where he bagged a Bachelor of Science degree in Broadcast Journalism. While at the university, he wrote for The Daily Free Press (student newspaper) and worked as an intern at CBS, alongside Julie Chen.
After his internship, Andy Cohen was retained at the network where he spent ten years working first as the senior producer of CBS This Morning, The Early Show (an early morning show that aired on the network from 1999 to 2012,), as well as 48 Hours.
His Roles At Bravo Catapulted Him To Fame
In 2000, Andy Cohen became a staff member of the American cable network, Trio and four years later, the network was bought over by Bravo. After merging the two networks, Cohen became the new vice president of original programming. Then in November 2011, he worked as the network's executive vice president of development and talent. As a result, he was in charge of the development of innovative formats, as well as the creation of original contents. He was also responsible for the hunt of new talent.
After executing these roles for years, Andy Cohen stepped down from his positions in January 2011 and then focused on working as the executive producer and host of the pop culture-based late-night talk show, Watch What Happens Live which was subsequently renamed Watch What Happens Live with Andy Cohen. He began hosting the Bravo's late-night talk show in July 2009 and is still serving as the host to date. Having hosted the show for over a decade, alongside Then and Now, Cohen has garnered much popularity as a proficient talk show host.
Beyond working for Bravo Network, the famous media figure has also been associated with SiriusXM. He launched his radio channel called Radio Andy on SiriusXM radio in September 2015 and has moved on to host several programs on the channel, including Andy Cohen's Deep & Shallow and Andy Cohen Live. Radio Andy has additionally produced specials such as The Love Connection Diaries, Radio Andy Theater, AC2 Live: Andy and Anderson on the Road and a parody of the Real Housewives franchise.
Meanwhile, in March 2015, Andy Cohen, alongside an eminent broadcast journalist, Anderson Cooper started a conversational stage show titled AC2 for which they have been on a national tour since 2015 and have covered more than fifty cities. The two have also worked as the co-host of CNN's New Year's Eve coverage in 2017 and also in 2018.
Andy Is An Award-winning Executive Producer And Host
The prominent radio and TV show host has received several awards for his works as an executive producer. He is a recipient of two Peabody Awards for his role as an executive producer of The N-Word (documentary) and equally Bravo's reality TV competition, Project Runway. He also took home Emmy Award for Top Chef in the year 2010. Later in 2019, Andy Cohen was recognised with Vito Russo Award at the 30th GLAAD Media Awards. More so, he has gained multiple Emmy Award nominations for his role as the executive producer of Project Greenlight and Queer Eye For The Straight Guy.
Over the past years, Andy has hosted several talk shows and made guest appearances on many others like the Saturday Night Live, Today, Live! with Kelly, Morning Joe, The Comeback, The view, and more. He hosted the Miss USA for three years in a row (2011, 2012 and 2013), Miss Universe twice (2011 and 2012) and refused to host Miss Universe 2013 which held in Russia because of the country's anti-gay laws. In 2015, he hosted Hollywood Game Night and also co-hosted NBC's New Year's Eve with Carson Daly.
A Peek At His Works As An Author And Actor
In addition to his diverse works in the entertainment industry, Andy Cohen has authored three memoirs which have become bestsellers. His autobiographical memoir "Most Talkative: Stories from the Front Lines of Pop Culture" was released in 2012, "The Andy Cohen Diaries: A Deep Look at a Shallow Year" came two years later in 2014, and "Superficial: More Adventures From the Andy Cohen Diaries" was published in 2016.
Cohen has also made appearances in a good number of TV series. In 2004, he scored the role of a Shoe Salesman in one episode of Sex and the City. Then in 2014, he appeared as himself in Alpha House and Sesame Street. He has also played himself in other series, including Unbreakable Kimmy Schmid (2017), Difficult People (2017), Riverdale (2018) and The Other Two (2019).
Unarguably, Andy Cohen is one of the highest-paid media persons in the country. According to celebritynetworth.com, he takes home $10 million annually and his net worth is estimated at $50 million.
Also Read About: Greg Gutfeld Married, Wife, Height And Weight, Bio, Is He Gay?
The Eminent Media Personality Once Dated Clifton Dassuncao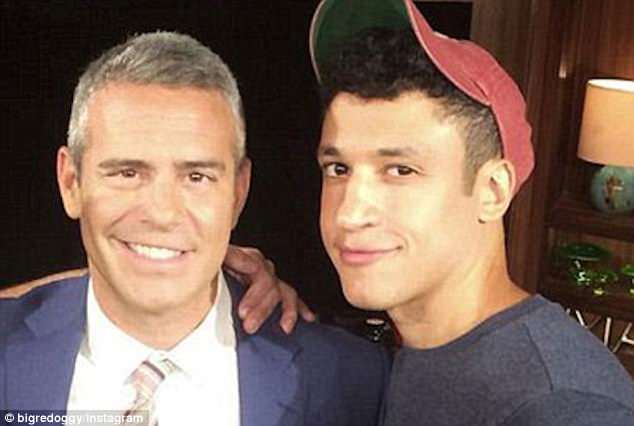 Having exploded in popularity throughout the years, Cohen's love life has been an interesting topic to many of his fans. Well, the TV star is openly gay. He took the bold step to come out of the closet back in his days at Boston University. He, however, confessed it was one of the toughest and scariest decisions he has ever made. On how his parents took the news, he said he never had to say anything, because his mom accidentally found a letter he had written to another guy and confronted him with it. He opened up to her and she perfectly understood and even made a joke out of it.
Andy Cohen is not married but once had an affair with Clifton Dassuncao, a Harvard University graduate who works in the medical field. Andy reportedly met the Queens native in 2016 on a mega-yacht and they eventually started dating. The duo, however, called it quits in April 2018 after dating for two years. When asked the reason behind the spilt, he said 'I didn't sign up for a reality show.'
Andy Cohen Had His First Child In 2019
The Bravo TV personality is currently single and so ready to mingle. Although he had been on multiple dates since his split from Clifton, he is yet to find love again. Asked what he is looking for in a partner, he revealed he wants someone very independent, who has his thing going and maybe someone who has never seen The Real Housewives.
Nonetheless, Cohen has been relishing the joys of parenthood since February 4th 2019, when he welcomed his son, Benjamin Allen Cohen via a surrogate. He has been raising Ben as a single parent and is considering expanding his family, citing that his son needs a sibling.