If there is a word that aptly describes Andy Milonakis, it is 'multi-talented'. The American media personality is not just a comedian but also an actor, rapper, and a popular Twitch streamer. He has appeared in several shows but is most popular for his absurdist but incredibly funny show, The Andy Milonakis Show.
What makes Milonakis' story so incredible is that he owes much of his fame and success to a 4-minute video that he made out of boredom. Additionally, a birth defect turned around to favor his career as a funnyman.
Andy Milonakis Was Born With A Growth Hormone Deficiency
Andrew Michael Milonakis was born on the 30th of January 1976, in Katonah, New York. He spent his formative years in Westchester County, New York City, and completed his high school education there. With regards to his family background, his mother's name is Kathleen Milonakis and he has an elder sister whose name is not known.
Growing up wasn't easy for Andy as he was born with a rare condition known as growth hormone deficiency which affected his appearance. This simply means his body couldn't produce enough hormones to facilitate growth. As a result, he basically looks and sounds like an adolescent. Judging by his date of birth, he looks very much younger than his age and this led to a series of bullying but he tactfully found a way to turn his lemons into lemonade.
How Andy Milonakis Leveraged On His Birth Defect To Start A Lucrative Career
Andy Milonakis first got into comedy as a form of self-defense mechanism. He wasn't growing up as he should while in high school and coupled with the fact that he was fat, he was an easy target for bullies. To protect himself from all the negative energy, Milonakis learned to make self-deprecating jokes about his appearance so that no one will pick on him. He probably thought it would be better he makes a joke of himself than allow others the privilege. This strategy was quite successful as he went through high school mostly unscathed.
After graduating from high school, Andy Milonakis joined an accounting firm as a tech support assistant. The job was predictably boring and in order to deal with the monotony, he made short funny videos that he posted on AngryNakedPat.com.
An Unplanned Video Changed His Story For Life
At first, these videos were mildly popular and received 10 to 15 comments at most. This, however, changed on the 26th of January 2003. On that fateful day, Milonakis had rolled out of bed with nothing to do and even though the day also happened to be the day for Super Bowl XXXVII, the comic couldn't care less.
He picked up his cheap guitar and started singing about the Super Bowl being gay. He also sang about a bunch of other things (cologne, water, and the sky) that were gay and dramatically concluded that we are all gay. Milonakis posted the video to the website as usual and it garnered 100,000 downloads within the first 24 hours. It became a viral internet sensation and within a month, he was doing cameos for the Jimmy Kimmel Show.
He is no longer making funny videos and cracking random jokes and Andy is now a known figure in comedy with movies and TV shows lined up in his resume.
Movies And TV Shows Credited To Andy Milonakis
Since his video went viral and courted fame for him, Andy Milonakis has not relented but instead worked hard to transition into mainstream success. As expected, he has appeared in several comedy movies and TV shows.
On the big screen, the New York native has featured in movies such as Waiting (2005), Who's Your Cabby, Killer Pad, Weiners (2007), Major Movie Star, Extreme Movie (2009), 2 Dudes and a Dream, Still Waiting, The Tales of RJ (2009), Mac & Denin Go to High School, The Newest Pledge (2012), Dumbbells (2014), Halloweed (2016), and Bodied (2018).
On the small screen, Milonakis has appeared on TV shows such as Jimmy Kimmel Live!, Too Late with Adam Carolla, Last Call with Carson Daly, Nick Cannon Presents: Wild N' Out, Crank Yankers, Kroll, and Adventure Time. Adventure Time is a Cartoon Network fantasy series about the adventures of a young boy and his dog with magical powers. Milonakis voices the role of N.E.P.T.R and has appeared in about eight episodes of the show.
His Net Worth Reflects His Success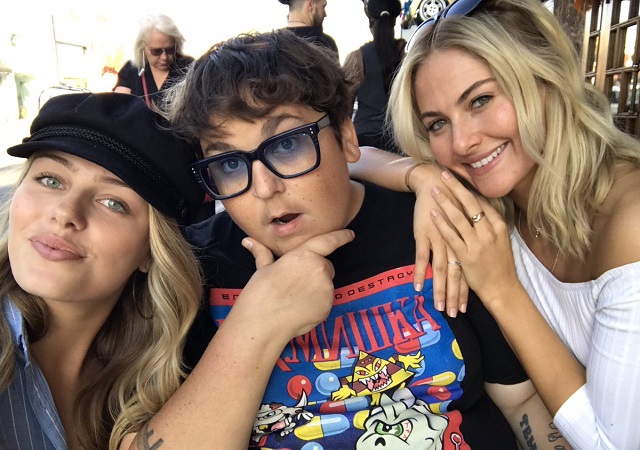 he might look 14 in his 40s but Andy Milonakis has made giant strides in entertainment to earn him a net worth of $2 million. His fortune largely stems from earnings from his show, The Andy Milonakis Show. The show was created by him and his mentor, Jimmy Kimmel and debuted on MTV in 2005.
The Andy Milonakis Show features different segments, including the popular man-on-the-street segment. During this segment, he often swoops down on unsuspecting persons on the street and baffles them with illogical statements, as well as freestyle rap. He also treats his unsuspecting victims to silly pranks. The show has also featured celebrity guests such as legendary rapper Snoop Dogg, John Stamos, The Black Eyed Peas, Nick Cannon, Seth Green, Sarah Silverman, Akon, and Bow Wow.
Jokes aside, Andy has a cooking show on YouTube aired through his channel MUNCHIES, a part of the VICE network. He was also part of a rap group known as Three Loco made up of Andy himself, as well as Dirt Nasty and Riff Raff. In all, Andy Milonakis is pretty busy securing the bag in every part of the industry.
In case you are wondering is he has a family or maybe a woman whom he spends money on, the comic/rapper is yet to get married or have any kids for that matter. To the best of our knowledge, there is also no reports of any girlfriend at this moment. This may mean that he is single and still searching. It may also be that he has someone in his life but is choosing to protect the person's identity. If the latter is to be the case, then one cannot really fault Milonakis as public scrutiny can be harsh and intense at times. Besides, he has had to live through bullying due to his health condition and wouldn't want a repeat.