Ever since he garnered fame through his regular appearances on Saturday Night Live, Andy Samberg has gone on to make a name for himself in Hollywood. As an actor, producer, and writer, he has been featured in several notable movies and TV series and has received several accolades for his work, including a Golden Globe award for best actor in 2014. As a comedian, he has stayed true to his roots and is a member of the popular comedy music group known as The Lonely Island.
Samberg is not only thriving professionally but has also lucked out in his personal life. The comic star is one half of a swoon-worthy couple with the other being Joanna Newsom. Even though his wife may not be as popular as him, she is equally a heavyweight herself and has made a name as the best-known harpist in American indie music. Samberg and Newsom have been together for more than a decade now, and their love shows no signs of waning. They respect each other's creative work, even though their musical styles are worlds apart.
How Their Mutual Appreciation for Each Other's Work Led to a Real-Life Romance
Andy Samberg and Joanna Newsom first crossed paths in the year 2008. However, they had been quite aware of each other a few years before then. The comic/actor was a big fan of Newsom's incredible brand of psychedelic folk songs and used any chance that he got to attend her live concerts. All these concerts made him develop a big crush on her, but he didn't know how to get in touch with the instrumentalist.
As Samberg was busy crushing on Newsom and trying to figure out a way to get closer to her, the singer herself was also slowly and steadily liking him. She usually watched the hilarious videos that he and his Lonely Island troupe dropped on the internet and fell in love with it. She, therefore, wished to know him better but didn't know how to make it happen. Samberg and Newsom were thus stuck in a dilemma for quite some time. They were later put out of their misery by a mutual friend of theirs, comic – Fred Armisen, who took Samberg backstage to meet Newson after one of her concerts. The two immediately connected and eventually began a relationship.
Andy Samberg and Joanna Newsom would date for five years (2008 – 2013), during which their love for each other blossomed. The comic loved the fact that Newsom was someone that he could trust, laugh, and be his true self with, while the harpist was so proud of everything he has accomplished. Additionally, the couple shared great chemistry, and it was, therefore, not surprising when they got engaged in February 2013. Their nuptials later followed on the 21st of September at the Post Ranch Inn in Big Sur, California.
The Couple Now Has a Lovely Daughter
Andy Samberg and Joanna Newsom have been married for about seven years now and are still crazy about each other. They often walk the red carpet together for major award ceremonies. They have also collaborated professionally on some films. The couple is, however, yet to collaborate in music, and this is because of the deep respect that Samberg has for his wife's brand of music.
According to the Golden Globe winner, his short outlandish comedic songs are no match for his wife's long, carefully thought-out songs, and as such, he doesn't want to sully it for her. In Samberg's own words, his wife's work is brilliant and beautiful, and he is afraid of ruining it for her. On her part, Newsom loves and respects her husband's work. She has even described herself as his superfan, and it is this mutual respect that has sustained their marriage. Another factor that has contributed to their longevity is their shared passion for music, which sees them only listen to songs via old-fashioned turntables, nice speakers, and a tube amp.
These attributes have enabled the couple to stick together, and their joy has further been increased by the welcoming of their first child, a daughter, in 2017. Samberg and his wife are fiercely protective of their firstborn and have yet to reveal her name. The comic has, however, dropped a few tidbits about fatherhood here and there. According to him, the first few months with their daughter was "hell" as there was no decent sleep, and he and his wife got peed on a lot. Interestingly, things have now normalized, and the couple can now appreciate certain qualities about the little girl such as her love for classical music.
A Breakdown of their Individual Net Worth
Even though Andy Samberg and his wife have chosen to pursue different paths in showbiz, they have nevertheless thrived in it, and this is reflected in their net worth. Let's take an in-depth look at how the gorgeous couple made their wealth below.
The TV Roles That Helped Samberg Accumulate His $20 Million Net Worth
Samberg has accumulated a small fortune, and this is due to his career as a comic, musician, and actor. The comic/actor first found viral fame with the skits that he made with his Lonely Island comedy troupe. He was subsequently given a cast member role on Saturday Night Live in 2006, and this marked his breakthrough.
Since then, he has teamed up with famous singers such as Justin Timberlake, Rihanna, and T-Pain to release hit tracks such as 'D*** in a Box, Shy Ronnie, I'm on a Boat, and Mother Lover. These songs have featured on Lonely Island's comedy rap albums, which have sold numerous copies and generated much revenue for the members.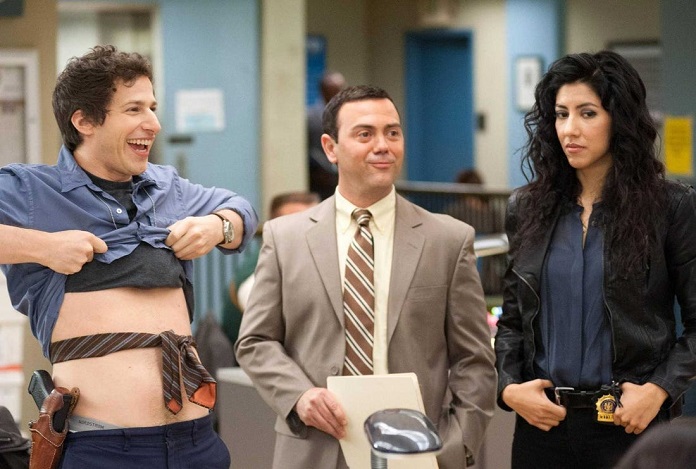 Asides music, Andy Samberg has also tasted success as an actor, appearing in several movies. He voiced the character of Johnny in the animated movie, Hotel Transylvania. He equally reprised his role in its 2015 sequel, Hotel Transylvania 2, and Hotel Transylvania 3: Summer Vacation, in 2018.
Samberg also plays the lead role of detective Jake Peralta on Brooklyn Nine-Nine. For his work, he makes $125,000 per episode, which means he earns roughly $2.75 million annually for the show. All these have helped him build up an estimated net worth of $20 million.
Newsom Has Several Bestselling and Chart-topping Albums
On her part, Johanna Newsom is not doing shabbily at all. Thanks to her incredible talent at songwriting, as well as playing the harp, she has been able to have a commercially successful career in the indie-folk genre. The California native dropped her first album, The Milk-Eyed Mender, in 2004. She promoted it with concerts in various parts of the U.K., and it went on to sell over 200,000 copies.
Newsom's sophomore album, Ys, followed two years later in 2006 and did even better than its predecessor, selling over 250,000 copies. Since then, the singer has gone on to release two other albums, but her bestselling effort remains her 4th studio album, Divers (2015). The album topped the Billboard alternative and folks albums charts and also reached No. 30 on the Billboard 200 charts. These feats and more have helped Joanna to build up a net worth of $5 million.
Who is Richer Between Samberg and His Wife, Newsom?
Going by the above, it, therefore, means that Andy Samberg is about three times richer than his wife. Meanwhile, the couple has a combined net worth of $25 million, and they utilize it for the good life. They are not one to live extravagantly, but they do own some nice cribs. Samberg and Joanna bought the Moorcrest estate in Beachwood Canyon, L.A. Together, they also own a home in West Village, New York City. The Moorecrest estate is a historic 1921 Hollywood Hills estate that formerly belonged to legendary comic, Charlie Chaplin. The couple bought it for about $6.25 million. The house features some exquisite bedrooms, as well as a backyard that is totally to die for.