Andy Samberg is a multi-talented American actor, comedian, producer, writer, and musician. He garnered fame through his regular appearances on Saturday Night Live. In addition, he is also popular for being a member of the comedy music group The Lonely Island. The comic star has appeared in several movies throughout his acting career and his most current role is that of the NYPD detective Jake Peralta in the series Brooklyn Nine-Nine, for which he won a Golden Globe Award for Best Actor for in 2014. Learn more about Andy Samberg below.
Andy Samberg Bio (Age)
Andy Samberg was born into a Jewish family on the 18th of August, 1978 in Berkeley, California. He grew up along with his two sisters named Johanna and Darrow. His father, Joe Samberg is a photographer while his mother, Marjorie Isabel (née Marrow) is an elementary school teacher. Although he was raised in a core Jewish setting, Andy describes himself as not particularly religious. He possesses American nationality and is of German-Sicilian descent.
Samberg attended elementary school with his future Brooklyn Nine-Nine co-star Chelsea Peretti and would move on to Willard Junior High School in Berkeley. There, he met his two best friends Jorma Taccone and Akiva Schaffer. They began to perform comedy sketches for the entertainment of their friends and classmates. Soon after their graduation, the trio went on to attend Berkeley High School. But after their graduation in 1996, they went their separate ways for college.
Andy initially went to the University of California at Santa Cruz alongside Akiva Schaffer, but later transferred to New York University to study film. While there, he lived in a rat-infested apartment with his three other friends. Despite how grossed out the rodent problem made him feel, he stayed in Manhattan until he got his bachelor degree in 2000.
Career
By 2001, Samberg, Schaffer and Taccone had all graduated from college and reconnected in Los Angeles. According to Schaffer, they decided to give their apartment a name, which ended up being 'The Lonely Island.' Soon afterwards, they formed a three-man comedy troupe and named it 'The Lonely Island' after their apartment. Armed with little other, their wit, and a video camera, the trio began recording their skits, calling them 'digital shorts' and began posting them on the internet.
The skits were much successful, hence, giving them internet recognition they didn't expect. This notoriety got them to write for the MTV Movie Awards which was hosted by Jimmy Fallon in 2005. Impressed with their originality, Jimmy introduced them to the creator of Saturday Night Live, Lorne Michaels. After auditioning for the show, Andy Samberg was giving a casting role while his friends Akiva and Jorma were given writer roles.
Using SNL as a bigger platform, the trio released more of their digital shorts to acclaimed success. Andy Samberg's claim to nationwide fame was when he teamed up with R&B singer Justin Timberlake for the lewd yet hilarious short 'D*** in a Box.' The duet received an Emmy Award for Outstanding Original Music & Lyrics. The short would later be featured on The Lonely Island's debut comedy rap album Incredibad. Andy Samberg's rise to fame wouldn't stop there, as more shorts came from The Lonely Island. He got Emmy Awards nominations in 2009 for 'Mother Lover' featuring Justin Timberlake and in 2010 for 'Shy Ronnie' featuring Rihanna. The unlikely turning point would be the Grammy Awards nomination he got for the 2010 collaboration with singer T-Pain for "I'm on a Boat."
Together with his two friends. Andy Samberg released two other comedy rap projects; Turtleneck & Chain (2011) and The Wack Album (2013). On the 1st of June, 2012 it was announced that Samberg would be leaving Saturday Night Live. He did return as the host for the 39th season finale in 2014, as well as the 40th-anniversary special's Digital Short.
In 2012, Andy lent his voice for the character Johnny in the animated movie Hotel Transylvania. He equally reprised his role in its 2015 sequel, Hotel Transylvania 2 and Hotel Transylvania 3: Summer Vacation in 2018.
Net Worth and Houses
Andy Samberg has an estimated net worth of $16 million. For his work as Jake Peralta on Brooklyn Nine-Nine, Samberg makes $125,000 per episode which means he earns roughly $2.75 million annually for the show. In addition, Samberg and his wife Joanna bought the Moorcrest estate in Beachwood Canyan, L.A. Together they also own a home in West Village, New York City.
Is He Gay?
The talented comic actor has joined the list of famous celebrities whose sexual orientation has been a thing of public interest. Interestingly, he has been advocating for equal rights along with the LGBT community. Meanwhile, Andy is happily married and has not publicly identified himself as gay.
See Also: Joseph Gordon-Levitt Wife, Brother, Height, Ethnicity, Is He Gay Or Transgender?
Andy Samberg's Wife and Daughter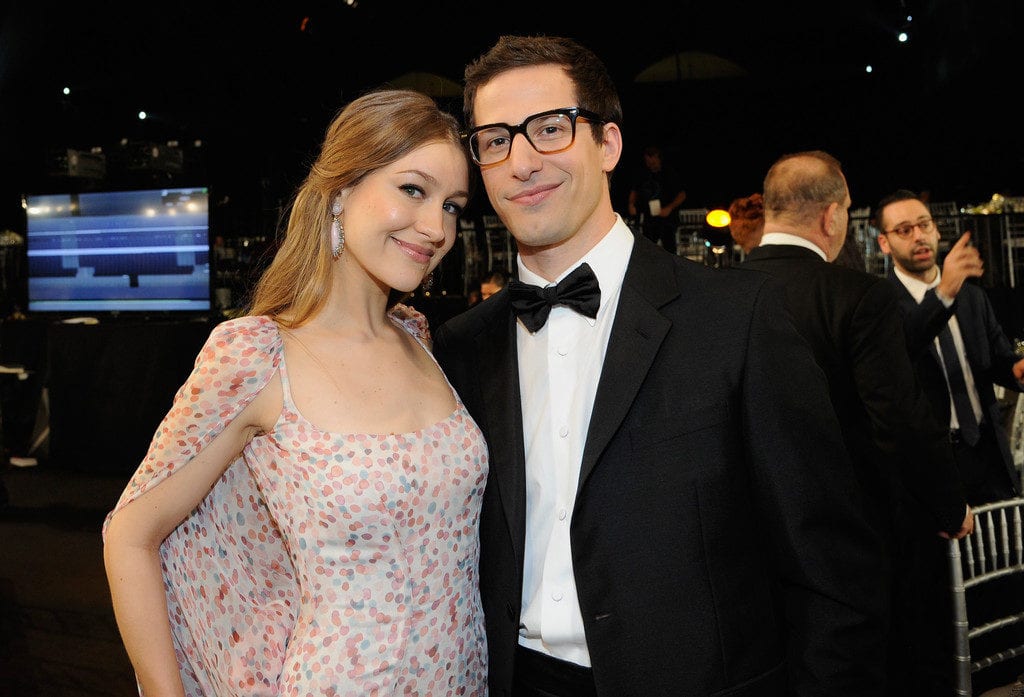 While the SNL star has become incredibly successful in his career, he is also successful in his love life. Andy Samberg is happily married to a gorgeous American musician named Joanna Newsom. The duo met each other at one of her concerts back in 2008. After the two dated for five years, Samberg proposed to her in February 2013. Three years later, the couple sealed their love in a marital union held at Big Sur, California on the 21st of September, 2016. After their wedding, the couple welcomed their first bundle of joy, a daughter in August 2017.
Height and Other Information
Full Name: Andy Samberg
Place of Birth: Berkeley, California
Date of Birth: 18th of August, 1978
Siblings: 2
Marital Status: Married
Kids: 1
Height: 5 feet 8 inches (177 cm)