Angela Sarafyan is a talented Hollywood actress. Originally from Armenia, she commenced her acting career as a teen and has gone on to acquire an impressive filmography. She has featured in several noteworthy projects, both movies, and TV series. They include Law & Order, Buffy the Vampire Slayer, The Immigrant, and The Twilight Saga: Breaking Dawn – Part 2.
Sarafyan is, however, most famous for her role as Clementine Pennyfeather on the popular HBO series, Westworld. Since she began starring on the show in 2016, her profile as an actress has risen, drawing newly gained fans to learn about her background and journey as an actress.
Angela Sarafyan Split Her Formative Years Between Yerevan And Los Angeles
Angela Sarafyan was born on June 30, 1983, in the Armenian town of Yerevan. She, however, grew up in L.A. as her parents immigrated to the United States when she was just four. Even though she left Armenia as a child, she holds fond memories of the place which she describes as being full of flowers and green fields.
The future Hollywood star then had her education in Los Angeles. She attended Francisco Bravo Medical Magnet High School in Boyle Heights. Angela Sarafyan's journey into the world of acting commenced at an early stage. As a child, she loved reading stories and took ballet and piano lessons. She also loved telling stories with dramatic effect, and as such, it was only natural that she pursued a career in acting.
She Has Been An Actress For More Than Two Decades
Angela Sarafyan commenced her acting career in the year 2000, appearing in the CBS drama, Judging Amy. Since then, she has gone to feature in at least 28 TV shows, 27 movies, and counting. On the small screen, she has appeared in popular shows such as 24, Criminal Minds, Buffy the Vampire Slayer, The Mentalist, Nikita, The Division, CSI: NY, Cold Case, The Good Guys. In The Good Guys, she plays the role of Samantha Evans, a socially awkward assistant crime scene investigator who has a crush on one of the lead detectives.
On the big screen, the Armenian beauty has appeared in movies such as Kabluey (2007), On The Doll (2007), A Beautiful Life (2008), and The Informers (2008). Also in her filmography are Repo Chick (2009), Love Hurts (2009), The Twilight Saga: Breaking Dawn – Part 2 and Extremely Wicked, Shockingly Evil & Vile
https://www.instagram.com/p/BtRVqbNjz0z/?utm_source=ig_web_copy_link
Angela Sarafyan's most prominent role to date is arguably in the HBO series, Westworld. A sci-fi/thriller combo, Westworld is about a theme park populated by androids. The androids are controlled by humans and designed to fulfill any wish of its human patrons. Things, however, turn deadly when the robots rebel. Sarafyan plays the role of Clementine Pennyfeather, a droid programmed to be a prostitute.
The show, which features acting heavyweights such as Thandie Newton, Sir Anthony Hopkins, and Ed Harris, has made Angela Sarafyan a famous face in Hollywood. Since she began starring in the show, she has made other appearances on works like Into the Dark, The S.H.U. and voiced Max in the video game, Telling Lies.
High Points Of Her Career So Far
Since she became an actress, Angela has been a recipient of five award nominations. Her role in the short drama, Pin-Up, as Sunny, earned her four of them. She received nominations from IndieFEST Film Awards, Global Film Festival Awards, and Platinum Awards, all in recognition as Best Supporting Actress.
Aside from Pin-Up, as part of the talented cast of Westworld, she received a joint award nomination from the Screen Actors Guild Award for Outstanding Performance by an Ensemble in a Drama Series. The SAG Award is the only award she received a nomination for and failed to win.
Beyond the awards and accolades, other highlights of Angela's long career include getting cast in Westworld, which is one of the most notable roles in her 68+ filmography. The popularity of her character on the highly-followed show has opened doors to other projects for the actress. She will appear in three feature films and one short film between 2020 and 2021.
Angela Sarafyan Grew Up Among Creatives
Angela Sarafyan comes from a family of artists. Her father, Grigor Sarafyan, is an actor while her mother, Zarmine, is a painter. The actress describes her parents as hippies who love every part of American culture. They especially loved American movies and music, a love they passed down to her.
As earlier stated, the actress is originally from Armenia. Her parents immigrated to the U.S. when she was just four. This was due to the Armenian genocide, which saw her parents' home seized. In 2016, Angela Sarafyan featured in the movie The Promise – based on the Armenian genocide, and even though she had a minor role in it, she cherished it as it was a subject that's close to her heart.
Although her parents have yet to find their fame as artists, Angela credits them for her own. In an interview, she admits her career would not exist had it not been for her parents' brave sacrifice to give up their lives in Armenia and move to California. It is a concession that gives insight into her relationship with her parents and their close relationship with each other.
She Was Rumored To Have Dated Nick Jonas And Rami Malek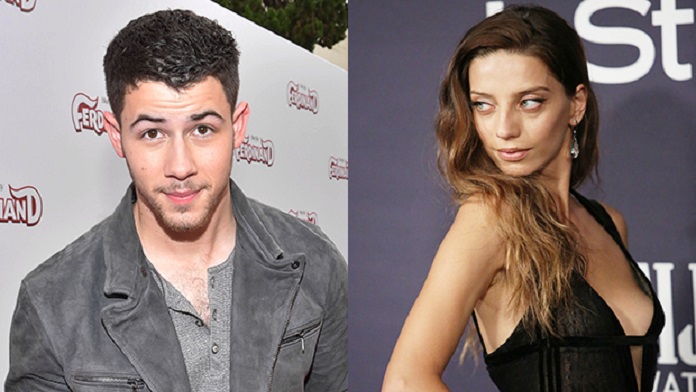 Angela Sarafyan is currently single. Back in 2017, however, there were rumors that she had gotten engaged. This was after she posted a picture of herself with a man on her Instagram with the caption "And then they were engaged…". However, the photo was just a still from her role in the 2016 movie The Promise, and the man in the photo with her was revealed to be Oscar Isaac, a Guatemalan-American actor.
See Also: Jami Gertz Age, Measurements, Net Worth, Husband, Family
Although the Westworld star is not married, she has been romantically linked to some of her colleagues. She reportedly dated Golden Globe-winning actor Rami Malek. This relationship was never confirmed, and Malek is now dating actress Lucy Boynton.
In early 2018, before Nick Jonas married Priyanka Chopra, Sarafyan was also rumored to be in a relationship with the singer. The relationship was never officially confirmed, but insiders alluded that they were not exclusive. Nick Jonas is now married to Indian actress Priyanka Chopra. They tied the knot in a lavish ceremony in December 2018.