Angela Unkrich is a writer, blogger, and former diver/gymnast. She came to public notice after being romantically involved with American actor and Dancing with the Stars champion, Alfonso Ribeiro a.k.a Carlton. Alfonso Ribeiro gained widespread prominence for his role as Carlton Banks in The Fresh Prince of Bel-Air (1990-1996) in which he starred side-by-side with world-famous actor Will Smith.
Alfonso married Angela after ending his short-lived union with fellow actor, Robin Stapler. Currently the host of the popular ABC fun series, America's Funniest Home Videos, Ribeiro has continued to make his mark in the entertainment industry, getting fans more curious about his personal life, especially the love of his life. Read on to learn everything you need to know about Alfonso Ribeiro's wife, Angela Unkrich.
Angela Unkrich's Bio
She was born as Angela Sue Unkrich on 4th February 1981 in the Henry County city of Winfield, Iowa, United States. She, however, grew up in a farm, in the rural community of Swedesburg, northern Henry County.
Growing up, Angela Unkrich attended the Waco High School in Wayland, Iowa. As a high school student, she was a prominent diver, earning numerous accolades for her outstanding performances in the sport. Some of her titles include Outstanding Diver of Iowa, Conference Athlete of the Year, All-state Performer, among others. She also won the USA Diving State Championship, as well as received a medal at the Iowa State Diving Championships.
On graduating from high school, Unkrich enrolled at the Northwestern University in Evanston, Illinois to pursue a bachelor's degree in Communication Studies. During her university days, she participated actively in a variety of sporting activities, including springboard diving and gymnastics, basketball, as well as track events. In all, Angela was most prominent as a diver and served as a significant member of the University's diving team. She was also a member, and subsequently the vice president of the National Honor Society.
On completing her university education, Angela moved to Los Angeles where she picked up a number of jobs, including private jest hostess, scriptwriter assistant, and diving coach. Following her marriage to Alfonso Ribeiro, Unkrich spends most of her time carrying out wifely and motherly responsibilities. She however also engages in writing and blogging and is the author of My Mommyhood Tales.
Angela Unkrich's Kids and Family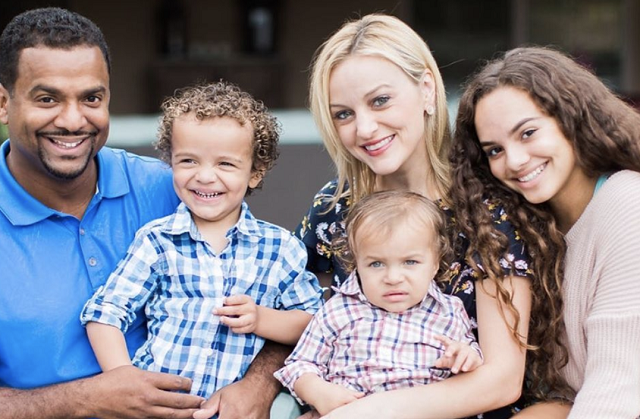 Information on Angela Unkrich's birth family is very scarce. We only know that she was born to Stanley Unkrich and his wife Valerie Sue and raised alongside two brothers, Tyson and Brendan Unkrich.
However, her marital family comprising her husband and kids are very much open to the spotlight. Angela Unkrich married Alfonso Ribeiro in 2012. The duo had earlier met in 2011. After dating for some months, they were engaged in July 2012 and subsequently married on October 13, 2012. Their wedding was a lavish and star-studded ceremony held at Burbank's Lakeside Golf Club in Los Angeles, California. Among the numerous celebrities that graced the occasion was multiple award-winning actor and Alfonso's fellow Fresh Prince star, Will Smith, who served as the groomsman, assisted by Joey Fatone and David Justice.
Angela Unkrich has three kids with her husband, Alfonso Ribeiro. The couple welcomed their first child, a son named Alfonso Lincoln Ribeiro Jr. a.k.a AJ on 27th October 2013. Their second child, a son named Anders Reyn arrived on 30th April 2015. They later welcomed their third child, a daughter named Ava Sue on May 13, 2019.
In addition to her biological children, Angela is stepmother to Alfonso's daughter, Sienna Ribeiro who was born on 7th October 2003 by his first wife. As earlier pointed out, Alfonso Ribeiro previously married actress Robin Stapler on January 20, 2002. Ribeiro met Stapler in 1999 while shooting the last season of In The House. The couple, however, divorced in February 2007, precisely on the 19th, over irreconcilable differences. Prior to the completion of their divorce proceedings, they parted ways in 2006. The former couple's daughter, Sienna is now stepdaughter to Angela Unkrich, who is helping to raise her.
Other Interesting Details About Alfonso Ribeiro's Wife
1. Angela Unkrich is almost ten years younger than her husband, Alfonso Ribeiro who was born in September 1971.
2. In a post-wedding tweet posted the morning after their wedding, Angela's husband described her as the "most incredible woman in the world"!
3. Despite her small height of about 5 feet 3 inches, Angela Unkrich is a beautiful woman, an "Angelic" blue-eyed blonde with a slim body build.
4. Angela gave her hubby astounding support all through his competition on Dancing with the Stars, spurring him on to victory.
5. In 2013, Unkrich featured alongside her husband on the British reality TV game show, I'm a Celebrity, Get Me Out of Here! She also made a guest appearance on Hallmark Channel's Home and Family talk show in 2018.
6. Unkrich is a travel enthusiast. She is in fact a globetrotter, having been to 85 countries across the globe. She is also an avid golf lover.
7. Angela maintains a very amiable relationship with her stepdaughter, Sienna Ribeiro.