Angelo Pagan is an American actor known for his roles in movies like Swordfish, 24, Law, Dharma & Greg, and Los Beltrán. Also, his rise to fame is sometimes accorded to his marital union to Leah Remini, an actress who caught fame for her excellent roles on set and her views of the Scientology Church. In addition to his acting skills, Angelo is also an entrepreneur, singer, and producer.
Angelo Pagan's Bio
Angelo Pagan was born on the 26th of May, 1968 in Puerto Rico. He hasn't disclosed the names of his parents, however, records have it that his family migrated to the United States of America and settled in the Bronx, New York, few years after the actor was born. Pagan has two biological siblings – a sister; Nicole, and brother; Michael. He also has four half-siblings – Christine, Stephani, Elizabeth, and Shannon. He is of multiracial heritage – his father is of Sicilian descent while his mother is of Austrian-Jewish descent.
The actor has revealed that it was while he was a child that he curbed the desires of being an actor and a model. So, while at the City College Of San Francisco, he joined the school's drama team, appearing in several plays. With a quest to discover more of his acting abilities, the actor subsequently moved to California. He later graced several auditions before landing his first role as Luis in the 1989 television series, Midnight Caller.
Angelo Pagan's fantastic performance in his very first television role guaranteed his appearance in other television series like Kiss Shot (1989), Sleep, Baby, Sleep (1995), and Virus (1995). Despite the fact that the actor played a minor role as Cuban Mailman in the movie Dance With Me (1998), it is still regarded officially as his film debut on screens. For a long while, the actor kept on bagging only minor roles but still had his head in his game. He never relented in giving his best shots in each of them. A proof of his excellence in minor roles can be seen in movies like Law (1999), Dharma & Greg (1999), and Los Beltrán (1999).
While at it, the actor landed a major role in 2001, crime thriller movie; Swordfish and subsequently played as Agent Drake in 24. He played multiple roles in the 6 episodes of The King of Queens and was a recurring cast in Hawthorne and In the Motherhood. He has also appeared on the television show, Leah Remini: It's All Relative. 
Angelo Pagan has also shown that he is quite talented in music. He did a little of music and released a solo album titled Don't Be Afraid. Also, the actor is a member of the group, Salsa Caliente. With the crew, he serves as one of the vocalists and has toured around several states and cities.
Facts About His Wife – Leah Remini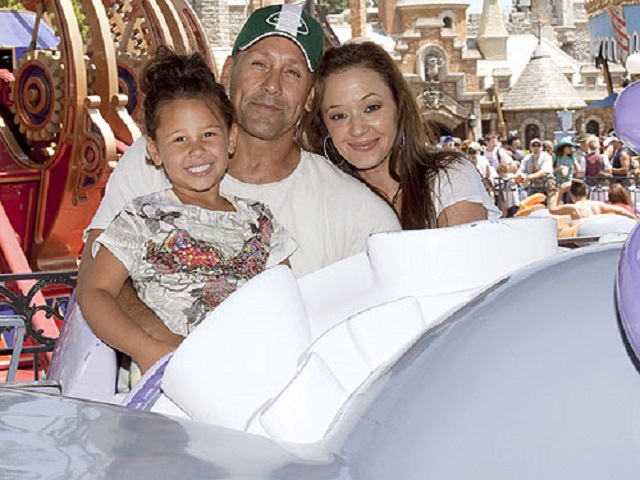 Leah Remini, the wife of Angelo Pagan is also an actress. The two got married in the year 2003 after they have dated for a while.
Just a year after they got married, they welcomed an adorable baby girl named Sofia Bella. However, the actor was previously married and divorced before tying the knots with Leah. He has 3 sons form the old marriage and tattooed the name of his daughter and wife on the shoulder.
Leah Remini was born on the 15th day of June 1970 in Brooklyn, New York. She is famous for her acting, writing, producing and singing skills. She appeared in 1997 Fired Up and the 1998 CBS comedy series – The King of Queens. As an author, she has written a few books such as Troublemaker: Surviving Hollywood and Scientology, Leah Remini: Scientology and the Aftermath; for which she also bagged an Emmy Award.
Angelo and Leah both appear on the show the television reality show called Leah Remini: It's All Relative.
See Also: Jordyn Blum – Biography, Family, Facts About Dave Grohl's Wife
Net Worth
The truth is Angelo Pagan won't be counted as one of the many actors who has appeared in lots of blockbuster movies, however, in the little he has performed in, he was surely paid for his hard work. We won't be omitting the fact that he also makes a few pennies from his musical career.
Well, music and acting isn't the only way the actor has used to top his earnings. He runs a restaurant named Vivian's Millennium Cafe alongside his wife's stepfather George Marshall. The accumulation of his earnings from all of these leaves the actors' net worth at an amazing $5 million.