Anllela Sagra is a Colombian fitness model, bodybuilder, trainer, and an athlete who is very popular on Instagram and other social media platforms. Her fame is due to her workout videos and fitness programs. Sagra started out as a regular model before venturing into fitness modeling. She created several social media accounts on which she showed off her fitness regimes as well as the result, a toned and muscled physique which most people can only dream of. All this helped to propel her to fame. Sagra has been featured in several fitness magazines such as Tendencia, Fitness Curves, and Iron Man. She has also earned endorsement deals with companies in the health/fitness industry. Find out more about her here…
Anllela Sagra Bio
Anllela Sagra was born on the 6th of October 1993 in Colombia. Not much information exists about her early life and family. We, however, do know that she has a sister named Laura. Growing up, Sagra loved all things fashion. She aspired to become a model and a fashion designer. These aspirations weren't just a pipe dream but a real ambition and in order to realize it, she enrolled at the University of Colombia to study fashion designing. While in college, she did modeling gigs on a part-time basis.
As a model, Sagra maintained a thin waif-like frame which is the standard requirement for modeling. Anllela Sagra's life took a different turn when she met a personal trainer who changed her philosophy on fitness. She took on new training regimes and her body became increasingly muscled. Many in her close circle advised her to refrain from the new routines as her muscled body would derail her modeling career. She however stuck to her guns and enrolled in her first fitness competition a year and a half later. She did well in the contest and subsequently decided to quit regular modeling for fitness modeling. This decision has turned out to be the right one as Anllela Sagra has achieved such fame she may not have seen if she were just a regular model.
Her well-muscled physique has made her very popular online. She has 10 million followers on Instagram alone while her YouTube account boasts of up to 265,000 subscribers. She also has a good following on Facebook and Twitter. Sagra has also participated in many fitness competitions and has won several.
Who's Her Boyfriend?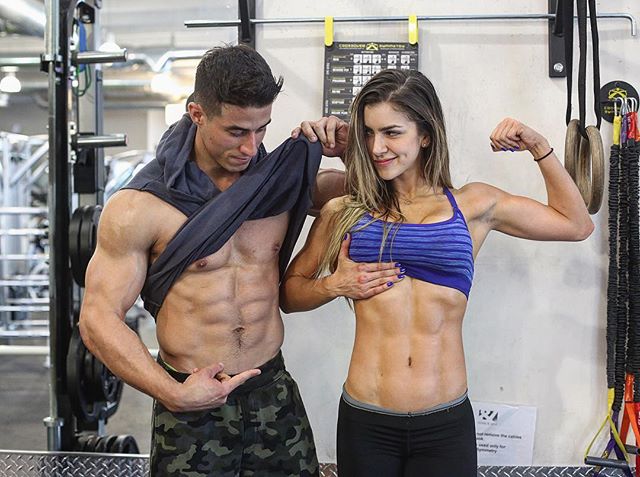 They say that opposites attract but that does not seem to be the case with Anllela Sagra. This is because she is in a relationship with a likeminded person. His name is Tomas Echavarria. He is a fellow bodybuilder and fitness buff. They reportedly started dating in 2015. Echavarria is supportive of his lady's career as he regularly appears in her workout videos. On her own part, Sagra regularly gushes about her man on Instagram. For instance, on the 7th of October 2018, she thanked him for making her birthday special. There are rumors that the couple may be engaged but this is yet to be confirmed.
Height and Body Stats
Anllela Sagra has an athletic body and this is not surprising given her occupation. She is 5 feet 9 inches tall (1.75 m) and weighs 59 kg (130 lb). Other body measurements are bust – 35 inches, hips – 24 inches, and waist – 34 inches. The Colombian beauty also boasts of brown hair and a set of dark brown eyes.
See Also:  Who is Timmy Thick, What is He Known For? His Age, Height, and Other Facts
Fun Facts About The Model And Bodybuilder
1.  She came third in her very first fitness completion. This was in 2013 and it gave her the impetus to pursue a career in fitness and bodybuilding.
2. She has a sister named Laura. Laura has also followed in her footsteps and is a popular fitness model as well.
3. Anllela Sagra has an endorsement deal with 1Up Nutrition. 1Up Nutrition is a US-based company which manufactures health supplements.
4. Sagra initially aspired to become a fashion designer and even went as far as studying it at the university.
5. She is the very first fitness model in the whole of Colombia.
6. She has her own fitness app known as Anllela Sagra Training. It can be found on the Apple store and the google play store.
7. It is estimated that Sagra earns $669 to $10.7k per annum on YouTube. On Instagram, where she is most popular, she earns $22,288 to $37,146 per post.
8. Sagra relies on a variety of exercise to maintain her physique. For her lower body, she relies on exercises such as deadlifts, squats, and hip thrusts. For her upper body, she does pull-ups, push-ups, biceps curls, and shoulder press. With regard to her midsection, she performs exercises such as hanging leg raises and crunches.