Anna Kendrick's Hollywood career is as versatile as they come. The Oscar-nominated actress has featured in a wide array of movies ranging from political thrillers, crime dramas, to musical fantasies. The multi-talented Kendrick has also warmed our hearts with her infectious performances in several comedic fares. Fancy having an Anna Kendrick movie marathon? Then, we have got some of her best, and cringe-worthy, outings right here.
9 Anna Kendrick Movies and TV Shows Rated From Best To Worst 
1. Up In The Air (2009)
7.4/10 – IMDb; 90% – Rotten Tomatoes; 3.5/5 – Letterboxd; 69% – Google Users
Up in the Air is the Anna Kendrick movie which has thus far brought her the most accolades. The 2009 comedy-drama revolves around Ryan Bingham, a corporate downsizer who accumulates frequent air miles in the course of his work. This pattern, however, changes after a young new co-worker, Natalie Keener, devices video-conferencing as an alternative means of firing people.
Up in the Air featured George Clooney as Ryan while Kendrick portrayed Natalie. Her excellent performance earned her the Oscar, Golden Globe, BATFA, and SAG award nominations for Best Supporting Actress.
2. Pitch Perfect (2012)
7.1/10 – IMDb; 81% – Rotten Tomatoes; 5.8/10 – FilmAffinity; 75% Google Users
Pitch Perfect is unarguably the movie that Anna Kendrick is most famous for. The 2012 musical comedy revolves around The Bellas, a university all-girl acapella group and their quest for collegiate glory. Pitch Perfect featured the likes of Brittany Snow and Rebel Wilson while Kendrick portrayed the lead role of Becca. The movie was both a critical and commercial success, grossing $115.4 million on a budget of just $17 million. Pitch Perfect has a rating of 80% on Rotten Tomatoes and has spurned no less than two sequels.
3. 50/50 (2011)
7.6/10 – IMDb; 93% – Rotten Tomatoes; 6.9/10 – FilmAffinity; 77% Google Users
50/50 is a 2011 comedy/drama which revolves around Adam Lerner, a young man who discovers that he has cancer despite his healthy lifestyle. Doctors give Adam a 50% chance of survival, and he starts visiting a young, inexperienced psychiatrist named Katie to help him get through it.
Adam and Katie later develop a rapport that pushes the boundary between doctor and patient relationship. 50/50 featured Joseph Gordon-Levitt as Adam while Anna Kendrick portrayed the role of Katie. The movie impressed both the critics and moviegoers. It also has a high rating of 93% on rotten tomatoes.
4. End of Watch (2012)
7.6/10 – IMDb; 85% – Rotten Tomatoes; 6.4/10 – FilmAffinity; 94% Google Users
If you love police procedurals, then this Anna Kendrick movie is for you. End of Watch is a 2012 crime drama that follows Taylor and Zavala, two honorable LAPD cops. Both men zealously carry out their work against the backdrop of dangerous L.A. neighborhoods.
End of Watch featured Jake Gyllenhaal (as Taylor) and Michael Pena (as Zavala), while Anna Kendrick portrayed the role of Taylor's wife – Janet. The movie was a box office hit. It also impressed the critics, with one calling it "one of the best police movies in recent years".
5. Drinking Buddies (2013)
6.1/10 – IMDb; 84% – Rotten Tomatoes; 8/10 – Blu-ray.com; 56% Google Users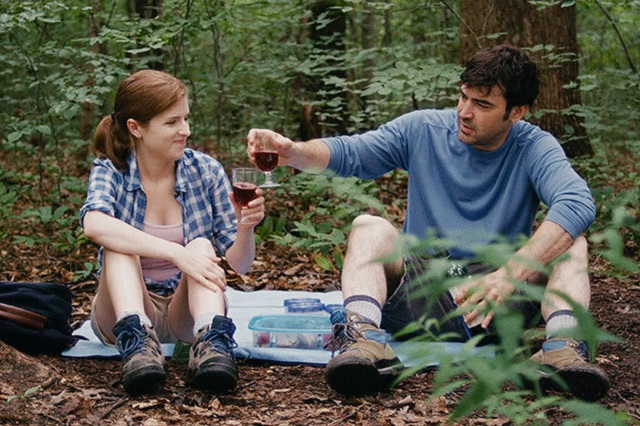 Drinking Buddies is a 2013 drama/romance which revolves around Kate and Luke, two co-workers who often hang out together. The duo seems perfect for each other but are stuck in relationships with other people. Drinking Buddies featured Olivia Wilde as Kate while Jake Johnson portrayed the role of Luke. In this movie, Anna Kendrick portrayed Jill, Luke's stiff girlfriend who is pressurizing him into marriage. The movie did not perform so well at the cinemas. It, nevertheless, received favorable reviews and has a score of 83% on rotten tomatoes.
6. Twilight (2008)
5.3/10 – IMDb; 49% – Rotten Tomatoes; 72% – Fandango; 86% Google Users
Twilight is a 2008 drama/fantasy based on Stephenie Meyer's novel of the same name. The movie chronicles the epic romance between an ordinary teen girl, named Bella, and an immortal vampire named Edward. Twilight featured Kristen Stewart and Robert Pattinson in lead roles while Kendrick portrayed Bella's friend, Jessica. The movie was a box office blockbuster, grossing $393.6 million on a budget of $37 million. It also spurned one of the most successful film series ever as all five movies in the saga grossed a combined $3.346 billion at the box office.
7. Fear Itself (2008 – 2009)
6.9/10 – IMDb; 69% – Rotten Tomatoes; 2/5 – Common Sense Media; 81% Google Users
Fear Itself is a short-lived NBC horror series that premiered in June 2008. It comprised of 13 episodes, all of which featured a different bone-chilling story. Fear Itself featured the likes of Niall Matter and Marie Zydek, while Kendrick appeared in one episode of the show in 2009. The series has a rating of 7/10 on IMDb.
8. Rapture-Palooza (2013)
5.2/10 – IMDb; 24% – Rotten Tomatoes; 1/5 – Common Sense Media; 47% Google Users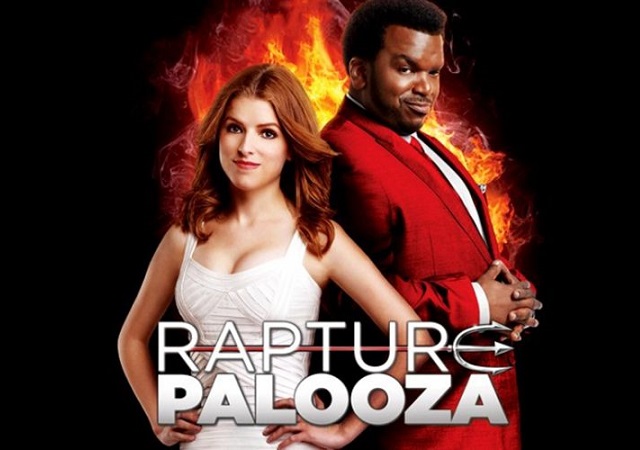 Rapture-Palooza is a 2013 fantasy/comedy set in the aftermath of the biblical rapture. Lindsey and Ben, a young couple who are left behind, embark on a mission to defeat the beast and stop him from taking Lindsey as his unholy bride.
Rapture-Palooza featured Craig Robinson as the beast, while Anna Kendrick portrayed Lindsey in the movie. Sadly, the movie was panned by the critics. It has a score of 25% on Rotten Tomatoes and 44% on Metacritic.
9. Get a Job (2016)
5.2/10 – IMDb; 9% – Rotten Tomatoes; 2.3/5 – Movie Insider; 51% Google Users
Get a Job is another Anna Kendrick movie that you may want to pass on. The 2016 comedy revolves around the efforts of two young people, namely Will and Jillian, to land steady employment in a depressed economy. Get a Job featured Miles Teller as Will, while Anna Kendrick portrayed Jillian. The movie was derided by the critics, with one describing the characters as shallow and insipid. It also has a poor score of 5% on rotten tomatoes.