Anna Shinoda is a novelist and a motivational speaker, popularly known as the wife of the popular vocalist of Linkin Park band, Mike Shinoda. Her husband is also a songwriter, rapper, and instrumentalist, widely celebrated as a great graphic designer and co-founder of the Linkin Park. While Mike has become incredibly successful in his career, his success story will not be complete without mentioning his support system, his wife- Anna Shinoda. The amazing couple has been together for over a decade and counting and are parents to two adorable children. In addition to being a novelist, Shinoda is also a homemaker and philanthropist. Discover juicy facts about this amazing woman below.
Who Is Mike Shinoda's Wife Anna Shinoda?
When it comes to her personal life, Anna is quite discreet and likes keeping such info private. As a result, there is no much information available online with regards to her actual date, month and year of birth. However, in her Tweet dated November 8, 2017, she thanked her friends and loved ones for their birthday wishes. She said she had joined the 40s gang, which further gives us an insight she could be in her 40s.
More so, there are details regarding her family including her parents, siblings or even what her childhood was like. However, we know the writer was born in the United States of America. She spent her early years in a small mountain town where she used to escape into the high branches of trees, out of the reach of her family to read and wander away into her fantasy world. There is no much information with regard to her educational background. The much we know is that she got a scholarship to study Communications at Long Beach State University. Nevertheless, it is not known when she graduated.
Her Career As a Writer
As the saying goes, 'inspiration comes in lonely and awesome ways', Anna Shinoda started writing as a child, a craft which has culminated into a lifelong career. She released her first book entitled Learning Not to Drown (Atheneum 2014), the novel tells a story of a young girl who jostles to preserve her own identity amidst a chaotic and dysfunctional family unit. The book is mostly recommended for teenagers, ages 14 and above. After it was released, the prolific writer garnered high praise from both fans and critics.
Cementing her place in the literary world, Anna Shinoda enrolled in the Society of Children's Books Writers and Illustrators. She has also authored several books, including poetry, children's stories, and much more. Her effort has seen the writer get nominated twice for the Sue Alexander Most Promising New Work Award.
Aside from writing, Anna is also a motivational speaker. She has also been going around speaking to people in seminars and workshops on mental health; a gesture aimed at helping people with mental illness to get medical help thus reducing statistics of suicides in the world. Meanwhile, before delving into writing full time, Shinoda had previously worked in music Public Relations for a few years after she left college.
See Also: How Much is Anthony Kiedis, The American Musician Worth Today?
Do They Have Kids?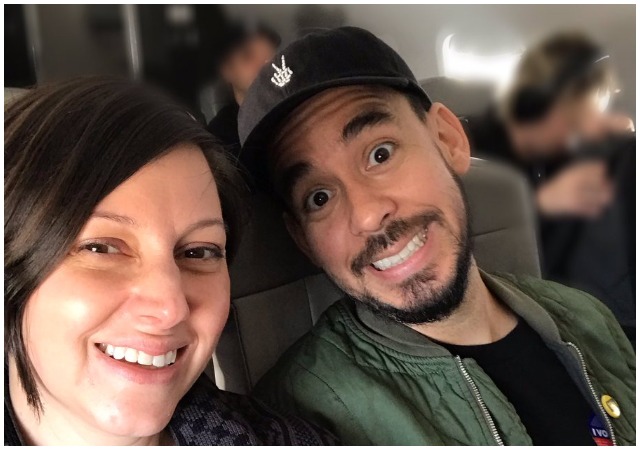 It is no news that Anna Shinoda is the better half of the music star, Mike Shinoda. They began their relationship as far back as the late '90s and on the 10th day of May 2003, they exchanged marital vows. Since then, the couple has become parents to two adorable children including Otis Akio Shinoda.
Her kids seem to have taken after their father in graphic design. On Mike's Instagram post of July 6, 2018, he sampled a colorful design made by his kids which he intended using as an album cover. The doting parents are quite sensitive when it comes to disclosing information about their kids.
Ever since this beautiful couple exchanged their marital vows, they have been living happily ever after. Anna has not just been supportive of her husband's course and career, she has also been an inspiration to him. She helps Mike in his charity works, providing succor to victims of natural disasters such as victims of Tsunami, Hurricanes Katrina, Rita, Sandy and Haiti earthquake in 2010 and other environmental disasters through the foundation of Music For Relief established by her husband's band – Linkin Park.