Annabeth Goodman is one of those women who are renowned as a result of their partner's fame. She is recognized as the better half to Emmy award-winning actor, John Goodman. But more than being just a celebrity spouse, not many are aware that Annabeth has been the secret and pillar behind their enduring romance of about three decades. Here's everything you should know about the successful businesswoman, wife, and mother.
Anna Beth Goodman – Bio
Annabeth Hartzog from Bogalusa, Louisiana was born in the year 1969. Details regarding her parents, family background and early life have not been made public knowledge. But for her academic endeavours, Annabeth attended Bogalusa High School and later studied Fine Arts at the University of New Orleans.
After college, Annabeth decided to pursue other interests including business and thus relocated to Los Angeles. Her first venture as a businesswoman was manufacturing clothes. But after identifying an immediate need in New Orleans, Annabeth moved back to her hometown and launched a European clothing store for children called Pippen Lane in 1997. The clothing line which deals in all kinds of children items has grown and expanded over the years. In fact, in 2011, Pippen Lane purchased a century-long French clothing brand Lylian Heirloom which remains part of Annabeth's business signature label till date.
Her Marriage and Kids
Annabeth Hartzog is happily married to award-winning actor John Goodman. The couple who has been together for more than three decades first crossed paths at a party in 1988. At the time, her future husband John was in his early career days and playing the role of Lawrence in the movie Everybody's All American, while Annabeth was still in college at the University of New Orleans. The pair quickly sparked up a romantic bond and a few months later, John popped the big question on the Mississippi River. Annabeth and John exchanged nuptial vows on October 27, 1989. The next year, they welcomed their first and only child Molly Evangeline Goodman who was born on August 31, 1990.
See Also: Kate Norley – Bio, Age, Wiki, Facts About John Oliver's Wife
Aware of the challenges that come with being celebrities, Anna and John chose to live under the radar after their daughter's birth. This was in order to shield Molly from the crazy and sometimes toxic Hollywood lifestyle. Annabeth shares a close bond with her daughter but Molly Evangeline took after her actor father career-wise and currently works as a production assistant in Hollywood.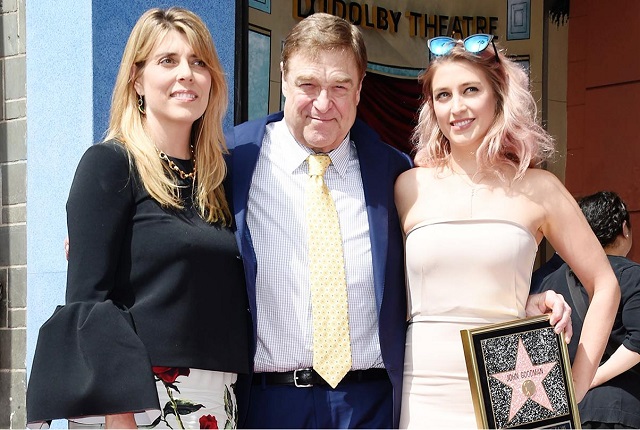 Though Annabeth and her family deliberately chose to live privately, they do not entirely shy away from public events. Over the years, the couple has been seen together at several ceremonies such as the 2015 Royal Ascot, the premiere of Trouble With The Curve and of course John's 2017 star ceremony on The Hollywood Walk of Fame in California. In an era where most celebrity marriages don't make it past a decade, Annabeth and John's union has sure been an inspiration to many. The couple who has been together for over thirty years without scandals apparently share an inseparable bond and continue to wax strong together.
Facts About Anna Beth Goodman
Annabeth Hartzog Goodman is sixteen years younger than her husband who was born on June 20, 1952. Despite the age disparity, love has apparently conquered for the couple.
Annabeth Goodman's marriage hasn't been without its own highs and lows. In a 2018 interview, John credited his loving wife for helping him through his struggles with alcoholism, smoking, and obesity. According to the actor, during his long-standing battle with alcoholism, it was Anna who convinced him to visit a treatment center and today the rest is history. Not only has John courageously remained sober since 2007 the couple has also remained together for no less than three decades.
Over the years, Annabeth and her family have lived in various cities including Calabasas, Tampa, and New York City. After moving around for a while, the family eventually settled in their Pacific Palisades home in California.
Annabeth Goodman loves animals and rears some dogs as pet. The Goodmans have two dogs (a golden retriever and a cocker spaniel) that lives with them in their Pacific Palisades residence.
Health and Fitness Enthusiast
Anna Goodman loves a healthy lifestyle and takes deliberate steps towards staying fit. She and her husband John have a customized gym in their home which has helped them in achieving their health goals.