Anne Koppe is an American businesswoman who became famous after marrying, or at least started dating, Jordan Ross Belfort, an American author, motivational speaker, and former stockbroker infamously known as the real-life Wolf of Wall Street.
Belfort served jail terms for his past actions bordering fraud before moving on to establish a successful speaking enterprise with Anne by his side. She oversees his deals and manages his motivational speech contracts through his company, Global Motivation Inc. More so, Koppe serves PR functions for her partner, consistently putting out words in his support when he gets backlashed for his past in forums and on social media.
Anne Koppe Profile Summary
Full Name: Anne Koppe
Gender: Female
Ethnicity: White
Nationality: American
Sexual Orientation: Straight
Marital Status: Married
Anne Koppe's Partner: Jordan Belfort
Children: Bowen Boullianne
Anne Koppe's Parents: Bruce and Hellen Koppe
Famous For: Being the partner of Jordan Belfort
Who Is Anne Koppe?
Anne Koppe was born in the United States to parents Bruce and Hellen Koppe. Although there is no information about her birthday and year, childhood, early education, siblings or what her parents did for a living, we know how she and Jordan Belfort met and for how long they've worked together.
When their paths crossed in 2008, Belfort had just been released from prison, after serving a 22-month term between 2004 and 2006. It was in the heat of the restitution process from a major scandal that crippled his stockbroking career.
Initially, it was a tough one for Anne Koppe herself. It wasn't fun sticking with a man who reportedly swindled his investors to the tune of $110 million. After serving jail terms, Belford was mandated to restitute his investors' losses. And as of 2013, he had returned $10 million of the $11.6 million he was mandated to repay. Much of that came from property sales.
How Did Anne Koppe and Jordan Belfort Meet?

Koppe came along when Belford was still picking the pieces of his life together. As at the time, he was already working as a writer and a motivational speaker. Knowing fully well about his past and seeing the changed man that he has become, Anne Koppe stuck with him and helped rebuild his life from scratch. Part of her work was to defend his reputation as a changed man when listeners in his forums and on social media tried to challenge him about his troubled past.
She spoke on interviews, released written statements on social media and other platforms defending Belfort. On one occasion Koppe talked about how Belfort has been unfairly treated by people long after serving jail term and now working hard to pay back the losses his clients had incurred, while also contributing to society as an honest taxpayer.
She also pointed out how much of a changed man Jordan had become and that he is no longer a criminal. As of this writing, Koppe manages his meetings with clients and also schedules his speaking engagements all over the world; an activity she does through his company Global Motivation Inc.
On his part, Jordan Belfort has spoken highly about how much of a positive influence Koppe has been to him. After serving jail term between 2004 and 2006, Koppe supported him in rebuilding his reputation as a trustworthy fellow to work with. As he puts it, she has offered him the much-needed support any man requires to recover from a major reversal.
Is She Still Jordan Belfort's Partner?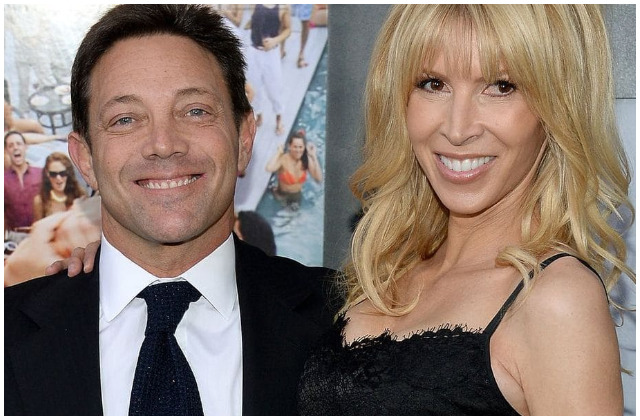 After they met in 2008, Koppe and Belford dated for four years before getting engaged in 2012. While this may be their first time together, they both have their marital histories too. Koppe has a grown-up son, Bowen Boullianne, from her previous marriage, while Belford was previously married to Denise Lombardo. However, their union ended in divorce when he began his shady enterprise at Stratton Oakmont.
He then married British-born model Nadine Caridi, whom he'd met at a party. In 2005, Caridi divorced Belford on the grounds of domestic violence. She accused him of drug abuse and infidelity and then gained custody of their two children. As of 2019, Koppe and Belfort are very much together.
Although they are not married, there's much certainty about their union. So far, there haven't been any cases of scandal or overheated issues between the two. As his partner in life and work, Koppe continues to fight off media attacks targeted at Belfort.