Coming to widespread public notice for the wrong reasons remains one of the most unpleasant and difficult challenges to go through, especially when one is not the direct culprit but gets entangled in the mess through a close relationship with the culprit. That's exactly the case with Dutch-Indonesian former model, Annette Roque.
Although Annette has been a media personality all the while considering her modeling career, she came to a more heightened public notice after her husband, Matt Lauer landed in disgraceful sexual misconduct allegations at his workplace. Meanwhile, Matt is an American television news presenter most popular for being the co-host of NBC's popular show, Today for two decades (1997-2017).
Prior to this ugly incident which claimed their union, Annette and Matt have married for 19 years. But it must have been 19 years of perseverance and long-suffering for the former who had previously filed for divorce 11 years before. Learn more about Annette Roque, Matt Lauer's ex-wife in this article; from her early years to the relationship with Lauer, her children and other important facts.
Annette Roque Bio
Annette Roque was born in December 1966 in the Netherlands. She grew in the outskirts of the Netherlands capital, Amsterdam.
As a young adult, Annette Roque left her home country for Paris to pursue a career in modeling. She modeled under the professional name, Jade Roque between the 80s and 90s. She later relocated to New York where she continued her blossoming career, appearing in numerous cosmetic adverts across Europe, including J. Crew and Victoria's Secrets. Roque also advertised for American cosmetics giant, Revlon.
In addition to modeling, Annette is also a passionate equestrian. She runs "Bright Side Farm", a horse farm in Water Mill, New York which she co-founded with Matt Lauer in 2013.
Marital Life with Matt Lauer
Annette Roque and Matt Lauer started dating after they met in July 1997. Their first meeting was on a blind date arranged by an acquaintance, Maria Santoro, an independent stylist. Following the meeting, the pair gradually developed love for each other and started dating. Five months into their relationship, Matt popped the big question to which Annette said "yes". They subsequently married on October 3, 1998, at the Bridgehampton Presbyterian Church on Long Island in Water Mill, NYC.
However, Annette Roque's husband, Matt Lauer never remained true to her. He regularly cheated on and maltreated her. In 2006, while carrying her third and last child, Roque applied for a divorce, citing various sorts of inhumane treatments from Lauer. The application, however, didn't go through as the couple later settled out of court, and the marriage continued.
Annette must have endured a lot in the 11 years that followed. That must be why she didn't hesitate to finally put Matt completely out of her life after he was ultimately accused of sexual assault late in 2017, a development that cost him his job with the NBC. The now estranged couple began their divorce proceedings in January 2018, and sources reveal that Lauer has agreed to pay Roque a $20 million settlement.
Her Children
Annette Roque has three children, all with Matt Lauer. They are Jack, Romy and Thijs Lauer.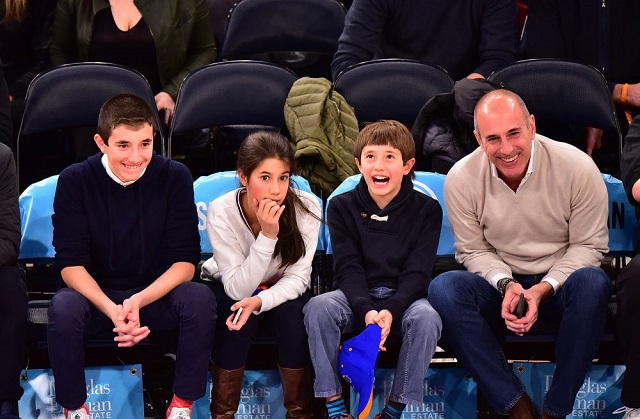 Eldest son Jack was born on 26th June 2001. As of 2019, he was a college student. The second child and only daughter Romy was born on 2 October 2003 and is said to be in junior high in 2019. She is also keenly following her mum's footsteps in horse-riding. As for last child Thijs, he arrived on the 28th day of November 2006.
Also read: Nancy Putkoski Bio and Facts About Anthony Bourdain's First Wife
Facts About Matt Lauer's Ex-wife
Annette Roque was Matt Lauer's second wife. He previously married TV producer Nancy Alspaugh in 1982, but their union lasted for only seven years. They divorced in 1989.
Annette lived separately from her husband all through their marriage. While Lauer lived in Manhattan from where he worked, Roque lived with the kids in The Hamptons.
Following their divorce, she took the bold step of sending her estranged husband packing from their $36 million home in The Hamptons. He had to live in the guest house section of the compound.
Annette Roque and Matt Lauer are both passionate about horses and had a long-standing dream in that area which they realized in Bright Side Farm.
Roque was well aware of her hubby's "ladies' man" nature even before their marriage. The issue bothered her throughout the union and ended up being the very reason why they finally split.