A very handsome and gentle-looking man, Anson Mount is a talented American actor who is admired for his huge talent and knack for convincing role-interpretations onscreen. Having kickstarted his acting career since 1999, Mount has gone on to star in dozens of movies and TV series some of which are blockbusters, and has, in the process won many fans, establishing himself as one of the movie stars of great renown.
Anson Mount became popular playing the life-changing role of Cullen Bohannon in the series, Hell on Wheels, and has banked on this success to land other big roles on TV. However, even though his career is in such a good place, Mount is not only bent on making an impact in Hollywood but also in building a great home for himself and the love of his life, Darah Trang.
'Ally McBeal' Launched Anson Mount's Hollywood Career In 1999
Long before he got the chance to star on Hell On Wheels, Anson Mount had already starred in other movies and TV series. Born in Mount Prospect, Illinois, the United States on 25th February 1973, Anson Mount, whose full name is actually Anson Adams Mount IV, made his first on-screen appearance in 1999 by featuring in one episode of the 1997 multi-award-winning David E. Kelley's comedy-drama series, Ally McBeal as Kevin Wah.
He followed it up the same year by appearing as Greg in one episode of the 1999 commercially successful Darren Star romantic comedy series, Sex and the City. Following his outstanding performances in the two blockbuster series, the year 2000 was very busy for him as he went on to make his first big-screen appearance by featuring as Broker in the film, Boiler Room. He further starred as Tully Coates Jr. in Tully, and Toby in Urban Legends: Final Cut the same year.
'Crossroads' Gave Him His First Breakthrough
Anson Mount's first movie breakthrough came when he was cast as Ben Kimble in the 2002 Shonda Rhimes romantic comedy film, Crossroads, starring alongside Britney Spears, Zoe Saldana, and Taryn Manning. His excellent depiction of the character earned him many nominations including a Teen Choice Awards nomination for Film-Choice Chemistry.
The same year, he starred in Poolhall Junkies playing Chris. He also portrayed Dave Simon in City by the Sea. From 2004 to 2005 Anson Mount played Will Carver in the drama series, The Mountain. He also starred in Line of Fire portraying Roy Ravelle from 2003 to 2005.
Anson Mount has made his presence felt both in films and television with his versatile acting skills. Some of his best-known works include starring in some of the massively popular films and TV series like The Forger, Walk the Talk, and Star Trek: Discovery. His work on Star Trek: Discovery as Captain Christopher Pike, was very well-received by fans of the show. In fact, he made so much buzz on the show that his performance inspired a popular petition for a Pike spin-off.
His other credits include Inhumans, On the Screen With Lindalee, Seal Team Six: The Raid on Osama Bin Laden, and All the Boys Love Mandy Lane. Furthermore, Anson Mount is the writer, producer, and host of the podcast, The Well with his pal, Branan Edgens. Besides his acting career, he is also an instructor as he teaches the third year and MFA acting program students at Columbia University.
How 'Hell on Wheels' Gave Anson Mount His Biggest Success
In 2011, about 12 years after he kickstarted his movie career, Anson Mount landed his biggest career role when he joined the cast of the American/Canadian Western television series, Hell on Wheels. The series found massive success and so did Mount who was playing a lead role.
In the series, Anson Mount was cast to play the lead role of Cullen Bohannon, a former Confederate soldier who was completely determined to embark on a mission to avenge the deaths of his wife Mary and his son. The actor played the role from 2011 to 2016 across 55 episodes, becoming a very popular face on TV in America and beyond among fans of the show. It completely launched him to a global audience who were diehard viewers of the series.
Apart from starring in the lead role on Hell On Wheels, Anson Mount also served as producer of the show from 2014-2016. His name became synonymous with the series because he began and ended the show as the leading man.
How Much Money Has He Made?
Anson Mount is definitely a wealthy person. At least judging by what he does onscreen. The movie star has appeared in more than 50 TV series and feature films, apparently raking in a considerable amount of wealth for himself in the process.
At the moment, the actor, who is also a producer, and the writer has his net worth pegged at about $3 million by trusted sources. This figure is bound to change in the future as he kees making bigger movies in the industry.
Anson Mount Has A Beautiful Marital Relationship With Darah Trang
Apart from being a very talented actor who has made a lot of buzz in the Hollywood industry, Anson Mount is a family man who is deeply in love with the woman in his life.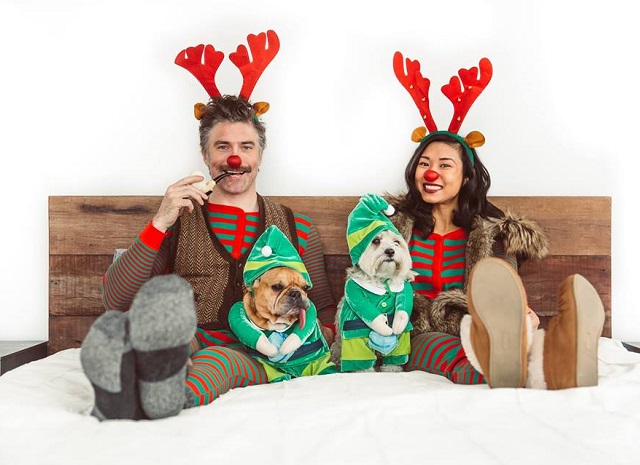 Anson Mount is currently married to a woman called Darah Trang. Trang, a Canadian woman is a photographer who obtained a BFA from the School of Visual Arts in New York.
The exact details about how Anson Mount and Darah Trang met for the first time remain elusive. However, we know that they started dating in 2011. Shortly after, fans of Mount got to know about the woman in his life.
The couple dated for almost six years before Anson Mount proposed to her on 8th July 2017. She said 'yes' and wedding plans were put on the table. Eventually, the lovebirds exchanged marital vows on 20th February 2018.
So far, the couple is enjoying their marital bliss in their home located in Connecticut. They are yet to welcome any child, as of this writing.