April Bowlby is an American actress who discovered her strong inner impulse towards acting after attempting to build a career in other aspects of entertainment, including ballet and modelling.
However, since playing her most well-known roles as Kandi on the comedy series Two and a Half Men (2006–2015) and Stacy Barrett on the Lifetime legal comedy-drama/fantasy TV series, Drop Dead Diva (2009–2014), many people believe that the actress has dropped off the map. The truth, nevertheless, is that she has been fairly busy since then only that she has not been able to land a role that will put her under the spotlight once again like the two series that made her popular.
April Bowlby's Age, Bio, and Life Before Fame
April was born on July 30, 1980, in Vallejo, California, with the full name April Michelle Bowlby. Her family relocated to another area of California, Manteca precisely, when she was still a child and there, she acquired her high school education at East Union High School. By the time she graduated, she moved on to study Ballet, French, and Marine Biology at Moorpark College but kept them aside to pursue a career in modeling.
After some time, she changed her mind about modeling and decided to go into acting. In order to learn what she needed to know about the art, she signed up with Ivana Chubbuck, an acting coach who happens to be one of the most sought-after in the business and has coached the likes of Brad Pitt, Eva Mendes, Sharon Stone, Halle Berry, among others, into acting icons.
Between 2004 and 2005, April Bowlby got minor roles in television series such as CSI: Crime Scene Investigation, CSI: NY, Stacked, and Freddie. However, she landed her breakthrough role in 2005 as Kandi on the television series Two and a Half Men which ran from 2005 to 2015. This came just within some months after she attended her first-ever audition.
In 2007, the actress appeared in the Sci-Fi Channel original movie Sands of Oblivion and in four episodes of the CBS sitcom, How I Met Your Mother, from 2007 to 2014. She appeared in the feature film All Roads Lead Home as Natasha and in the series Out of Jimmy's Head (Episode: "Princess"), both in 2008.
The following year, April portrayed Mia in the movie, The Slammin' Salmon and Asley in the "Bachelorette" episode of the American sitcom version of the Australian TV comedy series Kath & Kim. From 2009 to 2014, the model-turned-actor played the main role in Drop Dead Diva, featuring in 78 episodes as Stacy Barrett.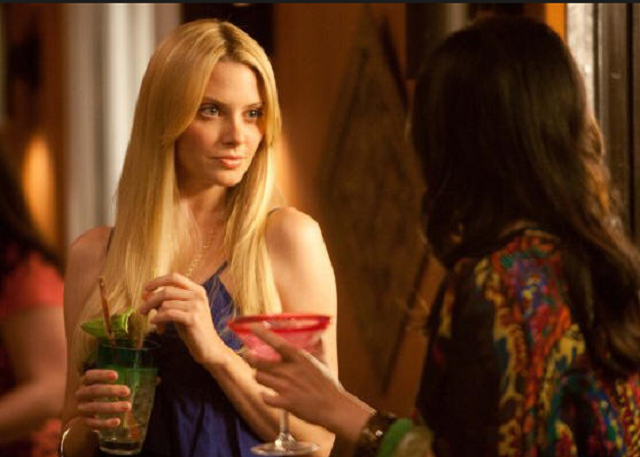 Miss Bowlby has appeared in a number of movies, television series, and television films from 2010 to date. These include  CSI: Crime Scene Investigation (2010) Psych (2010), From Prada to Nada (2011), Mom (2015), You're the Worst (2015) Married by Christmas (2016), Marriage of Lies (2016), The Engagement Clause (2016), A Mother's Crime (2017), and The Big Bang Theory (2017).
In 2018, the Drop Dead Diva actress starred in the television films The Wrong Daughter and Homecoming Revenge, portraying the roles of Ms. Hanson and Isabelle Wagner respectively.
She currently plays the role of Rita Farr / Elasti-Girl in the web television show, Titans and its spin-off, Doom Patrol which will debut on February 15, 2019.
Is April Bowlby Dead or Alive?
Being a celebrity entails a lot of things among which is staying ready for whatever each day throws at you – good or bad. Just like many other celebs, April has been a victim of death hoax.
The news of her death was spread in December 2018, instigated by a Facebook page that said "R.I.P April Bowlby." As expected, it caught many people's attention and consequently earned many likes. Also, a message which claimed that April passed on at 11 am on Thursday 6th December 2018, was added in the "About" page.
The message ended by urging readers to show their condolences and sympathy by liking and commenting on that page and some of her fans who believed the news obeyed. However, some others who did not believe it, knowing it was fake news, refuted them, saying if it were true, the news would have been carried by popular credible media houses.
On December 7, 2018, April Bowlby's representatives calmed her fans by saying that the actress was well and full of life.
What Is Her Net Worth?
April Bowlby has been in the acting business for more than a decade and has been quite successful. Although there is no public record of how much she received for the roles she has played, her net worth is estimated to be about $2 million. We are certain that the beautiful, talented actress will add more digits to this figure from her future endeavours.
She Keeps Her Family Away From The Media
Some celebrities would rather keep their loved ones and everything about them away from the public in order to save them the unnecessary troubles that often come with being associated with someone in the spotlight. This is the case with April. She separates her personal life as much as possible from her working life and as such, there is no single available information about her parents or if she has any siblings.
Body Measurements
The blonde, blue-eyed actress is one of the most beautiful women in Hollywood. She has a slim body build, stands at a height of 5 feet 9 inches and weighs 54 kilograms. Her bust, waist and hips measure 36-24-35 respectively.