April Rolfe (born 2nd of December 1984; Age: 38 years old) is an American producer, editor, production assistant, and artist who is popular as the wife of James Rolfe.
April's husband is a globally recognized figure who has gained wide attention for creating the popular web television series Angry Video Game Nerd and Angry Video Game Nerd: The Movie, which critiques video games. He is equally known for his board games and classic horror film reviews, with his YouTube channels attracting over 3 million subscribers alongside combined total views that are more than 1.4 billion. However, there is a lot to learn about his significant half, April Rolfe, who has played a predominant role in his career and still holds their family of four together.
Summary of April Rolfe's Biography
Full name: April Chmura Rolfe
Gender: Female
Date of birth: 2nd of December 1984
April Rolfe's Age: 38 years old
Ethnicity: Caucasian
Nationality: American
Zodiac Sign: Saggitarius
Sexual Orientation: straight
Marital Status: married
April Rolfe's Husband: James Rolfe
April Rolfe's Children: two daughters
April Rolfe's Parents: Mr. and Mrs. Chmura
April Rolfe's Height in Inches: 5 feet 7
April Rolfe's Height in Centimetres: 170
April Rolfe's Weight: 62 kg
April Rolfe's Net worth: $500k
Famous for: James Rolfe's wife
April Rolfe's Instagram: @aprilrolfe
April Rolfe's Bio
April Rolfe has not revealed much of her private life details to the public as the information regarding her place of birth, parents, siblings, and childhood are not yet available on the media. It is known, however, that she was born as April L. Chmura on 2nd December 1984, with her husband being four years older than her as he was born on 10th July 1980 in Haddonfield, New Jersey, United States.
Her Career Achievements
The gorgeous wife of the famous internet personality James Rolfe was first recognized for her work as a production assistant in the 2005 short horror video titled, The Deader the Better, which is the story of two men working at a cemetery who have to face the horde of zombies that rise out of the ground every night. The short video was written and directed by James Rolfe and featured David Francis, Jason Goodrich, Steven J. Waszky, and others.
In the following year, she worked as the assistant camera for two episodes of the comedy/talk show TV series, The Angry Video Game Nerd, created by her husband, James Rolfe. The series clinched the Best Online Video Web Series Award at the 2009 edition of Mashable Open Web Awards as well as the Gold Creator Award during the YouTube Creator Awards.
Then in 2014, April Rolfe gained prominence for the significant roles she played in a good number of her husband's works which include serving as the production coordinator of the 2014 comedy/sci-fi movie Angry Video Game Nerd: The Movie, starring James Rolfe, Jeremy Suarez, Sarah Glendening, Bobby Reed, and several others.
April was further cast among the extras of the same comedy/sci-fi movie that was written and directed by Kevin Finn and James Rolfe. In addition to her works, the skillful wife of James Rolfe equally depicted her versatility by working as the executive producer of the Angry Video Game Nerd: The Movie. She was also featured in the 2011 short comedy video titled Michelangelo's Pizza Taste Test alongside Mike Matei, Stephanie Yuhas, Lee Rosenfeldt, and James Rolfe.
Following her works in the Angry Video Game Nerd, April Rolfe has gone on to cite some of her favorite episodes, which include Christmas Carol Part 2, Bugs Bunny's Birthday Blowout, Game Glitches, Indiana Jones, Christmas Special 2010, Ninja Gaiden & R. O. B the Robot, Nintendo World Champions, Batman Part 2, among several others.
April Rolfe's Net Worth
April Rolfe has carried out amazing works, which, of course, have earned her a fortune. However, her financial value is not publicly known, unsurprisingly, as she is very secretive. Nevertheless, judging from her husband's $600 thousand, April is far from penury.
See Also: Jennifer Connelly – Bio, Wiki, Age, Net Worth, Facts About Paul Bettany Wife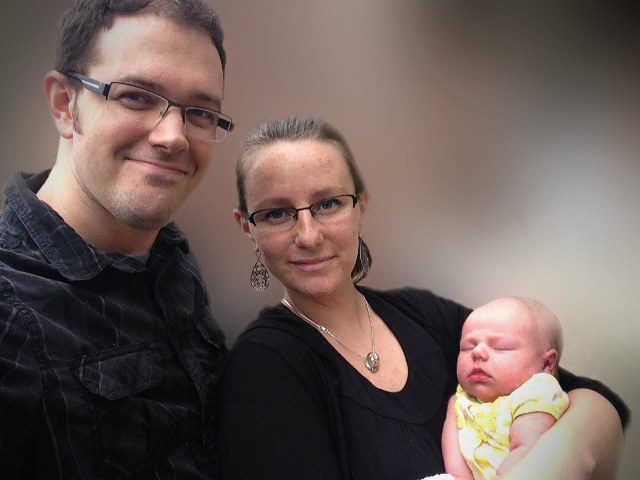 April Rolfe's Family
April Rolfe got acquainted with her now-husband, James Rolfe, in July 2004. Soon after, the pair kicked off a romantic affair which eventually led to the solemnization of the union in November 2007. Later in November 2012, when April was pregnant with her first child, her husband publicized it during the premiere trailer of Angry Video Game Nerd: The Movie. Then in the following year, the couple welcomed their first daughter.
Later on, they revealed that April had complications during childbirth as her daughter suffered nerve damage in one of her arms, for which they sought continual medical treatment that lasted for many months. Fortunately, she has now gained full use of her arm. In April 2017, James Rolfe announced that they were expecting the arrival of their second child, and a few months later, April Rolfe gave birth to their second daughter in August 2017.