Many married or engaged Kenyan public figures, particularly men, no matter how much they trade-off at home to ensure long-standing marriage or relationship — would rather become dead than be seen in public with their partners! While most of them prefer the love that dare not speak its name outside their homes, these couples have over the years, proven that true love knows how to speak its name way beyond boundaries.
These few free-spirited couples below are charmingly ready to express even their slightest affection toward their partners in public places. They have had no problem letting the public know that their love is ever surviving. In return, their fans often regard them as stunning, joyful, happy, among other praiseworthy descriptions. However, the big question is: Does public demonstration of affection prove that they are the happiest and most romantic couples in Kenya? Well, below are Kenya's 10 most publicly romantic couples.
10. Phillip and Agnes Murgor
This couple are just what can be referred to as a 'power law couple'. During the time Justice Murgor was in the firm which she established and Phillip joined her later to form Murgor&Murgor, her hubby disclosed she handled completely different roles so the question of crossing paths did not come up. Justice Agnes Murgor and her Wildlife Direct chair and 'learned friend' husband Philip Murgor, are occasionally seen at expensive get-togethers posing to the cameras for photos.
9. Michael Ranneberger and Ruth Konchellah
Former US ambassador to Kenya, Michael Ranneberger met his wife Ruth Konchellah, a charity worker while on an official duty in Trans Mara in the early days of his tenure. They later got married in a low-key civil ceremony at the Attorney General's office in Nairobi in 2013. The couple has since been seen in public places including an Italian restaurant in the CBD and driving around in a silver Subaru Imprezza. Despite his social status, Michael has always brought it to the notice of the public how much he adores and respects his wife as can be seen in his words below:
"While attending a women's rights event in a small village of Enoosen in Trans Mara, I was impressed by the way she talked on behalf of women. I took notice. On a personal level, I have been fortunate to become a king to a certain lady, and she became a queen to me. That, to me, is a very fulfilling experience…."
Konchellah went further to confirm in an interview earlier this year that she and Ranneberger were partners.
8. Isaac Mwaura and Nelius Rwamba
Isaac Mwaura really caught the attention he needed when he posted photos of himself bent on one knee as his now fiancée, Nelius Rwamba, looked on overwhelmed by surprise. ODM nominated MP, Isaac Mwaura even went public in his engagement as he knelt before down at a public event to put the ring on Nelius' finger (and guess what? She said yes!).
See Also: 120 Romantic Love Text Messages For Him Or Her
7. Catherine Ndereba and Anthony Maina
Catherine, a Kenyan marathon runner met her better half, Anthony Maina at the training college for prison workers where Maina was part of the prisons athletics team. Though she is a successful woman, she never disregards her husband; even when her hubby was a mere corporal and she was already cruising through the high waters of senior sergeant. She could have easily demonstrated her seniority over him but she chose to remain humble. As luck would have it, her husband didn't have to salute her that often because Maina worked in prison department headquarters while Catherine was a telephone operator at the Nairobi West prison. Anthony who is now a helicopter pilot is said to be training with his special woman whenever he is high up in the sky doing his job. The couple also jog and workout together.
6. Collins and Chebet Injera
Apart from playing rugby, Collins Injera is a family man. The rugby player is always saying good things about his wife, Chebet Limo. He even graced the cover of Drum magazine with his wife and kids in which spoke wonderful things about his wife. Earlier in the year, Collins missed the fifth round of the HSBC Rugby Sevens World Series. The Kenya Sevens Rugby deputy captain came back to be by his wife's side as they were expecting their second child. Collins is definitely a strong believer of love that speaks its name publicly as he often flaunts photos of his wife and two daughters on social media pages describing them as "the people I work for".
5. Prof Ngugi wa Thiong'o and Njeeri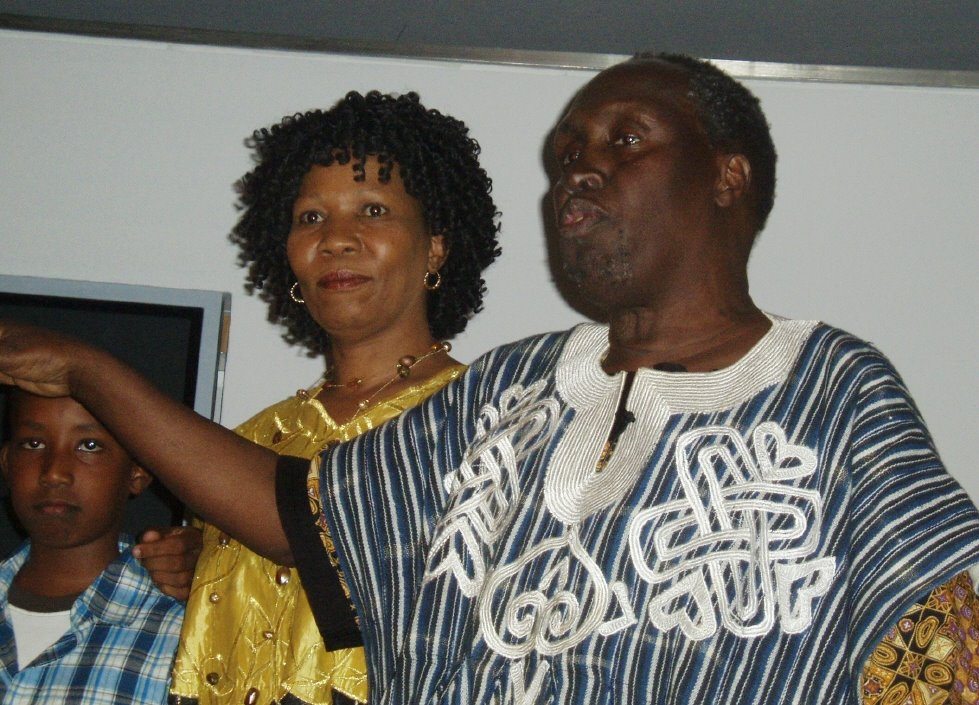 Njeeri Ngugi and her husband Prof Ngugi wa Thiong'o are always seen together. The writer who returned home in 2004 after 22 years in exile, went through a harrowing ordeal they didn't anticipate they would go through, but even in the midst of the harrowing challenge, they were there for each other. The ordeal involved an attack by four gunmen who stripped his wife of all the cash she had, took her wedding ring and even tried to rape her. The Kenyan media was abuzz with the news of their attackers succeeding in raping his wife. However, they still stood by each other's sides and later addressd a conference telling the whole truth about the attack.
4. Mwai and Lucy Kibaki
During the first term of the Retired President Mwai Kibaki as Kenya's third president, there were several unscripted soap operas starring his temperamental wife, Lucy Kibaki in the lead role. Kenyans still remember how the livid retired President Kibaki, in a live TV address, emphasised that he only has 'one family'. Speculation had been rife that a certain 'Narc activist' was his second wife.
Of course you can recall Kibaki calling a special press conference in March 2009 to let the country (then reeling under inflation, bad roads and joblessness) know that he had only one wife. This was happening right after media speculation of current Othaya MP, Mary Wambui being his second wife. Flanked by Lucy and senior government officials, an obviously disturbed Kibaki said: "I want to make it very clear that I have only one dear wife, Lucy, who's here, and I do not have any other." The couple has been spotted numerous times demonstrating their affection publicly.
3. Dr Alfred Mutua and Lilian Ng'ang'a
Dr Alfred Mutua is what many women will describe as handsome and eloquent. Early this last year, the Machakos Governor posted a photograph of him and Miss Lilian Ng'ang'a, the County's 'First Lady'. However, reports revealed he was previously married to Dr Josephine Thitu, and was reported to have divorced her leaving nothing to her name but devastation.
2. Ababu Namwamba and Priscah Mwaro
The couple have always showed off their love on social media. He posted a photo of himself and wifey Priscah Mwaro on a plane on May 5. Afterwards, Priscah returned the favor on arrival and posted a photo praising God for journey mercies. He also posted a picture of himself and his wife all mushy in Iceland. But when the Budalangi MP recently posted photos of him and wife Priscah Mwaro in Iceland (of all places) different opinions were sharply raised. To his male counterparts, Ababu was under pressure to prove something. They therefore criticised his action and even went to the extent of describing him as 'un-African'. Women, on the other hand, prayed that Ababu becomes a good example to Kenyan men who they consider unromantic. Tough luck!
Either way, the couple are having the time of their lives. It was the first time in Kenyan history that a Kenyan MP openly shared a photo of himself and wife vacationing out of the country. And Ababu might be happy for the fuss and distraction the photos generated. The couple look better together and they have ensured that their love is ever-growing immensely by the day.
1. Rev Allan and Kathy Kiuna
Without doubt, this couple is one of the most admired in Kenya. Many believe they are the most elegant, fashionable and flamboyant middle-aged preachers in the nation. They are popular and much admired due to their very public relationship, especially when they are not ministering at the Jubilee Christian Church. Rev Kiuna revealed on KTN's Cross Over programme that he has saved his wife's number as 'Baby' while she saved him as 'Honey Bunch'. Like in a fairy-tale, their love knows no boundary. They always pose for the camera together and have several images together. Believe it or not, they are quite the photogenic couple. They have graced different magazine covers, True Love inclusive.
Kathy has indeed become a role-model for the young, saved and upwardly mobile women in Nairobi who attend her "Woman Without Limits" sessions. Alan on the other hand, is a sheer charismatic and evangelical preacher who gives out all the energy on the pulpit.