California native Armie Hammer may be one of the lesser-known names in Hollywood, but not for much longer. He is a fast-rising star with the resume to prove it. With appearances in movies such as The Lone Ranger, The Social Network, and the four-time Oscar-nominated film, Call Me By Your Name, Hammer is slowly but steadily building his career to A-list status.
The smoldering actor has gradually increased his popularity and with his acting skills, we believe that he'll be on his way to the Oscars or the Emmys in no time.
Armie Hammer's Background
Armand Douglas Hammer was born on the 28th of August 1986. The first of two children, he was born in Los Angeles, California and from the age of seven was raised in the Cayman Islands, where the family moved to and remained for five years.
Coming from a family who influenced the success of one of California's most lucrative oil companies, his upbringing was a very privileged one. His great grandfather was oil tycoon and philanthropist, Armand Hammer. Armie Hammer and his younger brother Viktor were named after their paternal great grandfather Armand Hammer and his brother Viktor. The family is of Russian and Ukranian descent.
Hammer's father founded the Grace Christian Academy in the Cayman Islands, one of the schools he attended while the family lived there. When the family moved back to the United States, he attended Los Angeles Baptist High School, and then Calvary Junior High School where he eventually dropped out from with a year left until graduation, in order to pursue acting.
Hammer's dropping out of high school greatly upset his parents who almost disowned him had he not taken college courses to appease them. He, however, did not give up on his dreams of becoming an actor and continued to audition for film roles.
His first onscreen appearance came in 2005 as an unnamed extra in an episode of the TV series Arrested Development. In the upcoming years, he appeared in small roles in both television and film. In 2010, he played the characters of the famous Winklevoss twins in the movie adaptation of the creation of social media app Facebook, titled The Social Network.
Due to the movie's popularity and critical acclaim, Hammer by association gained recognition and began to be considered for more significant roles. His filmography from then on, looked much better on paper and the actor was definitely basking in his new found popularity. In an interview, the actor revealed that even his parents began to grudgingly accept their son's career of choice.
From J. Edgar (2011), to The Man from U.N.C.L.E. (2015), to Lone Ranger (2013), and Call Me By Your Name (2017), Hammer was beginning to be cast alongside A-list celebs the likes of Johnny Depp, Leonardo DiCaprio, Dame Judy Dench, Naomi Watts, Julia Roberts, Henry Cavill and many more.
Met His Wife and Kids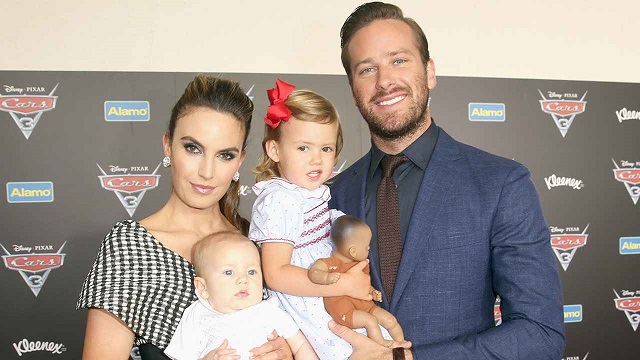 Armie Hammer has since 2010 been married to former model, actress, and TV personality Elizabeth Chambers. The couple initially met in 2006 on a planned adventure trip with mutual friends. Hammer claims it was love, at first sight, seeing Elizabeth, but luck was not on his side as she was in a relationship at the time. The pair remained friends for nearly two years until Hammer threw all caution to the wind and asked Chambers to leave her boyfriend for him. He planned and executed an elaborate speech on the matter, leaving Chambers with no option but to oblige and the duo was married two years later.
The couple welcomed their first child after six years of marriage. Harper Grace Hammer was born in 2016, with brother Ford Armand Douglas Hammer following two years later in 2018. The family lives in Los Angeles, California where Hammer and Chambers co-own Bird Bakery, which currently has two store locations in Dallas and San Antonio, Texas.
Is Armie Hammer A Twin?
After the movie, The Social Network hit theaters, many fans who didn't originally know Hammer assumed he had a twin. The reason for this being that the actor played the characters of both Tyler and Cameron Winklevoss in the film, the real-life identical twins who claimed that Mark Zuckerberg stole the idea for Facebook from them.
Director for the film, David Fincher, had a hard time finding two actors who fit the height and build of the twins and gave up after four weeks of trying. He decided it would be easier to just find one person who fit the description and have him play both roles. He found that person in Armie Hammer and filming began.
In scenes where the twins appear side by side, Fincher had another actor stand-in for filming, and then in post-production, Hammer's face was superimposed on the head of the other actor's body. Hammer worked twice as hard to achieve both roles and it made for movie magic. He was rewarded with the Toronto Film Critics Association Awards for Best Supporting Actor.
Is He Gay?
This wouldn't be the first time that the general public has raised speculations on details about an actor's life and sexuality based on a role he played in a movie.
In 2017, Armie Hammer starred as the lead in the Luca Guadgnino directed film, Call Me By Your Name. The film was set in 1983 Italy and centers around the homosexual relationship between a 17-year-old boy and his father's 24-year-old student, who was played by Hammer.
The Oscar-winning film received critical acclaim and was, amongst many other achievements, selected by the American Film Institute as one of the top ten films of that year. Hammer's perfect portrayal of the character gave rise to the rumors but we can assure you that he is far from being attracted to members of his own sex.
His family is wealthy but he is building his net worth
In stark contrast to his great grandfather's $800 million net worth, Armie Hammer is worth only $16 million. He is, however, very proud of the figure because he claims it's all from the sweat of his brow and not as a result of a trust fund from his family.
Hammer, who grew up immersed in great wealth, revealed that even though his family lived in the most amazing places and drove the most amazing cars, his mother still taught him and his brother to be humble and economical.
Well, his mother's lessons stuck as the actor claims that he lives well within his means and isn't one to spend money on extravagances. He also stated that he would rather give his children a stick and something to bang it on than buy them expensive toys. 
Height
Armie Hammer, who looks more like a model than an actor, stands at 6 feet 5 inches (1.96 m). He towers above most of his Hollywood co-stars and joins the likes of Magic Mike's Joe Manganiello, Dwyane Johnson, Josh Duhamel and Borat star Sacha Baron Cohen in providing shade for the shorter humans.