Asha Rangappa has garnered huge fame not just as the first Indian-American to specialize in counterintelligence investigations at The Federal Bureau of Investigation (FBI), but also with her current stint as a Senior Lecturer at Yale University. Meanwhile, this gorgeous lady served as an FBI special agent for three years before exploring the educational sector. In addition, she is a divorcee and a mother of two adorable children. Here are all the facts you need to know about her including her bio, career, and family life. Read on…
Asha Rangappa – Biography
Born with the first name, Renuka, the American lawyer came into this world on the 15th day of November 1974. She was born to Indian parents, Vinaya and Jai. Her parents immigrated from Karnataka, India to the US after the establishment of the 1965's Hart-Celler Act. Asha is of Indian-American ethnic background and holds an American nationality. She grew up in the United States along with her older sister named Menaca.
Asha Rangappa is well learned, she graduated cum laude from Woodrow Wilson School of Public and international affairs, Princeton University and previously performed brilliantly at Kecoughtan High School. Upon graduation, she received a Fulbright scholarship to study constitutional reform in Bogotá, Colombia. In the year 2000, she bagged a law degree from Yale Law School. In a bid to sharpen her skills, she served as a law clerk under Honorable Juan R. Torruella on the U.S. Court of Appeals for the First Circuit in San Juan, Puerto Rico.
Career
Starting her career in 2001, Asha Rangappa decided to join the FBI; hence, she went on to acquire a piece of training as an FBI agent. Just a month after, she was involved in a ghastly motor accident that almost brought a halt to her career. Instead of following through her pains and treatment, she stayed put with the training and followed through all the rigorous processes involved which included several runs, situps, jumps and lots more.
She successfully made it through the academy and subsequently resumed office as an FBI special agent. Working with the Bureau, Asha became the first Indian American to specialize in counterintelligence investigations in the FBI. She carried out several investigations for which she earned praises from her superiors.
However, after three years of a successful career with the FBI, Asha Rangappa pursued a career in the education sector.  She went on to become an associate dean at Yale University Law School. From there, she joined Jackson Institute for Global Affairs where she served as the director of admissions. Also, she has lectured in a few other institutions including Yale University, Wesleyan University, and the University of New Haven.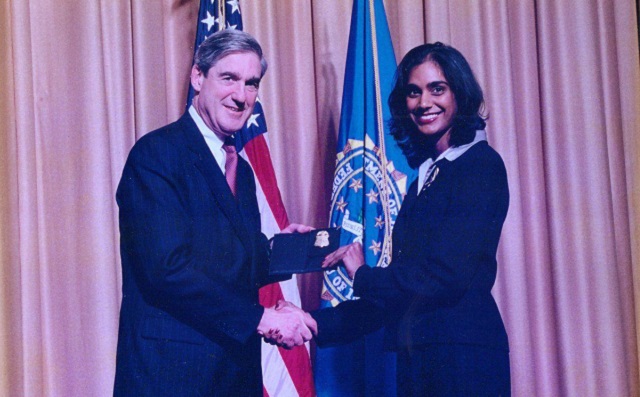 In 2003, the former FBI agent became a member of the State Bar of Connecticut as well as in New York. She also serves on the board of directors for the Connecticut Society of Former FBI agents, the South Asian Bar Association of Connecticut and the Connecticut Women's Hall of Fame.
More so, Asha Rangappa is skilled with the pen, she has published a few opinion editorial for known news houses like The New York Times, The Wall Street Journal, The Washington Post, and The Atlantic Post. She plays as an editor for Just Security and holds the position of legal and national security analyst for the known media house, CNN. Asha Rangappa has also appeared as a guest in other platforms like NPR, BBC, and much more.
See Also: Lauren Silverman, Simon Cowell Wife – Bio, Age, Wiki, Net Worth, Family
Is She Married, Who is The Husband?
When it comes to her love life, Asha Rangappa always thought love would smile at her just like it did to her parents. Nevertheless, the reverse seems to be the case. The former FBI agent has had her fair share of relationships. She was once married and now a divorcee.
From what we gathered, Asha and her mystery man got married in 2004 after a long period of courtship but subsequently terminated their vows in 2011. Following the finalization of their divorce, Asha Rangappa got the custody of their two children (a son and a daughter).
While the divorce process was ongoing, Twitter went abuzz as there were claims that her supposed mystery man was Andrew Todd; a fellow FBI Agent. Till date, Asha who had learned the tricks of being secretive as a former FBI agent has refused to reveal the identity of the man who once had her heart. She is currently not romantically involved with anyone and now, resides in Hamden Connecticut with her children.