Asha Rangappa has garnered huge fame not just as the first Indian-American to specialize in counterintelligence investigations at The Federal Bureau of Investigation (FBI), but also with her current stint as a Senior Lecturer at Yale University.
Having served as an FBI special agent for three years before exploring the educational sector, Asha is a mother of two adorable children. While she strives to maintain a normal life for her kids, her career exploits continue to drag her into the limelight in ways she cannot avoid.
Serving as a Special Agent In The New York Division of The FBI Was a Significant Beginning for Asha's Career Pursuits
Asha Rangappa is well-learned, she graduated cum laude from the Woodrow Wilson School of Public and International Affairs at Princeton University. Upon graduation, she received a Fulbright scholarship to study constitutional reform in Bogotá, Colombia. In the year 2000, she bagged a law degree from Yale Law School, and in a bid to gain some experience, she served as a law clerk under Honorable Juan R. Torruella on the U.S. Court of Appeals for the First Circuit in San Juan, Puerto Rico.
Asha Rangappa decided to join the FBI in 2001; hence she was trained as an FBI agent in Quantico, Virginia. Just a month after, she was involved in a ghastly motor accident that almost brought a halt to her career. Nonetheless, she continued with her training and became a part of the New York Division of the FBI as a special agent in 2002.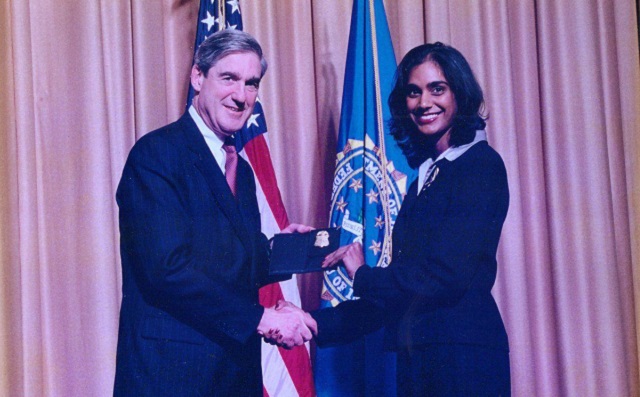 Joining the Bureau, Asha became the first Indian American to specialize in counterintelligence investigations thereof. She carried out several duties that range from assessing threats to national security to investigating people suspected to be foreign agents. She had to work undercover on some occasions to get the job done.
Asha Rangappa Left The FBI to Become a Senior Lecturer at Yale University
After three years of a successful career with the FBI, Asha Rangappa left to pursue a career in the education sector. She went on to become an associate dean at Yale University Law School. From there, she joined Jackson Institute for Global Affairs where she served as the director of admissions.
Now a senior lecturer at Yale University's Jackson Institute for Global Affairs, she has lectured in other institutions like Wesleyan University and the University of New Haven. She mainly teaches national security law and courses that are related to it.
Before she embraced a career in the education sector, the former FBI agent was already a member of the State Bar of Connecticut as well as in New York. She also serves on the board of directors for the Connecticut Society of Former FBI agents, the South Asian Bar Association of Connecticut, and the Connecticut Women's Hall of Fame.
The Ex-FBI Agent Has Also Thrived as a National Security Analyst With Multiple Media Houses
Disregarding the foregoing, Asha Rangappa is also skilled with the pen. She has published a few editorials for known news houses like The New York Times, The Wall Street Journal, The Washington Post, and The Atlantic Post.
She works as an editor for Just Security and holds the position of legal and national security analyst for the popular media house, CNN. Rangappa has also appeared as a guest on other platforms like NPR and BBC.
As a media personality, Asha has a goal that's similar to what she hopes to accomplish as a lecturer. She once described herself as someone with an eye for details as she related that she hopes to educate and help people understand complicated legal issues.
Her Parents Were Originally from Karnataka In Southwest India
Although Renuka Asha Rangappa was born in the United States on the 15th of November 1974, her parents, Vinaya and Jai, are Indians. They immigrated from Karnataka, India to the US after the establishment of the 1965's Hart-Celler Act.
She is not the only child of her parents as she has an older sister named Menaca. From what we gathered, her father was once a doctor in the U.S Army. Her mother also had a career that's related to the security of the country as she worked as a translator in the FBI. It is probably that she inspired her daughter to join the Bureau of Investigation.
According to Asha, her parents are supportive as much as they are passionate about contributing in a meaningful manner to the prosperity of the United States. She claimed that although they were a bit reluctant to embrace her decision to join the FBI, they understood the importance of serving the country as an FBI agent, especially after the 9/11 attacks.
Asha Rangappa Was Once Married to Andrew Dodd
The former FBI agent was once married but is now a divorcee. Asha got married to Andrew Dodd sometime in 2004 after a long period of courtship but the union wasn't meant to last as they parted ways in 2011.
Following the finalization of their divorce, Asha Rangappa got the custody of their two children (a son and a daughter). Much is not known about the kids as Asha is very protective of them. However, we can confirm she gave birth to her son named Paras Nikhil Dodd on the 21st of November 2006.
What brought about her divorce from Andrew Dodd is not known.
Her EX-husband Works With The FBI
Also an FBI agent, it wouldn't be out of place to conclude that Asha met Dodd while she was with the Bureau. His duty with the FBI revolves around cybercrime, counterintelligence, and counterterrorism in New Haven, Connecticut, New York City, and Washington DC.
He was part of the investigative team that clamped down on the developers and distributors of the malicious software known as the Blackshades Remote Access Tool, a trojan horse that hackers used to gain control of infected computers.
Asha Rangappa resides in Hamden, Connecticut with her children, and to the best of our knowledge, she is not romantically involved with anyone at the moment.