Love they say is a beautiful thing. The love tale between Astrid Menks and Warren Buffet is one that not many women can bear. The two lived together for over four decades before eventually tying the nuptial knot to become husband and wife. The American business magnate who is often among the top three richest men in the world, is also an investor, speaker, and philanthropist who managed to keep two women together without fuss from either Menks or his actual wife Susan. Read on to discover more about these love birds whose story is one of a kind.
Astrid Menks and Warren Buffet: How Did They Meet?
Ed Sheeran wasn't totally wrong to say that a club is not the best place to find a lover but a bar is. Warren Buffet met his now wife Astrid Menks while she worked as a waitress in a cocktail bar.  Prior to the time he met Astrid, he had been married to his first wife, Sussan Thompson since 1952. The two lived happily for a very long time before Sussan who needed to focus on her musical career took the drastic decision to leave her husband.
Meanwhile, at that same bar Astrid worked, Sussan was equally a performer there. While she performed, her now separated husband often visited the bar to watch her and it was then, he also met Astrid. There are a few claims insinuating that Sussan and Astrid have long been friends while others say that they were just colleagues.
Any which way, records have it that Sussan urged her friends to take care of her husband while she was away.  It was then, Astrid took her shot and secretly took homemade soup to the billionaire's house. Within the space of one year, she moved in with him and they became partners. Buffet subsequently began to make public appearances with her as his partner while maintaining good communication with his wife who he never officially divorced.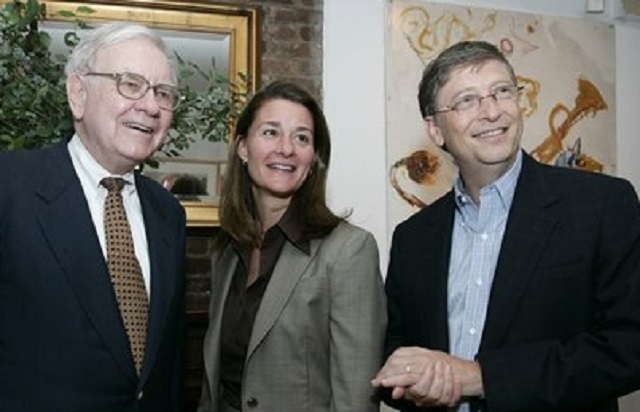 Astrid Menks and Warren Buffet lived together for over four decades before eventually getting married shortly after Sussan Thompson passed on in 2004. According to records, Warren and Sussan had a beautiful love tale despite their marriage differences. The two were said to have known themselves long before, fell in love and got married. Sussan, while she was alive, was quite familiar with the affairs of her husband as he often called her his best friend. She motivated him, a fact he does not hide when he gives her credit for all he has achieved. With Sussan, Warren has three children –  Susie, Howard, and Peter.
Their Wedding
Buffet's wedding with Menks that took place at Nebraska in 2006 became the wedding of the year. As of the time Astrid Menks and Warren Buffet tied the knot, the lady was 60 and business tycoon was 76. As aforementioned, the two have been cohabiting since the 1970s shortly after his first wife; Sussan Thompson left their home. Meanwhile, the Sussan, Astrid, and Buffet were all in understanding terms. In fact, records say that they often penned their signatures on Christmas cards every year while sending them to their friends. What the trio shared was a kind of love that knew no jealous.
Popularly known for his calmness and intellectual acumen, Buffet Warren prefers taking a chilled coke than enveloping himself with alcohol. He moves with high and mighties in the society like the likes of the Gates and the Clintons. He is a father of three children who got to meet his now wife at a bar where his late wife was a performer.
All You Need To Know
Astrid Menks may likely not to have risen to stardom if not for her patience with the business tycoon; Warren Buffett. She is Latvia born who came to be in 1946. There is a sparse of information regarding her childhood or her family background.
Astrid Menks and Warren Buffett never had a publicized issue pertaining to his late wife, Sussan Thompson. In fact, when Sussan was ill, the billionaire spent every weekend with her in San Francisco and was right beside her, the very moment she kicked the bucket.
See Also: Bill Gates Daughters, Son, (Children), Father, Height, Religion, Is He Dead?
While Sussan was alive, she often gave gratitude publicly for the gift of Astrid Menks in her home. In her words, she expressed how the now-wife of the billionaire takes care of him and his children.
Ever since Astrid Menk and Warren Buffett became an item, there haven't been any controversies about them. Apart from his kids with Sussan, he has none with his second wife.