Atiku Abubakar is notable for having a large family with five wives and over twenty children. His first wife, Amina Titi Atiku Abubakar, is from Osun State, and they have four children together. His second wife is Ladi Atiku Abubakar, and they have six children. 
His third marriage was to the daughter of the late Lamido of Adamawa, Princes Rukaiyatu Atiku Abubakar, and with her, he has seven children. His fourth wife, Fatima Atiku Abubakar, allegedly has six children but has done well to stay out of the limelight. For his fifth marriage, he divorced his estranged second wife, Ladi, to marry Jennifer Iwenjora, an Anambra native with whom he has three children. His last and final wife is allegedly a native of Morocco. The most remarkable thing about Atiku's five wives is that they are from different regions of Nigeria and beyond.
Atiku's First Wife Is Amina Titi Atiku Abubakar
Because her family was initially opposed to the union, Atiku Abubakar married Amina Titi Atiku Abubakar secretly at the age of 25 in December 1971 at the Ikoyi register in Lagos.
She is a proponent of women's and children's rights, the founder of the Women Trafficking and Child Labour Eradication Foundation (WOTCLEF). Amina is also notable as the author of the private bill that resulted in the creation of the National Agency for the Prohibition of Trafficking in Persons (NAPTIP).
With regards to her background facts, Titi Amina Atiku Abubakar was born into a Christian household in Ilesa, Osun State, to the Albert family. Her primary and secondary education was received at a Roman Catholic-run missionary school. When she married Atiku Abubakar, she went on to complete her education at the Kaduna Polytechnic.
Later on, she landed a teaching job at the Kaduna State Polytechnic in Nigeria. In pursuit of more educational qualifications, she went to Rome to study in the mid-1980s and during her stay there, she observed several Nigerian girls on the street. After more investigation, she discovered that the majority of the girls prostitute for their madams, who frequently do not pay them. This kickstarted her very famous NGO.
Titi is regarded as the "official wife" of Atiku Abubakar and was recognized as the second lady of the federation while he was vice president. Its also known that her union with the former vice president produced four children:
Fatima Abubakar
Adamu Abubakar
Halima Abubakar
Aminu Abubakar
Ladi Atiku Abubakar Became Atiku's Second Wife In 1979
In January 1979, Atiku married his second wife, Ladi Atiku Abubakar. Not much is known about her as she is not one who loves to flaunt her life nor was she in the spotlight when Atiku married her. Unfortunately, the couple divorced but the reason for the annulment of their marriage was never publicized.
Before the union met its untimely end, the pair had 6 children together. They are:
Abba Abubakar
Atiku Abubakar
Zainab Abubakar
Ummi Abubakar
Mariam Abubakar
Rukayatu Abubakar
His Third Marriage Was To Princess Rukaiyatu Atiku Abubakar 
Atiku got married to his third wife, Princess Rukaiyatu Atiku Abubakar, daughter of the late Lamido of Adamawa in 1983. Rukaiyatu comes from one of the most influential families in Northern Nigeria and she is well educated.
The politician's marriage with Princess Rukaiyat has produced 7 children. They are:
Aisha Abubakar
Hadiza Abubakar
Aliyu Abubakar
Asmau Abubakar
Mustafa Abubakar
Laila Abubakar
Abdulsalaam Abubakar
Atiku's Fourth Marriage Was To Fatima Atiku Abubakar
The renowned politician got married to Fatima Atiku Abubakar in 1986. However, even though she is married to a notable politician, Fatima is hardly seen in political circles. Their union is blessed with 6 children and they are:
Amina Abubakar
Mohammed Abubakar
Ahmed and Shehu Abubakar (set of twins)
Aisha and Zainab Abubakar (set of twins)
Atiku's 5th Marriage Was To Jennifer Iwenjora Douglas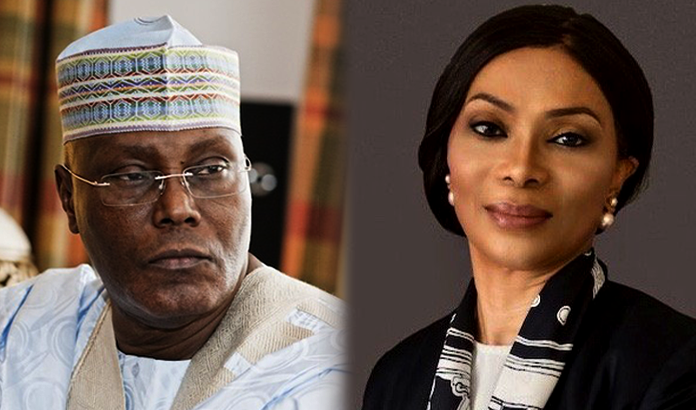 Atiku allegedly divorced his erstwhile 2nd wife, Ladi, to marry Jennifer Iwenjora, who later became Jamila Atiku-Abubakar, and adopted the position as his 4th wife. Many people were unaware that Atiku Abubakar has an Igbo wife, however, Jennifer is Igbo and she was born in the city of Onitsha in the state of Anambra. She used to work for NTA (Nigeria Television Authority) as a reporter. Jennifer Iwenjora is also known to have studied law in Washington, D.C., in the United States, and currently, she is a lawyer in Abuja, where she practices private law.
Hajia Jamila has 3 children with Atiku Abubakar and they are:
Abdulmalik Abubakar
Zahra Abubakar
Faisal Abubakar
His Last Wife Is Of Moroccan Origin
According to rumors, Atiku Abubakar is separated from Jamilah Jennifer Douglas, ending a relationship that was the envy of many. He has moved on to more fertile grounds in the form of a belle from Morocco. It is also believed that he shares a son with the Moroccan lady but the news has not been confirmed by the politician yet.
Are Atiku Abubakar's Children Public Figures?
With such a large clan, it is only natural for Atiku's children to draw a lot of attention to themselves in the public arena. Fatima, Atiku's eldest daughter, works for the Ministry of Health as an Honourable Commissioner. She holds a Bachelor's degree in Obstetrics, Surgery, and Medicine from the University of Dublin, as well as a Master's degree in Public Health from Imperial College in London. She also has a postgraduate diploma in Tropical Medicine and Hygiene.
Aminu, Atiku's son, is well known as a result of his well-publicized custody fight with his ex-wife over the past few years. After marrying in 2007, Aminu Atiku Abubakar and his wife lived together until 2011, had two children, and subsequently divorced. They've been fighting in court for the custody of their children for the past few years, with Aminu on the losing side. The fight, though, is still going on.
More so, several of Atiku's other children are well-known for their opulent weddings. A few years ago, the politician cum businessman gave out 3 of his daughters in marriage on the same day. Walida married Murtala, Aisha married Bamanga, and Asmau married Jameel on November 13, 2015. As at the time of her wedding, Asmau had bagged a Master's degree in Education and a Bachelor's degree in Business Administration.
The wedding of Abba (Atiku Abubakar's son) and Mariana Saleeby-Velilla in 2014 was also stunning, with both of them wearing elegant gowns appropriate for princes and princesses. He married in the same year as his brother Shehu. On November 19, 2016, their sister Rukaiya married Colonel Sani's son, Aminu Sani Bello, in a spectacular wedding ceremony.
A good number of Abubakar's sons have also followed in his footsteps, as some of them are businessmen. For example, Aliyu Atiku, the Executive Director of Priam Group, is a graduate of the American University of Nigeria. His brother, Mustapha, is the Vice Chairman of the Board of Haynes-Worth International and holds a bachelor's degree in Law from City University in London. Adama Beverages' General Manager happens to be Atiku's son, Mohammed. Atiku Jr. also appears to be working in the fashion industry, albeit in a more creative capacity.
Scandals Involving Atiku Abubakar's Family
The Financial Crimes Enforcement Network (FinCEN), a division of the US Department of Treasury, placed Atiku Abubakar, together with his family members, under strict scrutiny for possible financial crimes. FinCEN highlighted several transactions linked to the senior lawmaker as questionable as it monitored money flows throughout the international financial system, according to fresh discoveries revealed by Premium Times.
Furthermore, the US Senate Permanent Subcommittee on Investigations indicted GTCN, along with other corporations connected to Atiku and Mr. Volpi, in 2010. The committee looked into how "foreign top political officials, their relatives, and allies may be evading or undermining anti-money laundering (AML) and PEP restrictions to move cash into the United States that are potentially the product of overseas corruption. About $25 million was purportedly wire-transferred into more than 30 U.S. bank accounts formed by Jennifer Atiku's 4th wife.
More so, the Atiku family woes include the fact that one of the sons of the politician, Aminu, has been embroiled in a bitter divorce and custody battle with his ex-wife. Their courtroom battles have been the subject of many newspaper headlines.
The former Nigerian vice president has gone on to discuss why he chose polygamy as a young man in his book titled Atiku – The Story Of Atiku Abubakar. The politician stated that he wanted to add to the Abubakar clan. As a child, he was incredibly lonely because he had neither a brother nor a sister. He didn't want his children to be as lonely as he was which is why he married multiple women. Moreover, the renowned Nigerian politician sees his women, as his sisters, friends, and advisers – they generally complement each other.