Audrey Geisel rose to prominence as the wife of the well-celebrated children's book author – Dr. Seuss. Not the type to live on the fringes, Audrey lived her life with gusto, pursued her passions and owned her mistakes. In her later years, she became a film producer amongst other things and facilitated the expansion and commercialization of her late husband's empire, driving his legacy to heights unimaginable.
Life And Death Of Audrey Geisel
The American film producer was born Audrey Grace Florine Stone in Chicago, Illinois on the 14th of August 1921. Her father, Norman Alfred Stone, was a singer and dancer who left the family early to pursue his dreams. Audrey was then left to be raised by her mother, Ruth Stone, who relocated to New York somewhere around Queen's. Her mother decided to move into a nurse dormitory to save money while Audrey was just 5 years old, she was then sent to live with her mother's friend in New Rochelle, New York for five years. The rest of Audrey Geisel's childhood was spent in different places.
At the age of  21, Audrey decided to pursue a career in nursing and enrolled at Indiana University where she met a young pre-med student, E. Grey Dimond, whom she ended up marrying. The couple had two daughters, Lark and Leagrey, together. During their marriage, Dimond rose to become the dean of cardiology at the University of Kansas.
In 1960, the family moved to La Jolla in San Diego where they met and became friends with the Geisels – Helen and Theodor Seuss Geisel. Due to Helen Geisel's sickness, which left her bedridden for several years, Audrey and Theodor began an affair. While it is uncertain if Audrey's husband ever got wind of their affair, Theodor's wife, Helen, did and it compounded her pain and prompted her to end her life tragically by committing suicide.
After Helen's tragic death, Audrey saw no reason to continue to live a lie, she promptly divorced her husband and married Theodore on the 21st of June 1968. Their relationship has been able to thrive despite its unorthodox start. In a series of interviews, Audrey has revealed that she has no regret about her life because the life she had with Theodore was what she wanted it to be.
When her husband was about to pass away, he charged her to take care of his creations and she has done so diligently. She has not only preserved but has expanded his legacy.
At the age of 97, Audrey died in their home at La Jolla, San Diego on the 19th of December 2018.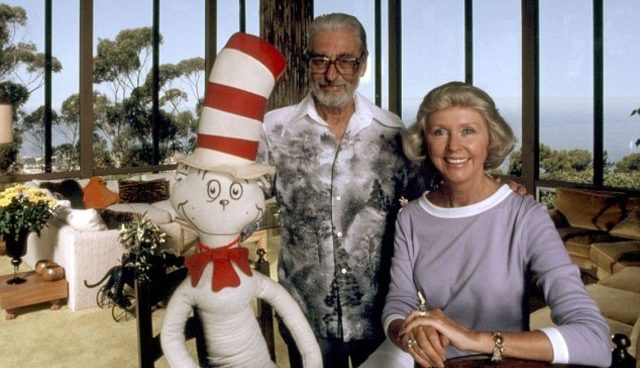 Facts About Dr. Seuss' Wife – Audrey Geisel
She Initially thought Dr. Seuss Was A Medical Doctor
When she first met Dr. Seuss and they were introduced, she had never heard of him and thought he was a medical doctor.
Audrey has admitted that she isn't very maternal. She revealed that she had too many things she wanted to do with her life. This was one of the reasons she decided to send her daughters – who were aged nine and fourteen at the time of her second marriage – to boarding school. In her later years, she apologized to them for not being the best of mothers and tried to work on a relationship with them; especially after the death of Dr. Seuss, who ironically wasn't very fond of children.
Audrey Geisel As A Producer
Despite having a medical background, Audrey was interested in several other things and film making was one of them. Although she didn't begin this career until later in her life, she earned a Primetime Emmy Nomination for her work in Daisy-Head Mayzie (1995). She was known for works like Horton Hears a Who! (2008), The Lorax (2012) and The Grinch (2018).
Protecting Her Husband's Legacy
After her husband's death, Audrey made it her life's job to protect his legacy. She worked tirelessly to protect and promote his lucrative literary estate. With sales of over ten million books each year, she promoted a successful multimedia brand, several successful film adaptations and created the Dr. Seuss Enterprises.
Audrey Geisel was very disappointed in the 2003 adaptation of The Cat in the Hat that she refused to allow an adaptation of her husband's books into live-action films again.
Read Also: Who Are Monica Bellucci's Husband And Children, How Much Is She Worth?
Before the death of her husband, they became known for their extensive philanthropic endeavours. In recognition of their many years of generosity towards them, Dartmouth college renamed their medical school 'The Audrey and Theodor Geisel School of Medicine on the 4th of April 2012.
In 2015, Audrey donated $3 million to renovate the library that was named after her husband. She also gave thousands of her husband's drawings and $20 million to the University of California, San Diego. She devoted herself and time to supporting various charitable organizations before her death.