Avan Jogia is one of Hollywood's fastest rising stars. The Canadian-born actor, singer, and director has featured in several movies and TV series but is best known for his role as Beck Oliver in the Nickelodeon sitcom "Victorious" as well as his portrayal of a juvenile murderer in the ABC television mystery/thriller series "Twisted". Avan Jogia is much more than just an actor, he is also an activist and promotes youths and equality rights.
Avan Jogia Biography & Ethnicity
Avan Jogia was born Avan Tudor Jogia on the 9th of February, 1992 in Vancouver, British Columbia, Canada. The dashing actor spent most of his childhood days in Killarney, Vancouver where he had his education. He attended Killarney Secondary School as well as King George Secondary School. At the age of 16, Avan made a bold and courageous decision to leave school and focus on his acting full time. He is a mix of several ethnicities including Gujrati, English, Greman, and Welsh. He has a dual British-Canadian nationality.
Career
Due to his good looks and talent, Avan Jogia decided to pursue acting, a decision fully supported by his parents. His first role was in the 2006 biopic Gwen Araujo: A Girl Like Me where he played the role of Danny Araujo, the younger brother of the protagonist, Gwen Araujo, a transgender woman. After that, he also appeared in the TV sitcom Aliens in America (2007) as well as the Canadian horror movie Devil's Diary (2007). He also went on to appear in two other movies – Gym Teacher (2008) and Spectacular (2009).
In 2009, Avan Jogia made the bold decision to leave school for Los Angeles, California to pursue his acting career. He agreed with his parents that if he did not land any role during that period, he would return to Canada and continue his schooling. He got a role in the TV series Caprica that same year.
Avan's big break came in the 2009 Nickelodeon TV program Victorious where he starred alongside the likes of Ariana Grande, Victoria Justice, Elizabeth Gilles etc. The series lasted for four seasons, up until 2013 and Avan featured in all 4 seasons. While the series lasted, he appeared in several films including Triple Dog (2010), Finding Hope Now (2010) and Rags (2012). He also starred in and directed a short film titled Alex in 2011.
In 2012, the Vancouver native landed the lead role in the ABC family thriller series Twisted where he played Danny Desai, a juvenile murderer. The show which aired in 2013 lasted for one season.
Since then, Avan Jogia has never looked back. He has featured in numerous movies and TV series some of which include Tut (2015), Ten Thousand Saints (2015), I am Michael (2015), The Drowning (2016), The Outcasts (2017), The Year Of The Spectacular Men (2017) and Ghost Wars (2017). He is also scheduled to feature in several other movies which are set to drop in 2018/2019. They include Paper Year, The New Romantic and Shaft.
Details Of His Parents
Avan Jogia's father is a British-Indian expatriate by the name, Mike Jogia while his mother, Wendy Jogia is of British-German descent. Avan has an older brother who goes by the name Ketan and banks as a London based music producer. Apparently, both siblings have much love for the entertainment industry, unlike their parents.
Who Is Avan Jogia's Girlfriend?
Avan Jogia has had a very colorful love life as we have gathered. He has been linked to several of his co-stars such as Ariana Granade, Keke Palmer, Daniella Monet, Liz Gillies. However, a closer look at some of these claims would show that they are either exaggerated or just rumors.
Miley Cyrus is also among the Hollywood beauties Avan has been romantically linked to. The two were said to be dating after they were spotted sharing a kiss on Miley's 18th birthday. However, this was never confirmed but remains a rumor.
He is currently dating Cleopatra Coleman, an actress that has featured on soaps like Neighbours where Chris Hemsworth started his career. Prior to Cleopatra Coleman, the one true relationship Avan Jogia had been involved in was with fellow Hollywood star Zoey Deutch. The pair was one of the most famous young couples in Hollywood. They dated for 5 years (2011 to 2016), they, however, broke up in 2016 though their split was an amicable one.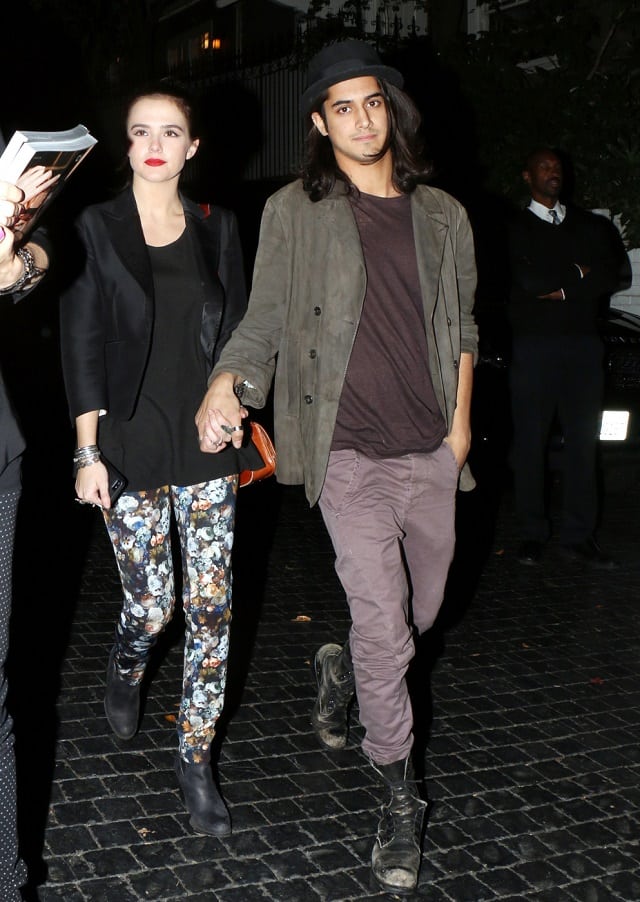 Avan has also been rumored to be in a relationship with his co-star and very good friend Victoria Justice but they have both denied this. Following his split from Zoey Deutch, the relationship rumors started again after Avan posted an Instagram picture of Victoria kissing him. However, nothing has been confirmed at this point. It is safe to conclude that at present, Avan Jogia is not in any relationship.
Activism
Avan Jogia is not just another handsome face in Hollywood. He is also an activist and speaks up for the causes he believes in such as youth rights and equality rights. In 2011, he set up an online non-profit organization 'Straight But Not Narrow' in conjunction with Heather Wilk and Andre Pochon as well as his fellow actor, Josh Hutcherson. The organization is aimed at changing the apathetic attitude of straight people to issues affecting the LGBT community. Avan is also an ambassador for Peace First, a youth-oriented organization that provides young people with the skills and tools with which to impact their world.
His Height & Weight
Avan is 5 ft 8 inches tall which translates to 1.78 meters. His weight is pegged at 166lbs or 75.3kg.