If you are hoping to listen to a beautiful different sound or a distinctive music piece then allow us to introduce Avi Kaplan. Mostly known by his stage moniker Avriel and the Sequoias, he is one man whose music is devoid of the usual musical stereotype of sex, love and half-nude women shaking bums. The talented Jewish-American musician, songwriter, singer, and guitarist has defiled the norm with his pure music that is thought-provoking, deep and in its finest form.
Interestingly, he was also a part of the five-man, three times Grammy award-winning, pop acapella band Pentatonix. Read on to discover more about his biography, net worth, height among other juicy tales.
Avi Kaplan's Bio, Age
Avriel Benjamin Kaplan popularly known as Avi Kaplan was born on the 17th April 1989 in Visalia, Califonia, USA. He is the youngest child of his parents Shelly and Michael Kaplan, as he has two older siblings; a sister called Esther and brother who goes by the name Joshua. He has a Jewish bloodline which he confessed made him a target of bullies in his school days. He had his varsity education at Mount San Antonio College, Walnut in Los Angeles where he graduated from sometime in 2011.
As a young growing child, Avriel became a lover of nature and folk music and he would make the trip to the Sequoia National Park where he would relish the wonders nature had to offer. This eventually formed the basis for his musical inspiration apart from the influence of renowned musicians like Bon Harper, Jose Gonzalez, Bill Withers, Simon and Garfunkel among many others.
He followed his dreams, making creative music story as an Acappella singer and performing artist in Jazz and opera shows. Before he shot into the limelight as a member of the Arlington Acappella group sometime in 2011.
Avi Kaplan as member of the five-man band (comprising of Scott Hoying, Mitch Grassi, Kristin Maldonado, Kevin Olusola, and Avi Kaplan. Matt Sallee joined later to replace Avi Kaplan), he acted in the capacity of a lead bass singer or bass support vocalist for the multiple award-winning Pentatonix group from inception till he left in 2017.
His impact was very much felt, not just in the group's first official outing at the NBC the sing-off show but also in seven out of nine albums of the music group. Their winning streaks kicked off with the Sing-Off where they carted away with the show's prize money.
Some of the chart-topping songs and award-winning songs include Daft Punk, their self titled album series, Dance of the Sugar Plum Fairy, Jolene among others.
However, after successful albums and several tours, Avriel Kaplan decided to take things a bit slower by exiting his triple Grammy award-winning band to start his solo music career in 2017.
This stylish songwriter who specializes in folk songs and pop music has so far dropped intriguing and creative masterpieces like Avriel and the Sequoias, an extended play titled Sage and Stones, singles like Otherside, Aberdeen, Changing on the Rise, the list goes on.
The talented musician made a screen appearance in the movie Pitch Perfect 2 in 2015 with his former group but before then he featured in Access Hollywood talk show 2014 and later, the Jimmy Kimmel show in 2016.
The Jewish singer with his soothing deep bass voice completely sold-out live shows in April 2019 and his Otherside tours within states in America in July 2019 to August 2019. Indeed if he continues to serenades the world with his amazing talents then the top is a sure target for Avi Kaplan.
Is Avi Kaplan Married? Girlfriend or Wife
The former member of Pentatonix may be a public figure, but he likes keeping his personal affairs discreet or perfectly quiet. As such we can not authoritatively state if he has any girlfriend or wife anywhere at the moment.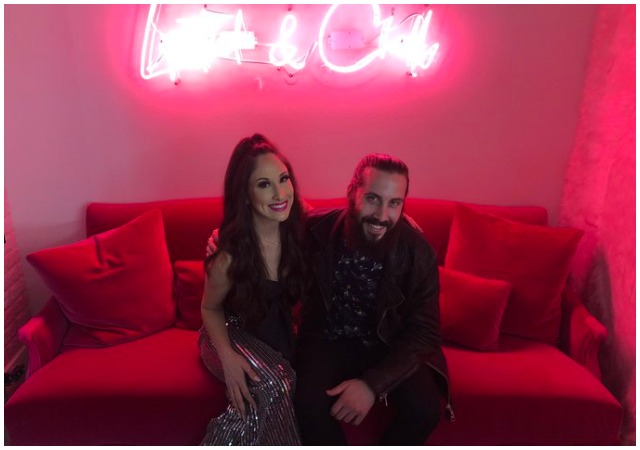 Although it was once insinuated that he Avi had been dating the Texas-born singer and former band member Kristie Taylor Maldonado, the news bit turned out to be a false alarm as the lady in question is engaged to her own man – Jeremy Michael Lewis. Thus it leaves us to assume that Avi Kaplan is probably an eligible bachelor on the block who loves hanging out with his family particularly his sister, Esther Koop who is the CEO of Duo Management and co-founder of North Hollywood Pout Beauty Bar.
Net Worth
The talented Visalia born musician has indeed not only made music and fame but has also made a good fortune from his craft. His net worth has been estimated to be about $8 million. With hit songs topping charts around the worlds and wonderful live shows, tours, and more albums, in no distant time, he should be worth much more.
See Also: Adam Levine – Biography, Age, Net Worth, Kids, Family Life, How Tall Is He
Height
The musician is no doubt, one of the tall men in the music industry. With his slender posture, he stands at a height of 1.80m which is translated to 11 inches taller than 5 feet while his weight is reported to be about 67 kilograms.