If you are hoping to listen to a beautiful different sound or a distinctive musical piece, then allow us to introduce Avriel Kaplan. Mostly known by his stage moniker Avriel and the Sequoias or simply Avi Kaplan, he is one man whose music is devoid of the typical stereotype of sex, love and half-nude women shaking bums. The talented Jewish-American musician, songwriter, singer, and guitarist has defiled the norm with his pure music that is thought-provoking, deep and in its finest form.
Interestingly, he was also a part of the five-man, three-time Grammy Award-winning, pop acapella band Pentatonix. As you would soon discover, he left the group to start a solo career and a lot has happened since then.
Avi Kaplan Joined Pentatonix In 2011
Born in California, Avi Kaplan has a Jewish bloodline which he confessed made him a target of bullies in his school days but he found solace in music and nature. He had his varsity education at Mount San Antonio College, Walnut, in Los Angeles, where he graduated from sometime in 2011.
As a growing child, Avriel became a lover of nature and folk music and often made a trip to the Sequoia National Park where he would relish the wonders nature had to offer. This eventually formed the basis for his musical inspiration apart from the influence of renowned musicians like Bon Harper, Jose Gonzalez, Bill Withers, Simon and Garfunkel among many others.
He followed his dreams, making creative music as an Acappella singer and a performing artist in Jazz and opera shows even before he shot into the limelight as a member of Pentatonix in 2011.
Avi Kaplan, as part of the five-man band, comprising of Scott Hoying, Mitch Grassi, Kristin Maldonado, and Kevin Olusola, wasn't an original member. When he joined the band, the original members – Kirstin Maldonado, Mitch Grassi and Scott Hoying, needed a bass singer and beatboxer in time for The Sing-Off competition. Avi met the criteria for joining the band and became a member. They subsequently auditioned for the contest, entered it and won the title in the end.
As A Member Of Pentatonix, He Won Three Grammys
While performing with the band, he acted in the capacity of a lead bass singer or bass support vocalist for the multiple award-winning Pentatonix group from inception.
His impact was very much felt, not just in the group's first official outing at the third season of NBC's The Sing-Off show but also in seven out of the many albums released by the music group. Their winning streak kicked off with the Sing-Off where they walked away with the show's prize money.
Though he is doing great in his solo career, Avi tasted fame for the first time as a member of Pentatonix. With the group, he won three Grammy Awards, including one in the category of Best Arrangement, Instrumental Or A Cappella.
Some of the chart-topping and award-winning songs released by Pentatonix include Hallelujah (2016), Little Drummer Boy (2014) and Carol of the Bells (2014) among others.
In 2017, Avi Kaplan Left Pentatonix To Start A Solo Career & Spend Time With Family & Friends
Despite the level of fame he attained in a band, Avi didn't feel he was doing everything he ever dreamed of. Thus, after a few successful albums and several tours, Avriel Kaplan decided to take things a bit slower by exiting his Grammy Award-winning band to start his solo music career in 2017 and, according to him, spend more time with his friends and family. Matt Sallee joined the group to replace him after his exit. There's no bad blood between Avi and his former band members who wished him well as he made his next career move.
This stylish songwriter who specializes in folk songs and pop music has so far dropped intriguing and creative masterpieces like Avriel and the Sequoias, an extended play titled Sage and Stones, singles like Otherside, Aberdeen, Changing on the Rise, and the list goes on.
His debut EP as a solo artist is Sage and Stone which he released under the moniker Avriel & the Sequoias. The musical piece is based on folk and he also played the guitar to bring out its uniqueness. Avi went back to his usual stage name and dropped a new song in March 2019 which he titled Change on the Rise while his second EP was released in early 2020 and he titled it I'll Get By.
The Jewish singer, with his soothing deep bass voice, completely sold-out live shows in April 2019 and his Otherside tours within different states in America. Indeed, if he continues to serenade the world with his amazing talent then the top is a sure target for Avi Kaplan.
He Is Financially Accomplished As An All Round Entertainer
Asides his musical exploits, Avi is also making the move for the movie industry. The talented musician made a screen appearance in the movie Pitch Perfect 2 in 2015 with his former group. Before then, he featured in Access Hollywood talk show 2014 and later, the Jimmy Kimmel show in 2016. While his acting ventures are not elaborate, they have opened a new career option for him which he is expected to explore further in the future.
The talented musician has indeed not only made good music and fame but has also made a fortune from his craft. His net worth has been estimated to be about $8 million. With hit songs gracing the charts around the world, coupled with successful live shows, tours in the pipelines, and more albums, in no distant time, he should be worth much more.
Avi Kaplan Might Be Single
The musician is no doubt, one of the men with good looks in the music industry. With his attractive appearance and mind-blowing skills, there is no uncertainty that he has no problem attracting admirers but he doesn't like sharing personal details with the public.
The former member of Pentatonix may be a public figure, but he likes keeping his personal affairs discreet and perfectly quiet. As such, we can't authoritatively state if he has any girlfriend or wife anywhere at the moment.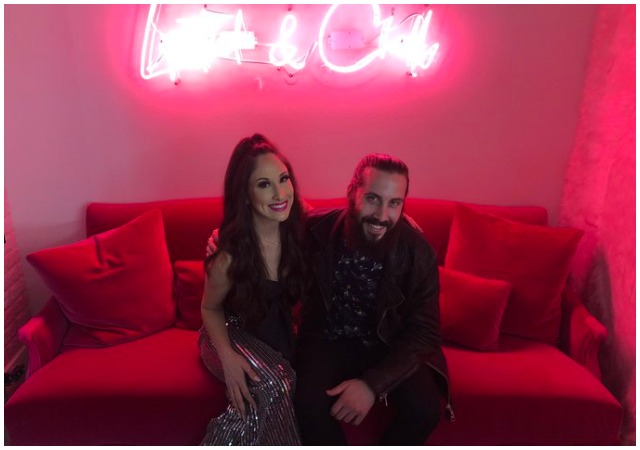 Although it was once insinuated that he Avi had been dating the Texas-born singer and former band member Kristie Taylor Maldonado, the news turned out to be false as the lady in question is engaged to her own man – Jeremy Michael Lewis. Thus, it leaves us to assume that Avi Kaplan is probably an eligible bachelor on the block who loves hanging out with his family, particularly his sister, Esther Koop – the CEO of Duo Management and co-founder of North Hollywood Pout Beauty Bar.