Awkwafina has a boyfriend that she has been dating for several years now. She keeps his identity secret but has disclosed that she is extremely happy with him and very much in love. 
Awkwafina, real name – Nora Lum, is an American rapper and actress. She rose to fame in 2012 after uploading a rap video to YouTube titled My Vag. Due to its vulgar lyrics, she was relieved of her job as a publicity assistant at a publishing firm. It also strained her relationship with her father, who the rapper said thought she was having a quarter-life crisis. However, the video became a viral hit, launching her into a rapping and comedy career, much to the surprise of everyone, including her. This subsequently paved the way for her to hit the mainstream, appearing in different movies such as Ocean's 8 and Crazy Rich Asians.
Is She Awkwafina Lesbian Or Gay?
As it stands now, there is nothing that suggests that Awkwafina might be lesbian, even though she has never spoken about her sexuality. She has been involved with a few men in the past and is currently in a relationship with a man.
In a video uploaded on Vogue's YouTube channel on Aug 24, 2018, the actress said she was never the well-put-together kind of girl while growing up. Even as she grew older, she knew she was not a perfect representation of the ideal girlfriend.
However, soon after she graduated from college, she decided to taste the dating waters because all her friends had boyfriends, and the pressure was on her to prove to herself that she could have one, too. So, a friend of hers set her up on a blind date with a guy who turned out to be physically her type. Unfortunately, he was boringly super-intellectual and was not comfortable when she was being her real self, so they parted ways in peace.
Does She Have A Husband, Boyfriend, or Partner?
Akwafina has a longtime boyfriend, but she has never revealed his name or any other details about him. There are also no pictures of them together in public. Her boyfriend remains a mystery, and the only reason the world knows about him is that the actress has spoken about him in a few interviews.
Speaking in an interview with The Guardian in June 2018, Awkwafina said she was very happy and in love with her boyfriend, whom she has dated for a long time. She, however, doubted if she would ever be the kind of woman who would settle into family life. Only time will tell if Akwafina will relent and settle into family life. It is also 'time' that will unveil the identity of her man.
Awkwafina's Ethnicity and Early Life
The rapper cum actress was born on the 2nd of June 1988 in New York City (NYC) but was raised in Flushing, Queens. She is multiracial as her father, Wally, is a Chinese American while her mother, a painter, immigrated to NYC from South Korea.
Not too long after Nora Lum was born, it was discovered that her mother had pulmonary hypertension, which led to her death four years later. Following the passage of her mother, her paternal grandmother quickly filled the void in her life and contributed greatly to molding her into the woman she is today.
During her high school days at Fiorello H. LaGuardia High School of Music & Art and Performing Arts, Awkwafina would always seize every available opportunity to make people laugh and, consequently, became popular as a comedian. She also played the trumpet and received training in classical and jazz music.
When she was 15 years old, the entertainer decided that there was a need for her to have a stage name, so she came up with "Awkwafina". Speaking of why she chose the name, the actress said she thought it was funny and fitting because it had 'awkward' in it, and she is awkward.
Her Career as an Actress and Hip Hop Musician 
After high school, Nora moved on to the State University of New York at Albany, where she majored in journalism and women's studies and graduated in 2011. Afterward, she enrolled at Beijing Language and Culture University, China, where she studied Mandarin from 2006 to 2008.
Before she made her way into the entertainment industry, Awkwafina worked at a video rental store, an air-conditioning company, and as an intern at Gotham Gazette and Times Union before she later got a job as a publicity assistant in a publishing firm.
Although Nora Lum had been rapping since she was 13 years old, it was not until 2012 that she became known as a rapper after she released her first rap, May Vag, on YouTube. The song, which was published on October 11, 2012, has received more than 4 million views as of February 2019.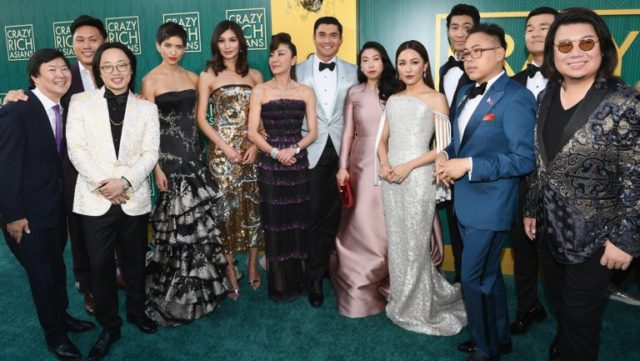 Following the wide reception of her first song, Awkwafina released other songs on YouTube before eventually releasing her solo album entitled Yellow Ranger on February 11, 2014. She also released the song, Green Tea, in 2016, in collaboration with Margaret Cho, a multi-faceted entertainer, and followed it up with an extended play titled In Fina We Trust, which was released on the 8th of June 2018.
The rapper made her professional acting debut in 2014, playing herself in six episodes of seasons 3 and 4 of the television series Girl Code. She also landed a recurring role as Lucy in the series Future Man, which premiered towards the end of 2017. In 2016, Awkwafina got her first movie role as a supporting cast in Neighbors 2: Sorority Rising and also served as the voice of Quail in the animated comedy Storks.
For her works in the entertainment industry, the talented lady has earned two awards so far, including the 2018 Halekulani Maverick Award given to her at that year's Hawaii International Film Festival and the 2019 Dorian Award for We're Wilde About You! Rising Star of the Year. For her role in the movie Crazy Rich Asians, Awkwafina was nominated in 2018 and 2019 for the San Diego Film Critics Society Awards for Best Comedic Performance and a Screen Actors Guild Award (SAG) nomination for Outstanding Performance.
In addition to music and acting, Nora is also a published writer as well as an activist.