Since Babes Wodumo crossed paths with South African record label boss Mampintsha, life for the gqom artist has been fraught with a lot of hullabaloos. Their tumultuous relationship started when Mampintsha took the blossoming singer under his wing. Since then, it has been one issue or another as the duo have even appeared in the magistrate court but later decided to settle out of court.
The couple has since decided to shelve all their issues and continue with their relationship. Mampintsha's family went ahead to pay lobola and Babes came out to declare herself officially married. Their marriage, however, did not mean that the female artist will no longer be in the news as she got people talking when she went ahead to adopt a child even though it was said that she was pregnant.
Mampintsha and Babes Wodumo First Got To Know Eachother in 2013
Though the credit of discovering Babes Wodumo, whose birth name is Bongekile Simelane, is given to DJ Tira, the person who played a key role in transforming the Durban native from a model to a musician goes to Mampintsha, a Kwaito star whose real name is Mandla Maphumulo.
This transformation occurred as far back as 2013 when the couple's paths first crossed. However, fans didn't realize that there was more to their relationship than work, but the signs started showing within a short while. For one, Babes always featured Mampintsha in all her tracks which prompted rumors about them getting cozy to surface on social media.
The Duo Got Engaged While On-Air
West Ink founder, Mandla Maphumulo, put on a live show with his marriage proposal. He was on a radio interview with Babes when he moved to pop the big question to the Wololo singer. The gqom queen, who was surprised as her beau went down on one knee, reciprocated with jubilation, hugs, and kisses, and it goes without saying that her answer came in the affirmative.
All these happened live on Gagasi FM in October 2020, and as expected, the news went viral immediately, eliciting mixed feelings from fans and the general public. While some expressed happiness for their engagement, others were really afraid that the physical abuse that happened between the two might resurface if they continued to stay together.
Coming off the air, the Wololo artist wasted no time in sharing the good news with fans. Taking to Instagram, she recalled how turbulent their relationship has been but they managed to stick together through it all. According to the female musician, it left her speechless. The videos of the proposal soon appeared on social media, and though Mandla was not so audible, we heard him say "it has been long in coming".
Not long after proposing, Mandla secured lobola for Babes and she wasted no time in bringing the news to the public arena. According to her post, they were already through with lobola negotiations and she is officially a Mashimane.
Mampintsha and Babes Wodumo's Traditional Wedding Happened in April 2021
The celebrity couple didn't let the grass grow under their feet before taking the proverbial walk down the aisle barely six months after their official engagement. The duo tied the marriage knot on the 25th of April 2021 in what appeared to be a grand traditional wedding ceremony. In attendance were both family and celebrity friends, including the likes of Khaya Dladla, DJ Tira Gugu Khanti, his wife, DJ Bongz, and Dladla Mshunqisi.
Of course, social media got buzzing with sites and sounds of the grand ceremony that were mostly posted by friends who were in attendance. It was really a colorful affair with Babes Wodumo emitting stunning vibes as she was decked out in red and black traditional wear. Mampintsha, on his own part, was looking very much like a true son of the soil in the traditional regalia of the Swati. Babes later shared a photo on Instagram, thanking God for making it a success.
The Couple's Wedding Brought Mixed Reactions From Fans and the General Public
Once the news of their nuptials filtered out to the public, fans did not let the duo enjoy the euphoria of their newly married state, reminding Babes of their past court case which was a result of the physical abuse she suffered from Mampintsha.
Earlier in 2020, there was a video of the West Ink founder physically abusing Babes. In the video that was shared by the Wololo artist, the commotion was quite audible as she received resounding slaps from him for asking him the reason behind the assault. Needless to mention, the video threw entire South Africa into shock, prompting Nathi Mthethwa – the then SA Minister of Arts and Culture, to condemn the act in a statement.
The situation further escalated when Babes Wodumo slapped Mampintsha with assault charges, leading to his arrest. Consequently, he was arraigned in a Durban Magistrate Court to face assault charges under the domestic violence laws of SA. In his defense, the music boss said he only hit back at his girlfriend after she assaulted him while he slept in his hotel room. According to Mandla, his girlfriend came from a party to meet him sleeping and proceeded to assault him and it was out of self-defense that he hit back.
Apologizing for his actions which he acknowledged to be a mistake, Mampintsha reiterated that nobody would accept being attacked in their sleep. He was subsequently let to go on bail of R2,000. The case was never heard again as Babes eventually dropped all charges.
This was exactly why fans were skeptical that their union will not work, warning Babes not to expose Mandla on any social media platform when he eventually assaults her again as she had the guts to overlook all these to become his wife.
What Her Dad Had To Say After The Domestic Violence Incident
Babes Wodumo's father, Reverend Welcome Simelane, addressed a press conference days after the incident. He slammed Mampintsha for abusing his daughter and said he was in full support of his daughter and would make sure that Mandla pays dearly for his crimes.
But after Babes returned to the arms of her assaulter, the singer's father was forced to retract his statements. According to the clergy, he has washed his hand off that relationship and would never interfere again as he was advised to allow the duo to settle their own issues. The Reverend said he doesn't hate Mandla and does he have issues with the man. He only told him to stop the physical abuse of his daughter.
Recognizing that Babes is now a full-grown woman who is capable of making her own mistakes, Mr. Simelane said he has stopped talking about her issues and will never interfere even if she dates or marries a Sotho, Chinese, or a Swazi. The only thing he wishes for his child is for her to be happy. He added that his interest will only go to his family, his wife, and of course, his church (Mount Zion Faith Mission located in Lamontville, southern Durban).
Babes Wodumo Was Reported To Be Pregnant Soon After Her Wedding
Shortly after she became the fiancée of the South African record label boss, word started going around that the singer was pregnant. While celebrating her 27th birthday in true Durban style at Eyadini Lounge, Babes looked really beautiful but her noticeable baby bump stole the attention.
Following the birthday bash, the lounge shared snapshots from Babes Wodumo's birthday party on their Instagram page, and fans couldn't help but notice that the young lady was making a noticeable effort to hide her tummy. In most of the pictures, her abdominal area was well hidden behind a bouquet of flowers. However, there was one particular photo where the secret was exposed by the figure-hugging dress she wore; there, her growing pregnancy was visible for all to see.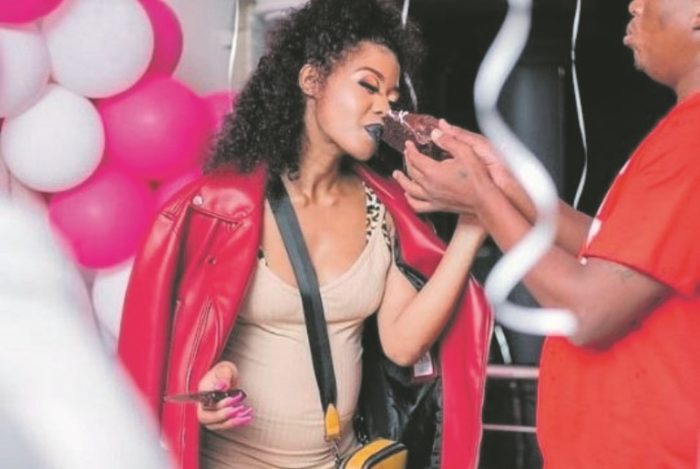 Recently, the musician doesn't seem to be hiding the fact that she is pregnant anymore even though she is yet to make an official announcement about the imminent birth of her first fruit. Babes Wodumo was spotted at Zone 6 – a popular hangout venue in Soweto, visibly pregnant and partying up a storm. In fact, she was one of the lineups of the birthday bash of DBN Gogo alongside the likes of Riky Rick, Black Motion, and DJ Banques. The videos of the party later made it to Gogo's Insta stories where Babes was spotted dancing with the celebrant as she cradles and rubs her baby bump.
Was The Singer Drinking While Pregnant?
News that Babes Wodumo was expecting a child led to several unanswered questions after she was spotted in her birthday video sipping Champaign to the cheers of friends. According to reports, she was seen holding a Moet & Chandon Nectar Imperial bottle which has no known non-alcoholic variant. In another video, the Wololo singer was caught smoking a hookah.
Fans who were not happy about the situation aired their views through social media. A lot of tweets surfaced to address the issue but that did not stop Babes. Some days later, during an interview session with Mac G, she was seen indulging in the man's Grandeur gin as she drowned some glasses of champagne. The most recent and mind-boggling incident occurred during an Instagram Live session when the expectant mother appeared to be doing cocaine.
What really bothered fans is how an expectant mother can comfortably sit and indulge in both alcohol and a hard substance without any care for the life growing inside her. Minus the pregnancy, Babes Wodumo can go ahead and indulge, after all, it is her life. However, people are genuinely concerned, wondering what her lifestyle will do to the fetus.
Some concerned friends even came up to speak out about the recklessness while pregnant. This concern was expressed after Babes' most recent late-night performance in Durban where she sang, danced, and partied the night away with her entourage. According to a friend, she ought to be more cautious at that stage of her gestation. However, Nondumiso Simelane, her sister and PR manager, came out to deny that Babes was doing drugs.
Babes Wodumo's Mother-in-Law Accused Her of Faking The Pregnancy
A video surfaced on social media where the Queen of Gqom's mother-in-law, Gumede, accused her of faking the pregnancy. In the video which later went viral, Gumede said Babes claims to be carrying twins, but to date, she has refused to give birth. Going further, the aggrieved mother-in-law accused the singer of padding her stomach with foam to project a picture of being pregnant. She further mentioned how Babes has been controlling Mandla to the extent that they excluded her from both their wedding and her son's life.
According to Gumede, she is waiting to witness what will come out of Babes' stomach, whether it will be a cat. The bitter mother-in-law concluded by saying that she doesn't want Wodumo in her son's life and is going public with her stance.
Babes' Reaction To Gumede's Accusation
The Durban star has been fuming since she saw Gumede's shocking video about her fake pregnancy. According to her, the allegations are quite shocking and humiliating, and she will definitely press charges against Gumede.
Babes reiterated that whether her mother-in-law likes it or not, she is pregnant and going to have a baby, and if Gumede has a problem with that, she should deal with it. The singer expressed how hurt she is, saying that Gumeded often misbehaves when she is under the influence of alcohol, but this is going a bit too far. Pressing charges she said, will help clear her name.
Talking about the wedding, Babes Wodumo said Gumede was pre-informed and she did all that was expected of her as a bride as she wanted everything to go seamlessly and unite both families. However, they were highly disappointed when Mandla's mum arrived drunk at the ceremony, making unnecessary demands. Speaking further, Babes mentioned that her spouse was raised by his grandmother and not Gumede, thus, she does not understand what the woman wants exactly.
Babes also expressed surprise at Gumede for dragging her into their family politics, saying that it was never her responsibility to inform her of the wedding preparations. However, since the woman has dragged her name in the mud, Babes promised to arrest her and show her what a Lamontville girl is capable of doing.
The Supposed Pregnant Singer Has Adopted a Child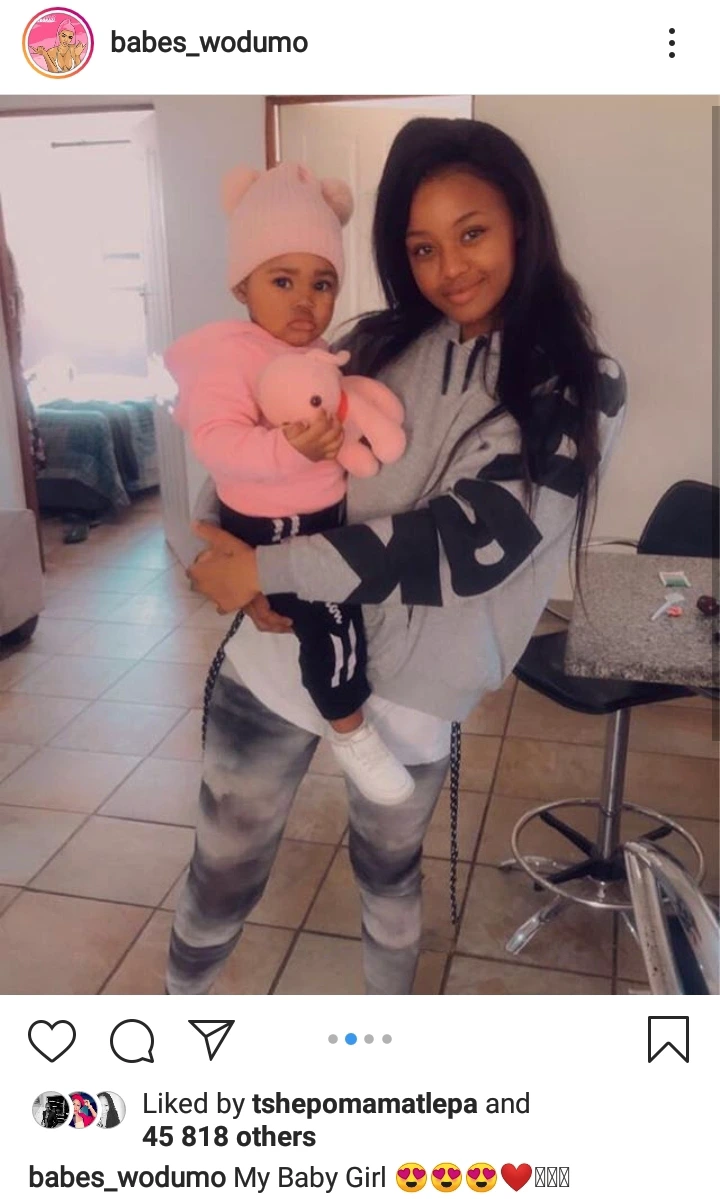 Babes Wodumo is one woman that is full of unending surprises. The latest is that she has gone ahead to adopt a baby after leading the world to believe that she was pregnant. What's more, in the photo where she was seen holding the baby girl who she called Mpilo Mavundla, the SA musician didn't even look pregnant.
Babes never bothered to reveal details about the baby like when and why she opted for adoption. She only posted a video captioned "My Baby Girl", throwing already confused fans into more perplexity. Now that she claims to have a baby, we are waiting to see if Mpilo's arrival will have a positive effect on her life and marriage.