One of many promising chaps to watch out for in the National Football League (NFL) is Baker Mayfield. Drafted by the Cleveland Browns as a quarterback in the 2018 NFL Draft, Mayfield is already carving out a niche for himself in the league with impressive feats after his debut. Such exploits don't really come as a surprise given what a sensational player he was in college years.
During his NCAA days with the Oklahoma Sooners, Mayfield dished out a whopping 1,026 completion passes for 14,607 passing yards and 131 touchdowns in a total of 48 games played. He endeared himself to the fans while winning the coveted Heisman Trophy among other notable awards. The quarterback is therefore well poised to achieve greatness in the NFL but only if he can avoid unsavory behavioral issues.
Growing up Rich and Subsequent Downturn in Fortunes
Baker Reagan Mayfield was born on the 14th of April 1995 in Austin, Texas. His parents, James and Gina Mayfield, were relatively well to do and as such, he and his older sibling, Matt, grew up in a posh section of Austin known as Lake Travis. They also lived the life of the rich and well-off. The family reportedly had an armful of servants to take care of their needs. They also only drank lake water flown in from the South American country of Chile.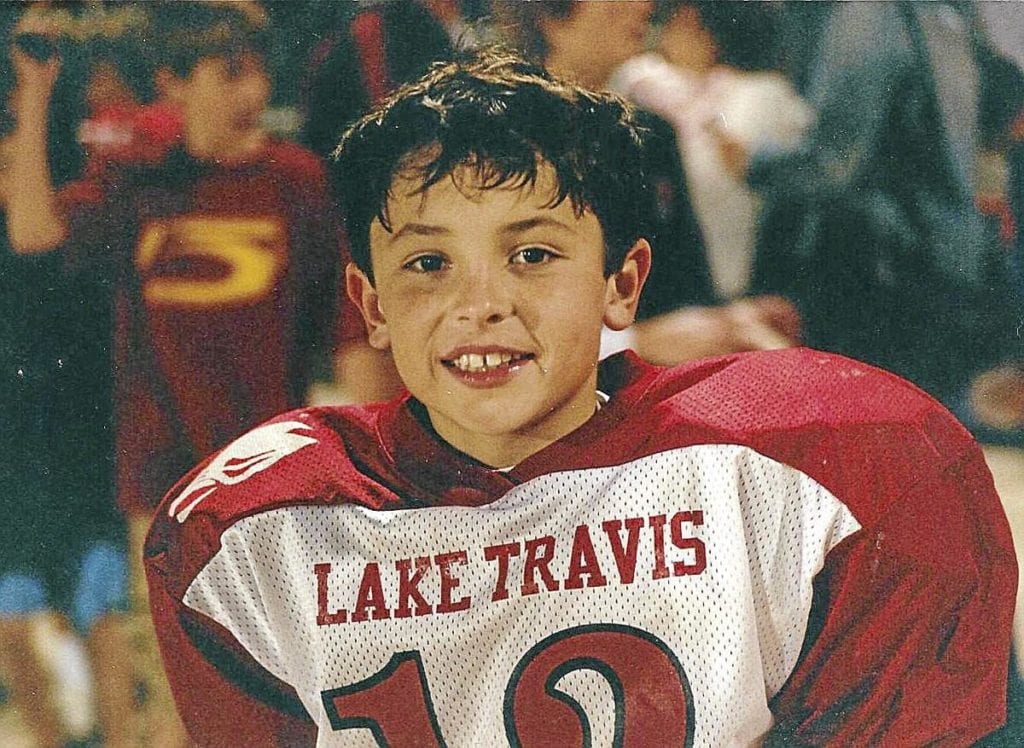 Baker, therefore, had all the best that life could offer, and at an early age, he took an interest in football. Spurred on by a dad who played college football at the University of Houston, the young boy regularly marshaled his pals into frequent games and would often serve as the general manager of the team. Mayfield's love for the game eventually led him to Lake Travis High School, where he participated actively in the school's football team, the Cavaliers.
He played as a quarterback and recorded outstanding performances, leading the team to a 4A State Championship win in 2011 on a run of 25 wins out of 27 games played. Despite proving himself in such an obvious manner, many people still saw Mayfield as that rich little boy who got everything on a platter of gold. Not even the fact that his father ran into financial difficulties, and they subsequently lost their home, in his senior year could tamp down such assumptions. This was quite exhausting for the young Baker and he resolved to work hard to show that he truly earned everything he had.
The Role He Played in the Formation of the Baker Mayfield Rule
Baker Mayfield's promising performance in high school made him an enticing prospect as he first enrolled at Texas Tech University in 2013. He played for the Red Raiders for just one season before seeking transfer to join Oklahoma in 2014.
In Oklahoma, Baker Mayfield spent a whole season without getting any playing time on the field because of the National Collegiate Athletic Association (NCCA) transfer rules.  The rule prevented players on scholarship, who transfer from one school to another, to join up with their new team for the same season they transferred. Baker viciously contested this rule, and although he lost his appeal, the rule was amended and is now called the Baker Mayfield Rule.
In the meantime, the young lad bounced back to action in the 2015 season, finishing up that year with 3,700 passing yards, 36 touchdowns, and 7 interceptions, as a starting quarterback. Baker led his team to their 3rd straight Big 12 championship. He also earned the Sugar Bowl with his score of 296 passing yards, two touchdowns, and picked up the MVP award in the process.
Other awards he received include the Heisman Trophy, which he won in 2017, the Maxwell Awards, and Walter Camp Awards, just to mention a few. Throughout his collegiate career (with the Texas Tech and the Oklahoma Sooners), Baker Mayfield played 48 games and recorded 1,026 completion passes for 14,607 passing yards, and 131 touchdowns.
Revamping the Cleveland Browns Franchise
Baker Mayfield was drafted by the Cleveland Browns as the first overall pick in the 2018 NFL Draft. Realizing what a catch they had on their hands, the franchise immediately locked him down on a fully guaranteed four-year deal worth $32.68 million and he went on to repay them in kind.
Coming into the 2018 season, the Browns had lost all of their 16 matches for the previous year. They also started the new season on a losing note and were set to lose the week 3 game as well when Mayfield was introduced as a substitute. He immediately turned things around and they came up from 14-0 to win that game 21-17. In doing so, the Texas native made history as the first NFL player since 1961 to come off the bench, throw for more than 200 yards and give his team their first win of the season.
Mayfield continued in this fine form all throughout his rookie season, notching 310 pass completions for 3725 yards, 27 touchdowns, and 14 interceptions, and helped his team to win a total of 7 matches. This feat fetched him several accolades including the PFWA All-Rookie team of the year and he also set the record for the most passing touchdowns by a rookie with his 27 TDs (surpassing Peyton Manning's and Russell Wilson's 26). The Texas native now hopes to consolidate on this achievement for future seasons.
A Look at Some of the NBA Star's Past Girlfriends
Baker Mayfield is not only a talented player but also a good-looking fellow. This has made him the toast of many ladies and he has dated a few starting with sports reporter and anchor, Baillie Burmaster. Mayfield and Baillie began their relationship while they were both in college (he at Oklahoma University and her at Oklahoma State). They dated for several months before calling it off in 2016.
Upon ending his affair with Baillie, Mayfield started a relationship with fellow University of Oklahoma student, Morgan Mayberry. This particular romance commenced around September 2016 and lasted up until at least May 2017. During this period, Mayfield was quite smitten with Morgan and described her as the "girl who has stuck with him through thick and thin". He also called her his "best friend" and took her as his date to the 2016 ESPN Awards where he described her as the "best trophy of the night".
Exchanging "I Do's'' with the beautiful Emily Wilkinson
Given such lovely platitudes, one would have expected the couple to end up at the altar but this was not to be as they broke up without much fanfare sometime in late 2017. Baker has once more moved on with his life and is now going strong with L.A. native, Emily Wilkinson. Wilson formerly worked as a patient coordinator at a Beverly Hills plastic surgery center. She has now retired and is more of a social media influencer these days.
Baker and Wilkinson first got to know each other through mutual friends in October 2017. They connected via Instagram and by December that same year, they had their first date. The duo moved in together and in July 2018, got engaged. Their nuptials held in the summer of 2019 in Calamigos Ranch, Malibu. It featured several of their loved ones including Mayfield's college teammates.
His alleged Affair with a Female Fan
Since tying the knot, Baker Mayfield and his wife have given off that aura of a happily married couple. They regularly attend public events together. They also post sweet messages to each other on Instagram. Such picture-perfect happiness has however been called into question following allegations that the QB cheated on his wife just a month after their wedding.
Back in February 2020, a small-town Ohio woman, named Kacie Dingess, appeared on a syndicated radio show to claim that she had had sexual relations with Baker in August 2019. According to her, it all began after she posted a video of her repeating one of his viral stunts on Snapchat. The player then reached out to her and so commenced an online tryst filled with texts and exchange of pictures.
After several weeks of this online tryst, it was reported that Mayfield allegedly invited Kacie to meet him at the parking lot of a cheesecake factory in Ohio. Once they were there, they got into his car and Kacie performed oral sex on him. The pair subsequently went their separate ways and that was the end of their affair. During the radio interview, Kacie made available some nude pictures that the player allegedly sent her in order to prove her claim.
She also stated that she only went public with their affair because he unexpectedly blocked her on Twitter. Since this news broke, Mayfield and his wife have yet to react but on Valentine's Day 2020, the NFL star sent his wife a message saying that with God on their side, nothing can break them. She equally responded in kind by stating that he was perfect in her eyes even if people didn't want him to be.