There are some names that command the attention of the world as they are literally known in every nook and cranny of the globe. The Obama name is one example as it is the last name of the 44th President of the United States. For this reason, Auma Obama, who is Barack's older half-sister and the second most known paternal relation of the former US President, has received wide attention although she is known for several other reasons, at least in her home country Kenya.
Auma is a sociologist, community activist, author, and journalist. But above all things, she counts her work with the Sauti Kuu Foundation as the biggest accomplishment of her career. She is the Executive Chairperson of the non-profit establishment that works to improve the quality of life of orphans and poor people in Kenya.
Auma Obama was Educated in Germany
Auma Obama was born in Nairobi, Kenya in 1960 to Barack Obama Sr. and his first wife, Kezia. She was raised in her home country where she received her elementary and secondary school education before leaving to study and live in Germany and the United Kingdom.
Auma left for studies in Germany under the DAAD (German Academic Exchange Service) scholarship program. She studied German from 1981 to 1987 at the University of Heidelberg. After her undergraduate studies, she pursued a graduate degree at the University of Bayreuth. By 1996, she had obtained a Ph.D. Her dissertation was centered on the German conception of labor as it affects literary works.
Auma also studied contemporary dance in Germany and spent some time of her life performing with a dance group. From there, she unfolded her theatrical talents and enrolled in a film school in Berlin, the German Film and Television Academy.
She Became a Citizen of the United Kingdom After Marrying a Brit
Auma Obama moved to the United Kingdom and settled there after her studies. She would later help her mother Kezie relocate to the country where she lived for nearly 10 years before she was granted British citizenship.
After completing her Ph.D. program, Dr. Auma Obama married an English man named Ian Manners in 1996 and thus became a citizen of the United Kingdom. After a year of marriage, the duo welcomed a daughter named Akinyi.
After a few years together, Auma and Ian's marriage fell apart. The couple divorced in 2000 and in 2007, Auma decided to relocate back to Kenya with her daughter. Now known as Akinyi Obama-Manners, her daughter is a program officer at the Sauti Kuu Foundation. Much isn't known about her father apart from his marriage to Auma.
Auma Obama is Very Passionate About Improving Human Welfare
When she returned to Kenya, Auma Obama became a community development facilitator under the umbrella of CARE International. Her dream was to nurture Kenya's younger generation towards a productive and better life. Her specific mission with CARE was to propagate the Sports for Social Change initiative. She saw to the co-operation of organizations across Africa and from Bangladesh in improving the social conditions of the people, especially for the girl child.
Her Sauti Kuu Foundation gave a structure to her humanitarian vision. The foundation through various engagements aimed to provide African youths with personality development, education, and training that would foster sustainable economic growth.
While in Kenya, Dr. Auma Obama also became a member of the Governing Council of the Kilimanjaro Initiative. The council organizes an annual event where less privileged youths are given the opportunity to explore the Kilimanjaro mountain. Climbing Africa's tallest mountain was a significant choice by the council to foster self-confidence in them.
Similarly, she launched the Sauti Kuu Act Now Awards in Berlin. The award event aims to encourage children and young people of ages between 12 and 25 to participate in social, humanitarian, and environmental projects.
Her Work Has Earned Her a Number of Awards
Given all her efforts geared towards improving the quality of life of Africans, it comes as no surprise that Dr. Auma Obama is a recipient of many humanitarian awards. They include:
The 2015 German Speakers Association Award
Look Magazine World Human Rights Award (2015)
Kiwanis Club Stuttgart Award (2016)
TÜV Rheinland Global Compact Award (2017)
Her Life Has Inspired an Award-Winning Documentary
In 2011, Nigerian-born film director Branwen Okpako, an old schoolmate of the intuitive motivator, directed and produced a documentary on her. In the documentary titled The Education of Auma Obama, Okpako took us through Auma's education, career, and her life as an African on a mission.
The documentary gave an insight into Auma's post-colonial and feminist identity. Growing up in the '60s and in an extremely conservative society, Auma was observant of the place of youths and most especially, females in Africa.
With her exposure from years of studying abroad, she came to appreciate her continent and became keen on showing her people the casually neglected opportunities that can improve their state of well-being. The Education of Auma Obama won the Best Diaspora Documentary Award at the 2012 Africa Movie Academy Awards.
Auma is a Published Author
Just like her brothers; Malik and Barack, Auma Obama is a published author and renowned speaker. She is known for her book titled And Then Life Happens: A Memoir.
Auma says she was fascinated by the works of German authors like Heinrich Böll and Wolfgang Borchert. Her eloquence in public speaking fine-tuned her journalism skills whilst taking her to several international platforms. She is a member of the World Future Council, the Board of Trustees of the German Reading Foundation, as well as the Advisory Board of the Bayreuth Academy of Advanced African Studies at the University of Bayreuth.
Also, she has served for several years as the Patron of the International Storymoja Festivals in Kenya. The festival is designated to scout and discover young literary talents.
Read Also: 10 Popular Kenyan American Celebrities and Personalities
How Close is Auma Obama to Her Half-Brother Barack Obama?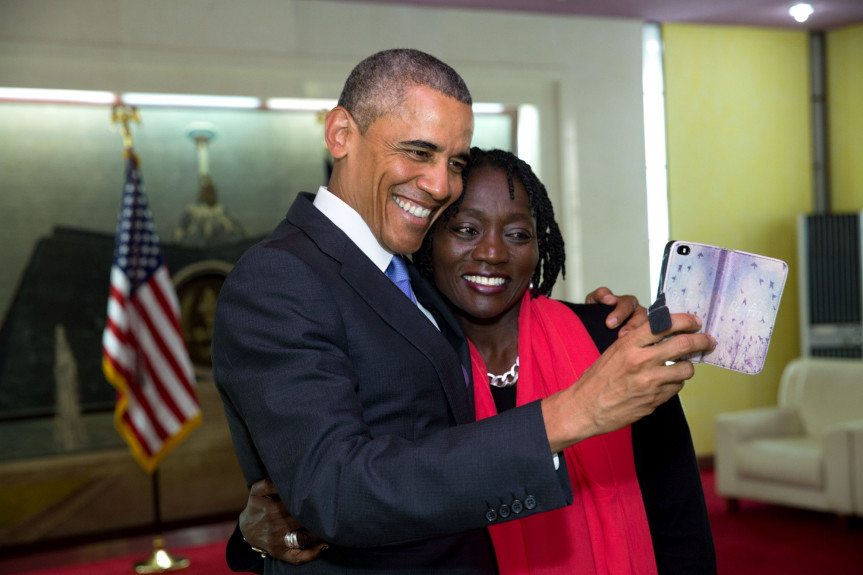 Auma Obama has a great bond with her younger half-brother. She was interestingly a bridesmaid at Barack's wedding to Michelle. The good relationship between the pair has continued ever since as was evident when Malik was openly criticizing the then US President.
Malik openly declared his support for Donald Trump and was promoting the conspiracy theories about Barack Obama's birthplace. Auma publicly admonished her older brother and reiterated that she was in full support of Barack.
In July 2015, when Barack was on an official visit to the country, he and Auma enjoyed a long embrace on the tarmac before he requested for her to join him in the official car of the United States president.
A few years after leaving office, in 2018, Barack again visited Kenya at the request of his sister. He was in the country to promote the opening of a sports and training center that Auma Obama had founded through her charitable foundation.