The name Barry Seal calls to mind the notorious drug peddlers and organized crime cartels of the '80s. He was a gifted American aviator who acquired his student pilot certificate at the age of 16 and his private pilot's certificate at 17. The pilot cum drug dealer was killed in 1986 when his position was compromised but his story has refused to die with him as his feats are intriguing and worth writing about. Barry's story has already been made into movies. We explore this story in addition to details about his wife and family.
Barry Seal's early life and family background
Adler Berriman Seal popularly known as Barry Seal was born on July 16, 1939, in Baton Rouge, Louisiana. As a teenager, he was naturally gifted as a flier, as confirmed by his flight instructor. So it did not come as a surprise when he got his student pilot certificate and private pilot certificate at age 16 and 17 respectively.
Barry Seal enrolled at Louisiana Army National Guard for six years serving with 20th Special Forces. Upon his graduation from the United States Army Airborne School, he failed to complete the United States Army Special Forces selection and training. He later served in the 245th Engineer Battalion with his MOS being a radio telephone operator.
Asides his military involvement, he joined Trans World Airlines (TWA) now known as Transcontinental and Western Airlines, as a flight engineer in 1964. He got promoted rapidly to the first officer and was the captain that flew Boeing 707 on a regular Western route. He was the youngest 707 pilots in the TWA fleet. While he was working with the TWA, he secretly facilitated the transportation of plastic explosives to Mexico. On discovery, he got fired from service in 1974.
His sack marked the beginning of his drug smuggling business started in 1976. Two years later, his neck was deep in the trade, flying huge loads of cocaine for numerous cartels including the Medellin Cartel. By 1979, the long arm of the law caught up with him as he was arrested in Honduras en route from Ecuador. Although no substance was on his flight, he bagged 7 months prison term for the possession of M-1 rifle.
Upon his release, he was even more committed to the drug business. He recruited his former brother-in-law, William Bottoms as his pilot while he became the master strategist of their drug smuggling deals. After years of successful operations with the Medellin, a drug group in Colombia founded by Pablo Escobar, Seal was entrusted with the task of safe landing larger shipments of cocaine from Colombia to the US soil.
He spread the tentacles of his operations from Louisiana to Arkansas, Mena Intermountain Municipal Airport, in Mena. At Arkansas, he ran sales and operations of fleets of aircraft.
The aviator was again arrested in 1984 in Florida for money laundering and smuggling of hard substance. He was convicted to serve ten years of jail term. However, he struck a jail term reduction deal with the DEA by serving as their inside informant in other drug operations.
His activity led to the convictions of high profiled cartel kings.  Unfortunately for him, his work with the DEA and CIA was exposed by the Washington Times Post.
His story has long been made into movies including Doublecrossed (1991), Infiltrator (2016) and American Made (2017) with talented actors Dennis Hopper, Michael Pare and Tom Cruise all playing Barry Seal respectively.
Details of his Wife and Children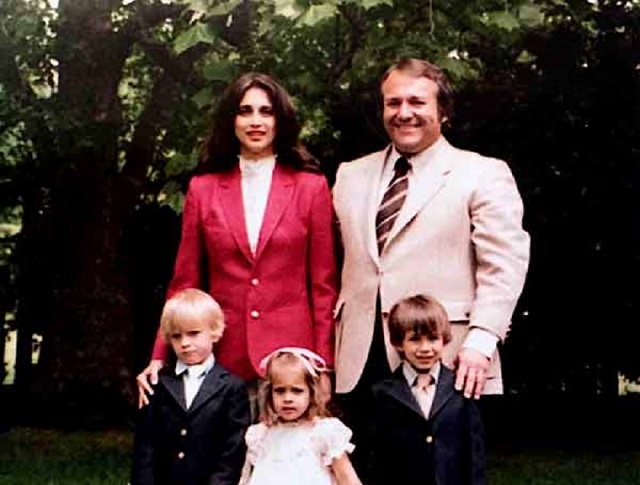 Barry Seal married three times. He first married Lynn Ross in 1963, the union ended in divorce 1971. The same year, he married Barbara Dodson, the union barely made to to the second year before it ended in 1972. His third marriage was to Deborah DuBois in 1973 whom he was with till his untimely death.
He had five children, from two of his wives. With Lynn Rose, he had two kids, Lisa and Alder, while the other three kids Dean, Aaron and Christina Seal were birthed by Deborah Dubois. After his arrest, his properties were all foreclosed by the government, thus his family was left with little to nothing.
Net Worth
Barry Seal sure made lots of money from peddling drugs and sales and operation of airplanes. He was paid per drop/trip the sum of $1.3 million, little wonder he always went back to the business after every arrest. As of the time of his death, his net worth was estimated to be at about $60 million.
How Did He Die?
Two years after he had helped put behind bars prominent drug lords, he was gunned down on the 19th day of February 1986 in front of the Salvation Army facility where he was sentenced to work.
Reports about his shooters pointed to Colombian men hired by Ochoa from Pablo Escobar cartel. Max Mermelstein, an appended member of the cartel said in his testimony in 1991 that they were instructed to either kidnap him to Colombia for $1 million or kill him for $500,000. At his death, he was 46 years of age.